Atlanta MARTA shooting: One killed, three injured by gunfire on train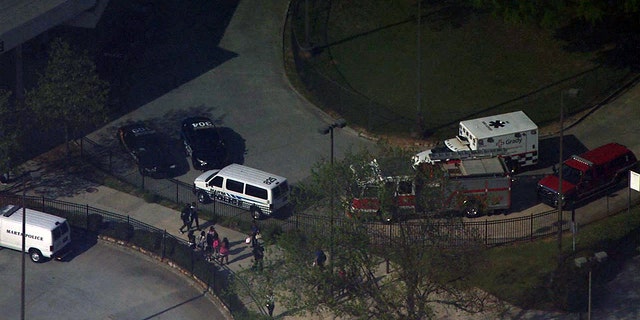 One person was killed and three others were injured Thursday after a shooting on board a public train in Atlanta.
Metropolitan Atlanta Rapid Transit Authority (MARTA) police said the suspected gunman boarded a Blue Line train at the H.E. Holmes station west of downtown Atlanta and opened fire at around 4:30 p.m. local time.
Authorities said the suspect was arrested as he left the West Lake station one stop away. Investigators told Fox 5 Atlanta that they have recovered what they believe to be the gun used in the shooting.
MARTA spokesman Erik Burton said one man was fatally shot, and two men and a woman were shot and wounded.
Grady Memorial Hospital spokeswoman Denise Simpson said the victims there were in stable, noncritical condition. In addition to the three shot, one person injured in the panic was brought to the hospital, she said.
The motive for the shooting was not immediately clear. One witness told Fox 5 the suspect "had a hat on and he bobbed his head, and he got up and walked back to the back of the train. And after that, [I] heard shots, hit the deck and just saw some shoes walk past and that's it."
"It's like five people lay down. [There were] more people still trying to crawl over us, still trying to climb over the back of us. I was like 'Dude, you got to let somebody up, can't nobody get through,'" said another witness, Cedric Peterson. "But I can understand why they were doing what they were doing because they couldn't clearly see."
The West Lake station was temporarily closed following the shooting. MARTA set up a bus between stations to accommodate customers during the closure.
The Associated Press contributed to this report.
Click for more from Fox5Atlanta.com.