At least 29 hurt in Colorado after sleepy truck driver runs school bus off the road, police say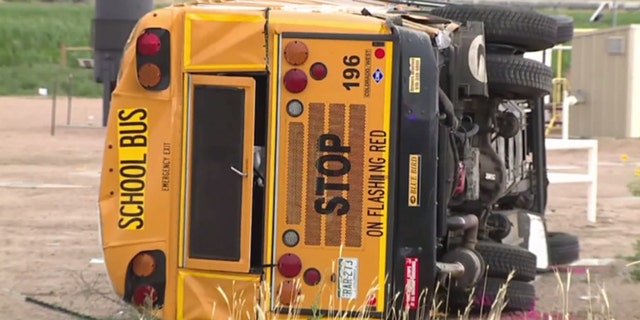 Students are recovering Friday after the driver of a flatbed truck fell asleep at the wheel and crashed into their school bus, sending it tumbling off the road in Colorado.
Colorado State Patrol say the truck drifted into oncoming traffic on a rural road near Hudson, northeast of Denver, on Thursday before sideswiping a bus carrying Greeley-Evans School District students who were returning home from a field trip to an amusement park. None of the injuries appeared to be life-threatening, CSP added.
The bus, which had 35 people on board, including 29 students, left the road, rolled one and quarter times and came to a rest on an oil and gas site.
The 29 injured were being treated Friday at various area hospitals and are all in good or fair condition, except one, according to KDVR. One facility said it was treating students ages 15 to 18, while another patient in serious condition at North Colorado Medical Center had to be airlifted to a different hospital, the station added.
A witness who responded to the crash said at least two appeared to have suffered broken bones.
"The kids were all pretty calm for the most part," the witness also told KDVR.
District spokesman Casey Pearson told KMGH-TV in Denver that the bus driver was the most severely hurt. All of the people on the bus were able to get out by themselves, according to Stephanie Cooke with the Platte Valley Fire Protection District.
Aerial footage showed the bus on its side as a group milled around the accident site, which was dotted with multiple ambulances and police cars. The truck was nearby in a corn field.
The Associated Press contributed to this report.