At least 18 killed as flash floods strike Utah
At least 18 people have been killed in flash flooding in two locations in southern Utah, officials said Wednesday.
Sgt. Brock Bentley of the Washington County Sheriff's Office said three additional bodies were found Tuesday after two vehicles were washed away the day before in floodwaters in a town of women and children at the Utah-Arizona border, bringing the total there to 12 dead, and one child still missing.
On Tuesday, rescue workers recovered the bodies of two people in Arizona, about two and a half miles downstream from where flood waters swept them away in southern Utah. Six other bodies had been recovered in Utah, officials said.
The Utah Division of Emergency Management said in a Facebook post that heavy rains caused the flash flooding at about 5 p.m. local time Monday in Hildale, approximately 315 miles south of Salt Lake City. The statement said a "large wall of water and debris" smashed into the vehicles, washing them and their occupants downstream.
The women and children were in two different cars, a full size van and an SUV, on a gravel road north of the towns, Hildale assistant fire chief Kevin Barlow said. It appears they were coming back from a park in the area, backing their cars up when the flash flood hit, he said.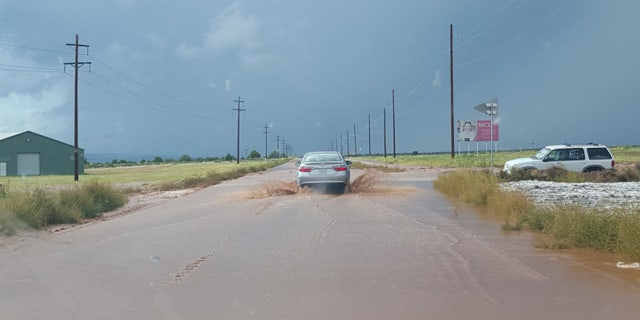 The flood "obviously caught these people off guard," Barlow told The Associated Press. "Witnesses say they were backing out of it trying to get away from it and it still swept them in."
The statement said there were 16 people in the vehicles. In addition to the dead and missing, authorities said the other three people had been rescued. One survivor was found downstream at a bank in town.
Barlow said the rescue effort was ongoing through the night but scaled back because of treacherous conditions in Hildale and Colorado City, Barlow said. The flooding also caused other, less serious problems. Barlow said several blocks of home are without power and water due to the flooding.
"We're pretty used to flash flooding," Barlow said, "but this is significantly more than what we're used to."
Fox 13 Now reported that three of the victims were mothers and one of the other victims was a 4-year-old.
The floods came after heavy rains fell in the canyons just north of town, sending waves of water barreling through the streets of the community of 7,700 people that is the home base of a polygamous sect run by Warren Jeffs.
The National Weather Service (NWS) said Monday that flash flooding in the Hildale area had resulted in overturned cars and flood damage along State Route 59. The flooding has also impacted several areas in the Colorado City and Hildale communities including flooded homes and streets and power outages.
The NWS had issued a flash flood warning earlier in the day, leading nearby Zion National Park to close all slot canyons as a precaution. Seven hikers who entered a narrow desert canyon for a day of hiking on Monday became trapped when a flash flood swept through, killing at least six of them, officials said Wednesday.
The group left before the park closed the canyons for the evening, park spokeswoman Holly Baker told the Associated Press.
The hikers, from California and Nevada, were all in their 40s and 50s, Baker said.
Searchers on Wednesday found the body of a sixth hiker killed in the flash flood. Park spokeswoman Aly Baltrus said crews discovered the body downstream of Keyhole Canyon on Wednesday, the same day another victim was found. The bodies of three men and one woman were found Tuesday, and searchers are looking for one more person.
Utah Gov. Gary Herbert said in a statement on Tuesday he mourned the lives lost in Zion and in the border towns.
"Today's tragedy also serves as a reminder to residents and those visiting our state to take appropriate precautions and be aware of the factors that contribute to dangerous flash floods," Herbert said.
The Associated Press contributed to this report.