Arkansas roads covered in spaghetti sauce following crash, weeks after bourbon, pizza spills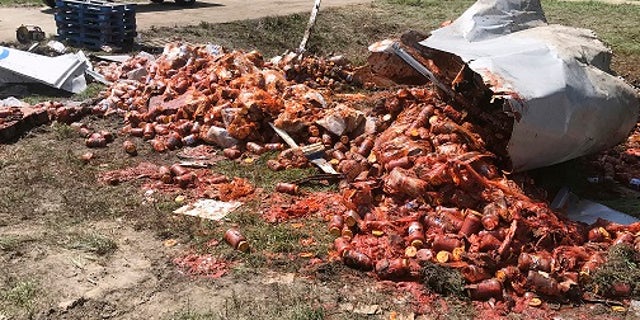 Arkansas highways have been treated to a three-course meal this month, after a truck crashed and scattered spaghetti sauce on a road early Monday just weeks after two other spills involving bourbon and frozen pizza.
A truck driver distracted by a GPS unit crashed near the intersection of U.S. 278 and Arkansas 24 at Camden and spilled a truckload of spaghetti sauce, officials said.
Camden police Sgt. Cory Sanders said the spaghetti sauce truck was headed to Dallas at about 3 a.m. when its driver over-corrected and rolled over after crossing the center line of the highway. Sanders said the driver suffered minor injuries.
ARKANSAS POLICE CHECKING SUICIDE REPORT FIND MAN, KIDS DEAD
On Aug. 2, a tank car filled with bourbon crashed on Interstate 40 in eastern Arkansas, and motorists on Interstate 30 had to leave the highway at Little Rock on Aug. 9 after a truck accident left frozen pizzas scattered across the road.
At the time of the crash, an Arkansas Department of Transportation spokesperson seemed troubled by the frozen pizza spill after seeing it in person, according to Arkansas Online.
ARKANSAS PROFESSOR WRONGLY ID'D AS TORCH-BEARING PROTESTER IN CHARLOTTESVILLE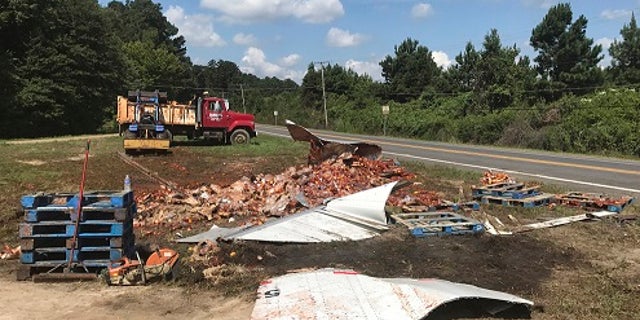 "But there's a lot of frozen pizzas laying out on the interstate right now," Danny Straessle said. "Lots of pizza fatalities."
The Associated Press contributed to this report.