Arizona Parents Arrested Over Alleged Facebook Images of Duct Tape-Bound Children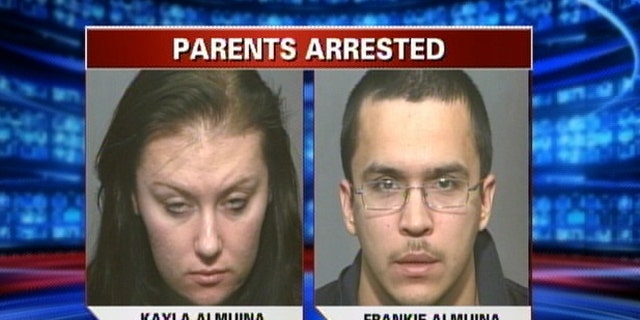 Two northern Arizona parents were arrested after photos of their young children allegedly being abused were posted on Facebook.
An anonymous Facebook user reportedly alerted authorities on Wednesday after seeing two children, an infant and a toddler, bound with duct tape around their wrists and ankles in photos posted to the social networking site, Fox affiliate KSAZ-TV reported.
The children's mouths were taped shut, and one of them was hung upside down by some exercise equipment, according to the Coconino County Sheriff's Office in Flagstaff.
"I am shocked and horrified, and I will tell you that in 30 years in law enforcement in Arizona, this is one of the most horrendous things I have ever seen," Commander Rex Gilliland told the station.
The anonymous caller knew the names of the parents and where they lived, Reuters reported. Deputies arrested Frankie Almuina, 20, and Kayla Almuina, 19, at their Williams, Ariz., home on Thursday and charged them with two counts of child abuse.
"They did indicate that they were simply joking, however, it is apparent through the photographs that this was not a joke. The photos depicted the children's faces in sheer terror," Gilliland said. "Clearly, you can't tape another person's hands and mouth shut -- especially small children. It is clearly child abuse, and they were charged appropriately."
The children, a 2-year-old and a 10-month-old infant, are being taken care of by family members while the investigation continues, according to the station.
The arrests follow a similar incident last week in Chicago in which a father, Andre Curry, allegedly posted a photo of his young daughter bound with duct tape on Facebook. Curry was later charged with aggravated domestic battery in the case.
Newscore contributed to this report.
Click to read more on this story from MyFoxPhoenix.com
Parents Arrested After Kids Bound, Photos Posted: MyFoxPHOENIX.com