Arizona man who was punched by Mesa Police officers speaks out
MESA, Ariz. – Robert Johnson, the man who his attorney described as "brutally attacked" by Mesa Police, made a statement Thursday afternoon with his attorney and pastor by his side.
Johnson said he's stressed, hurt, and doesn't want this to happen to anyone else.
"Many of you have seen the video of Mesa police. … I don't want this to happen to no one in this particular system. … I'm a family man, I'm a God-fearing person, I just want Mesa to be accountable to what they have done," Johnson said.
Johnson's attorney, Benjamin Taylor, said the police beat him up and hog-tied him. Taylor confirmed Thursday that Johnson suffered a concussion as a result.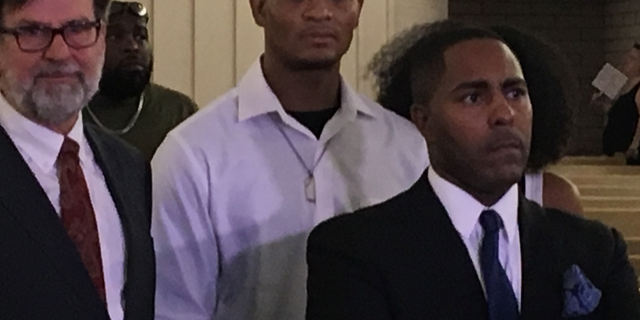 Taylor said in a statement: "Mr. Johnson was cooperative and following police instructions. Mr. Johnson was sitting peacefully against a wall when the assault began. He did not resist. The misconduct of these officers would have gone unnoticed if it had not been captured by surveillance videos at the apartment complex where the assault occurred. We hope and pray that the Mesa Police Department will accept responsibility for the misconduct of these officers. Mesa must take concrete steps to ensure that culpable officers are disciplined, retrained, or dismissed. The Mesa Police Department must develop a law enforcement culture that meets community and constitutional norms and ensures that police and citizens go home safely after police interactions."
Attorney Joel Robbins also said these are the types of cases that he does a lot. Taylor said after a "police attack," it's frequently the response from police to say it was the victim's fault.
Pastor Andre Miller is the one who found out about the incident, and brought the video to the Mesa Police chief's attention. Miller said he's been remorseful and is taking this seriously, but also said that this type of behavior is a police culture problem in Mesa.
"This is not a race issue … this is a culture issue, a police culture issue that has to change," Miller said. "It could happen to any one of us when we have an encounter with the police and it should now. So, we are grateful at the steps that the mayor is taking, the steps that the current chief of police is taking, but we are a little disheartened at the Mesa Police Association. … The police union is pushing back against the mayor, they're pushing back against the police chief."
The chief initiated an internal investigation and four Mesa police officers were removed from active duty and placed on administrative leave pending the results of the investigation.
Mesa Police said in a statement: "The incident in question occurred on May 23, 2018 when officers were called to 701 E. Main regarding a Domestic Disturbance with a firearm in the apartment. A female caller advised that her ex-boyfriend was at the apartment with a second male subject and was trying to force his way into the apartment. Officers arrived a short time later and detained both male subjects. The males were later identified as 20-year-old Erick Reyes (the ex-boyfriend) and 33-year-old Robert Johnson. Johnson was charged with Disorderly Conduct and Hindering Prosecution. Reyes was charged with Disorderly Conduct DV and Possession of Drug Paraphernalia.
During their contact with Mr. Johnson, a use of force incident occurred which was captured on surveillance footage from the apartment as well as multiple body worn camera angles. The surveillance footage was released yesterday (06/05/18) along with Chief Batista conducting on camera interviews with multiple local news agencies about this incident.
In these interviews Chief Batista confirmed three officers and a sergeant were removed from active duty and placed on administrative leave. Chief Batista spoke about a special directive ordering a prohibition on face, head, and neck strikes unless there is active aggression being exhibited by an individual toward the officer. He discussed his vision for the culture he wants within Mesa Police to include communication, respect, and professionalism in every encounter inclusive of a review of policy, procedure and training.
We have released the police report and body camera footage of the incident. An internal investigation is underway."