Arizona helicopter crew rescues driver from flash flooded creek: 'precarious situation'
The National Weather Service of Phoenix had issued a flood warning the day prior
A helicopter crew last week rescued a driver whose vehicle was trapped in a flooded Arizona creek, dramatic video shows.
The Gila County Sheriff's Office said the driver found himself in a "precarious situation" after he chose to drive around barricades on Tonto Creek the afternoon of July 2.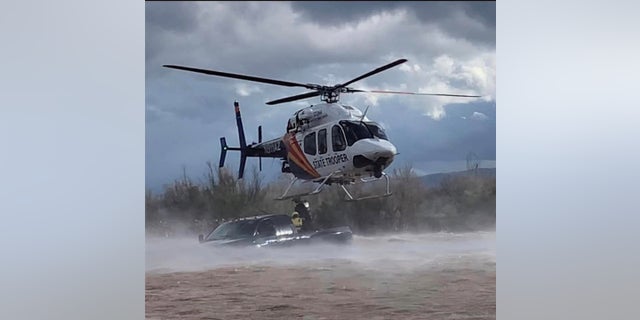 Department of Public Safety trooper and paramedic Russ Dodge told FOX 10 the vehicle was trapped for about an hour.
Dodge said the helicopter hovered over the vehicle and was stable enough for him to get into the bed of the truck.
CALIFORNIA BOY, 5, SWEPT AWAY IN FLOODWATERS AS MOTHER IS PULLED FROM STRANDED STRUCK
Though the floodwaters were nearly cresting the door handles, the rescuer was able to pull the man out of the vehicle, FOX 10 reported.
An Arizona Department of Public Safety Ranger helicopter and crew rescued the driver and he was flown to safety, the sheriff's office said.
The driver, whose identity was not released, was given a citation, the sheriff's department said.
CLICK HERE TO GET THE FOX NEWS APP
The rescue came amid heavy rainfall in the region. The National Weather Service of Phoenix had issued a flood warning the day prior, warning that "low water crossings in Tonto Basin will be impassable for several hours to a few days."