AP Explains: A closer look at Guatemala's Volcano of Fire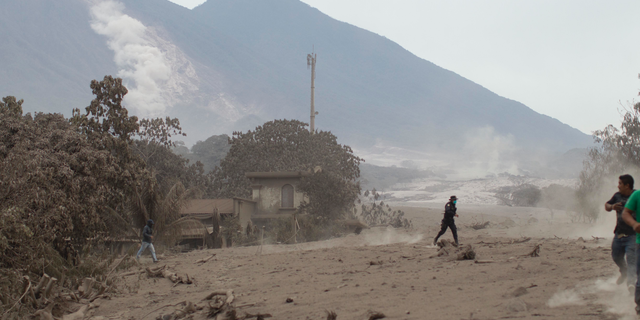 NEW YORK – Guatemala's Volcano of Fire erupted over the weekend, spewing deadly clouds and rivers of ash and pulverized rock. It is one of 11 active volcanoes in the Central America country that is along the so-called Ring of Fire.
Some questions and answers about the volcano:
HOW BIG IS IT?
At its peak, the volcano is 12,346 feet (3,763 meters) above sea level. It's an example of one of the tallest and most violent types of volcanoes in the world, its steep sides made out of accumulated layers of lava and ash. The volcano is 27 miles (44 kilometers) west of Guatemala City and only about 10 miles (16 kilometers) from the colonial city of Antigua, one of Guatemala's most popular tourist destinations.
HOW ACTIVE IS IT?
This volcano is probably the most active in Guatemala, according to the country's National Institute for Seismology, Volcanology, Meteorology and Hydrology. Records of activity go back to the 1500s and recent reports show that the volcano has been continuously erupting since 2002. Before Sunday's eruptions, the most recent event began May 17, when a mudflow of water and rocks started moving down the slope of the volcano, followed by explosions and ash plumes that rose almost 3,300 feet (1 kilometer). The eruptions continued for at least four days but were much smaller than Sunday's major eruption, which reached almost 15,000 feet (4.5 kilometers).
WAS THERE A WARNING?
Authorities say they were closely monitoring the volcano after activity picked up around 6 a.m. Sunday. But there was no indication that any eruption would be any worse than previous ones, and no evacuations were ordered. The disaster agency Conred issued standard precautions, telling people to wear face masks and cover their food and water supply. A powerful explosion about 2 p.m. sent a river of red-hot ash and rock down the volcano's flanks. "It traveled much faster. It arrived in communities right when the evacuation alerts were being generated," Conred spokesman David de Leon said.
WHAT IS THE RING OF FIRE?
It's a horseshoe-shaped region surrounding the Pacific Ocean that stretches from South America, up the western coast of North America, and rounds to Japan, the Philippines and New Zealand. Along a series of fault lines, it contains about three-quarters of the world's active volcanoes. While it's called a ring, Janine Krippner, a volcanologist at Concord University in West Virginia, says the volcanoes are not really connected. The eruption of one of them will not set off its neighbors, she said.
IS HAWAII'S KILAUEA VOLCANO DIFFERENT?
Yes, Kilauea is a different kind of volcano. It started as an underwater volcano and built itself up with continuous lava flows that formed a shield-like shape with gentle slopes. Kilauea, one of the world's most active volcanoes, has been erupting continuously since 1983. It's not in the Ring of Fire and the possibility that it may have triggered Guatemala's Volcano of Fire is extremely small, according to Krippner. It's very rare for one volcano to trigger another, she said.
___
AP reporter E. Eduardo Castillo in Mexico City contributed to this report.
___
The Associated Press Health & Science Department receives support from the Howard Hughes Medical Institute's Department of Science Education.