Anger as man convicted in plotting 1985 murder of LAPD detective is set for release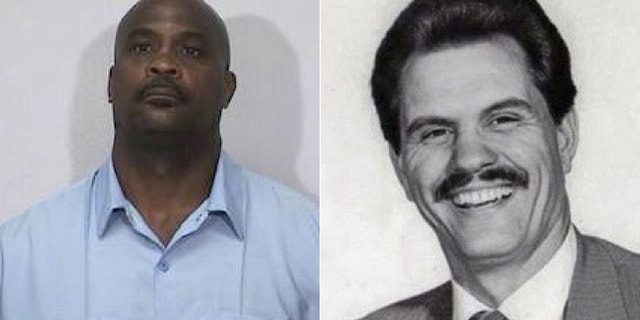 A man who served nearly 30 years in prison for plotting the 1985 ambush killing of a Los Angeles police detective is set to be released on parole in the next few days, despite rebuke from California Gov. Jerry Brownt, state corrections officials said.
Voltaire Williams, 54, was convicted in 1989 of conspiracy to commit murder on LAPD Det. Thomas C. Williams, who was shot and killed while he was picking up his 6-year-old son, The Los Angeles Times reported. Voltaire Williams was acquitted of first-degree murder and sentenced to 25 years in prison.
BALTIMORE SEEKING FBI, ATF HELP TO COMBAT SKYROCKETING MURDER RATE
In October, parole commissioners found him eligible for parole after he spent 27 years in state prison. Since Williams was found guilty of conspiracy to murder -- and not murder -- the governor could not reverse the decision.
Brown attempted to block Williams' release and sent a letter to the Board of Parole Hearings in December, saying Williams "had not confronted his actions and responsibility in the dectective's killing," according to the Los Angeles Times.
DETROIT POLICE OFFICER SHOT IN THE HEAD IN APPARENT RANDOM ATTACK
Brown then called for the parole board to review Williams' case, but on Tuesday it upheld the decision. Williams is expected to be freed within five days of receiving a release letter, according to a corrections department spokesman.
The decision outraged local law enforcement. The Los Angeles Police Protective League, a union that represents LAPD officers, released a statement on Wednesday criticizing the board's ruling.
"Detective Williams was assassinated because he did his job. The Parole Board's decision is an affront to every peace officer who risks their lives to protect others on a daily basis. [Voltaire Williams] does not deserve freedom," the union said in a statement to the Los Angeles Times.
Five men were charged in the death of Det. Williams, but only three -- Daniel Jenkins, Ruben Antonio Moss and Voltaire Williams -- were convicted. Jenkins, a limousine driver and mastermind of the murder plot, initially recruited Voltaire Williams to kill the detective. Jenkins had a vendetta against Det. Williams, who was the lead investigator in the driver's robbery case, the Los Angeles Times reported.
Williams ultimately didn't carry out the attack. Jenkins fired 17 shots at Det. Williams from a car on Halloween in 1985. Moss was in the driver's seat.
Jenkins was sentenced to death in the gas chamber, though he is still on death row. Moss was sentenced to life in prison.
Williams was allegedly in Oakland, Calif., on that day, his defense attorney said during the trial, adding that his client backed out of the plot a week before the murder took place.