Anchorage Mayor Dave Bronson gained national attention this summer when he proposed buying one-way airfare out of Alaska's largest city for anyone without housing who wanted to leave before winter.
Now, with the first snow just weeks away, those free tickets are nowhere in sight and the city is scrambling to pull together a grab bag of housing options for its more than 3,000 unsheltered residents. The city's mass shelter in a sports arena closed after complaints from neighbors about bad behavior and bickering between the city's liberal Assembly and conservative mayor killed hopes for a new permanent shelter and navigation center to take its place.
The Anchorage Assembly just approved $4 million in funds and will vote on additional elements of an emergency plan next week. City leaders — who estimate they still need to find up to 450 winter beds — say they are confident they have enough emergency housing ready, but the mood on the streets is grim.
ALASKAN MAYOR PROPOSES SENDING THE HOMELESS ON A ONE-WAY TICKET TO WARMER CLIMATE AHEAD OF WINTER
"A lot of people are going to freeze," said Scott Gibson, who is preparing to spend his second Alaska winter outside. Someone recently destroyed Gibson's tent and stole most of what was inside. Now everything he owns fits in a backpack.
"I have nothing," he said, as he tried to make some money repairing an old car at a homeless encampment across from the city library.
Cold snaps can plunge temperatures to minus 20 degrees Fahrenheit for days in Anchorage, where winds whip off Cook Inlet.
Anchorage last winter had a record 24 deaths outdoors among the homeless population, with 11 fatalities occurring in the winter months between October 2022 and April 2023, said Alexis Johnson, the city's homeless director. The city began keeping records in 2017.
Alaska's biggest city has an estimated 3,150 homeless individuals and enough room in shelters for all but about 775 people, Johnson said. The city recently brought four more housing facilities, which could create space for another 310 people, but is still seeking winter housing for an estimated 400 to 450 people.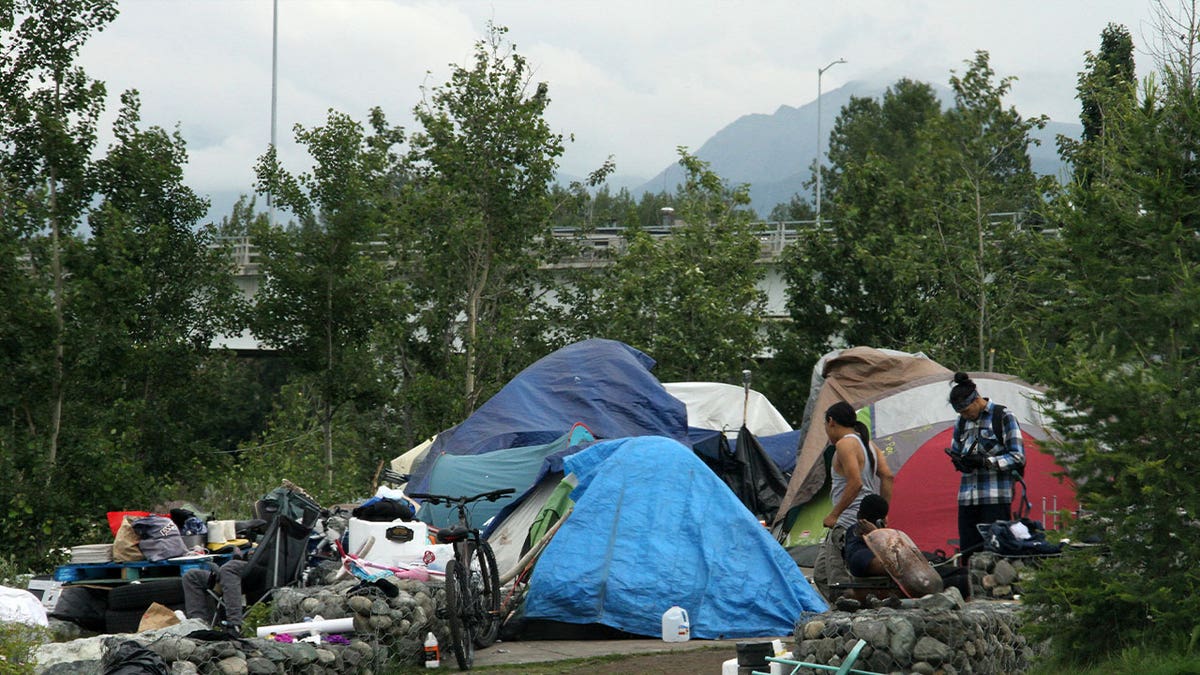 By renting hotel rooms, Johnson hopes to limit the capacity of a mass winter homeless shelter to no more than 150 people — one of the Assembly's stipulations when releasing the emergency funds. The city wants to use a recently vacated administration building as a makeshift low-barrier shelter, Johnson said.
"We are executing as fast as we can to get that done," the mayor said.
The assembly last week also awarded a $1.3 million grant to the Anchorage Affordable and Housing Land Trust, which will need to match the funding to rehabilitate vacant and abandoned properties for about 40 new housing units. They want to start transitioning people out of winter shelters in April.
Assembly member Felix Rivera said the solution just can't be standing up another warehouse-style mass shelter, but must include a permanent shelter and an early path to transition to longer-term housing. The new units in vacant or abandoned properties will kickstart that effort, he said.
HUGE MOOSE KICKS ALASKA WOMAN IN THE HEAD AFTER SNEAKING UP ON HER
With Alaska's extra-short summer construction season, "there must be a lot of progress made between now and April 1" to avoid a repeat of the rush for emergency housing next winter, Rivera said.
Bronson in July suggested it would be cheaper to fly homeless people to other states or elsewhere in Alaska than to house them for the winter. The unfunded proposal drew angry rebukes from mayors in California and Hawaii and skepticism from many in Anchorage's own unsheltered community.
"I'm not trying to get rid of people to get rid of them," Bronson said in an interview this week. "I'm trying to get people to a solution where they don't freeze to death."
During the pandemic, Anchorage configured the roughly 6,000-seat Sullivan Arena to be a mass-care facility. It has served more than 500 homeless people in the winters until city officials decided to return it to its original purpose, hosting concerts and hockey games.
Homeless encampments sprang up all over the city, including near Anchorage's historic train depot used by thousands of tourists this summer.
CLICK HERE TO GET THE FOX NEWS APP
Political tension between the liberal-leaning Assembly and the conservative mayor over policy and process has slowed progress on what was to be a new shelter on the city's east side. Work stopped after Bronson approved the contract without Assembly approval, and the governing body wound up paying the contractor nearly $2.5 million to settle a dispute over work already completed.
Anchorage, population 300,000, has 40% of the state's population but 65% of Alaska's homeless population, Bronson said, adding that the city has spent $161 million on the homeless crisis since 2020.
Greg Smith, a homeless resident visiting friends at the camp above the depot, said last winter, he wrapped blankets and plastic around his tent, which is warmed by a little heater.
"What do we have to show for it? Nothing," Smith said of the money spent by city leaders.
"Everybody shares and huddles together," he said, "and you make it through winter."