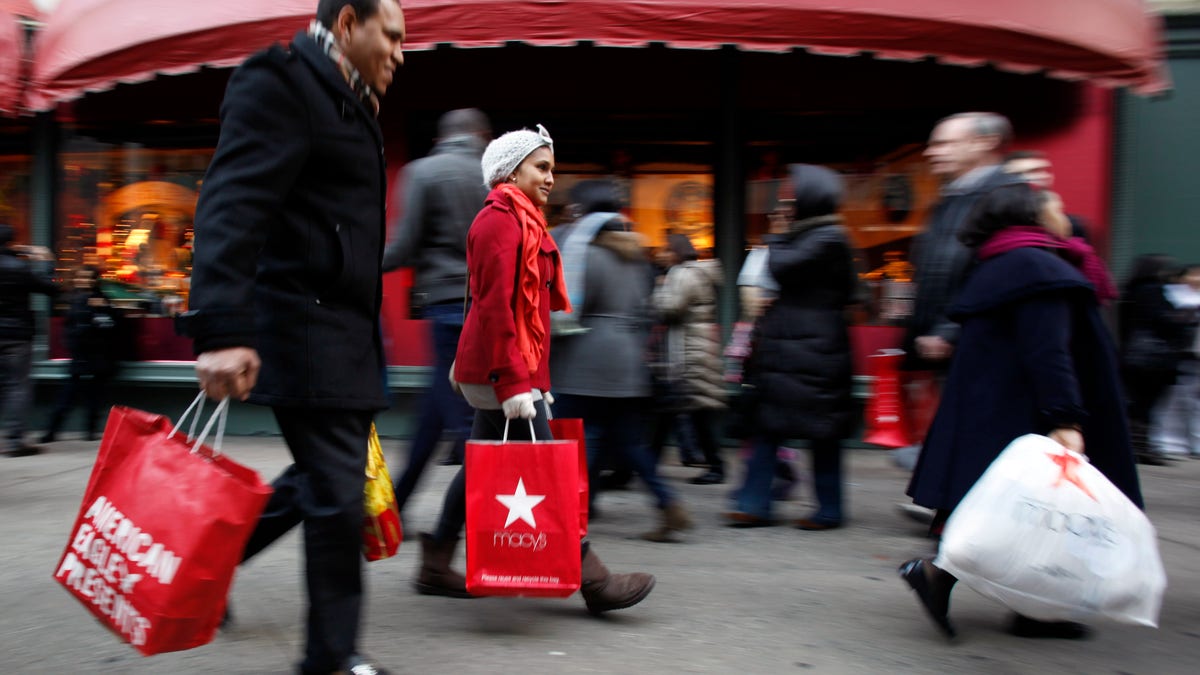 WASHINGTON -- Americans spent at a moderate pace last month, giving the economy a boost ahead of the holidays.
The Commerce Department reported Thursday that consumers increased their spending 0.4 percent in November. The gain came after shoppers ratcheted up spending by 0.7 percent in October, the most since August 2009. It marked the fifth month in a row that spending rose.
Even with the latest increases, consumers are still reluctant to go on the type of buying binges needed to dramatically lower the 9.8 percent unemployment rate.
Consumers' incomes grew 0.3 percent last month, lifted by gains from fatter stock portfolios. Wages and salaries, however, barely budged. Hiring slowed to a crawl in November and paychecks got thinner.
By contrast, incomes increased 0.4 percent in October, reflecting stronger wage gains from a better hiring climate that month. Income growth is the fuel for future spending.
Looking ahead, economists foresee scant wage gains because the job market is only slowly healing. That's one of the forces that will keep a lid on the type of lavish consumer spending needed to make a big impact on the unemployment rate.
Nonetheless, consumers in the final months of this year have been spending more freely, and that's helping to invigorate an economy that has been stuck in a slow-growth rut.
"The spending numbers are good for the economy, no question about it. Consumers are spending at a moderate pace. They are shopping until they are tired. They are not shopping until they drop. But that's okay," said Joel Naroff, president of Naroff Economic Advisors.
Shoppers are spending more as stock portfolios grow, loans become a bit easier to obtain and massive layoffs have moderated. Discounts have also given shoppers more incentive to spend ahead of the holidays.
A price gauge tied to Thursday's report showed that prices -- excluding food and energy -- rose just 0.8 percent for the second straight month. That is the smallest gain on records stretching back to 1960.
Consumer spending accounts for roughly 70 percent of economic activity. A rise in consumer spending is a key reason why analysts believe the economy picked up in the final three months of this year.
Analysts project the economy is growing at an annualized rate of at least 3.5 percent in the October-December quarter, up from a 2.6 percent pace in the July-September period.
For the final three months of this year, analysts predict consumer spending rose at an annual rate of up to 4 percent. Still, consumers would have to double that pace to match the spending rate recorded in the spring of 1983, after the 1981-1982 recession. That pace helped the economy grow at a rate of 9.3 percent and lead the country to a recovery.
To ramp up hiring and reduce unemployment, businesses must feel confident that consumers will want to spend robustly month after month. Although some employers are feeling better about the economy's prospects, companies are still sitting on record piles of cash, rather than spending it on expansions and bulking up payrolls.
By some estimates, the economy would need to grow by 5 percent for a full year to push down the unemployment rate by a full percentage point. With growth at around 4 percent, as many analysts predict, the unemployment rate is still expected to hover around 9 percent.
Thursday's report also showed that consumers saved 5.3 percent of their disposable income in November. That was down slightly from a 5.4 percent savings rate in October.
Analysts predict the savings rate will hover around that high range in the coming months. Americans saved 5.9 percent of their disposable income in 2009, the most since 1992. Before the recession, they were saving just over 1 percent.