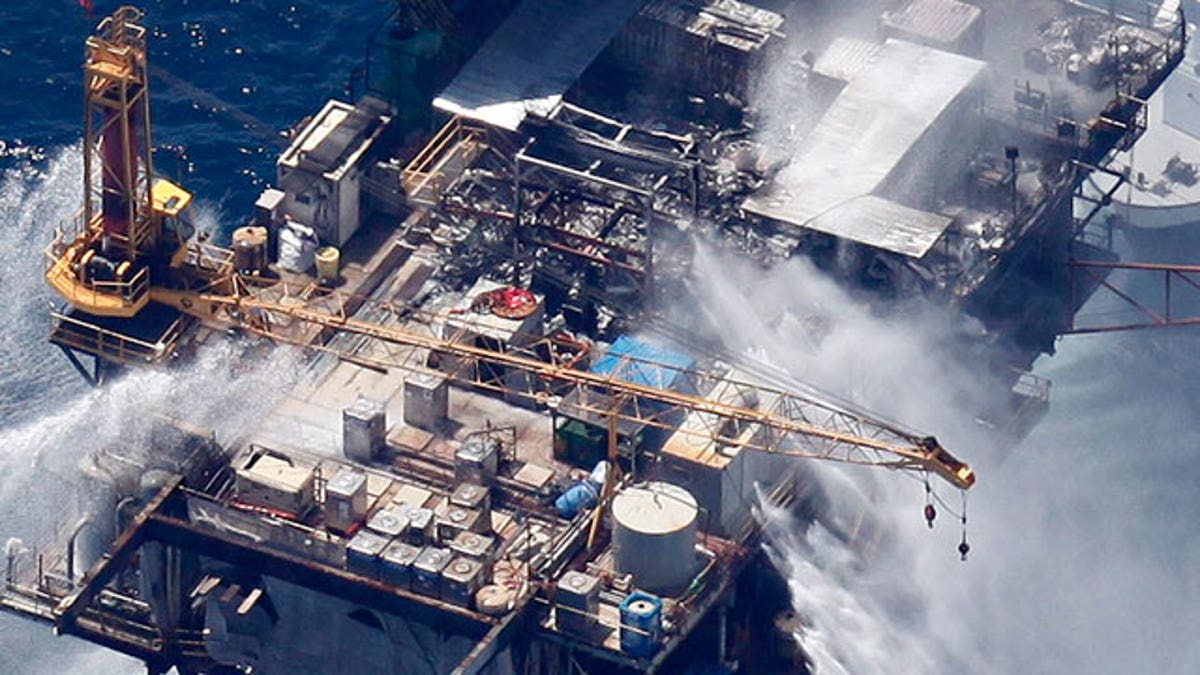 NEW ORLEANS – Unlike the blast that led to the massive BP spill, the latest oil platform fire in the Gulf of Mexico killed no one and sent no crude gushing into the water.
The Mariner Energy-owned platform that erupted in flames Thursday was just 200 miles west of the spill site, but everything from the structures to the operations to the safety devices were different.
Click here for more on this story from Fox News' LIVESHOT coverage.
Yet when word of the latest mishap spread, residents along the coast could think only of the three-month spill that began after the drilling rig Deepwater Horizon exploded on April 20, killing 11 workers.
"It's unbelievable," said Sophie Esch, 28, a Tulane graduate student from Berlin. "They should finally stop drilling in the Gulf. They should shut down all the drilling out there and not give permission to do any more. They've shown that it's just unsafe."
The Coast Guard initially reported that an oil sheen a mile long and 100 feet wide had begun to spread, but hours later said crews were unable to find any spill.
Coast Guard Petty Officer Steve Lehmann in New Orleans said Friday morning that an 87-foot Coast Guard cutter patrolling the area has not reported any signs of leaks. A helicopter was to survey the site later in the day.
Houston-based Mariner did not know what caused the fire. The 13 workers who were pulled from the water told rescuers that there was a blast on board, but Mariner's Patrick Cassidy said he considered what happened a fire, not an explosion.
Platforms are vastly different from oil rigs like BP's Deepwater Horizon. They are usually brought in after wells are already drilled and sealed and the oil is flowing at a predictable pressure. A majority of platforms in the Gulf do not require crews on board.
"A production platform is much more stable," said Andy Radford, an API expert on offshore oil drilling.
Many platforms, especially those in shallower water, stand on legs that are drilled into the sea floor. Like a giant octopus, each spreads numerous pipelines and can tap into many wells at once.
The Deepwater Horizon was drilling a well a mile beneath the sea, which made trying to plug it after it blew out an incredible challenge, with BP trying techniques never tested. The platform that caught fire, meanwhile, was operating in 340 feet of water in a shallow area of the Gulf known as a major source of gas.
Responding to any oil spill in such a shallow spot would be much easier than in deep water, where crews depend on remote-operated vehicles to access equipment on the sea floor.
Platforms do not have blowout preventers like deep water rigs that are supposed to shut down wells if there is problem. But they are usually equipped with a series of redundant valves that can shut off oil and gas at different points along the pipeline.
Mariner Energy officials said there were seven active production wells on its platform, and they were shut down shortly before the fire broke out.
The platform was still intact and a small portion appeared burned, Cassidy said. Louisiana Gov. Bobby Jindal said the company told him the fire began in 100 barrels of light oil condensate.
Photos showed at least five ships floating near the platform. Three were shooting great plumes of water onto the machinery, an image similar to when the Deepwater Horizon exploded. Crews decided to let that blaze burn itself out, and the rig sank into the Gulf two days after the blast.
On the Mariner Energy platform, the fire was out less than 12 hours.
A Homeland Security update obtained by The Associated Press said the platform was producing 58,800 gallons of oil and 900,000 cubic feet of gas per day. The platform can store 4,200 gallons of oil.
The workers aboard the platform were found huddled together, holding hands and wearing life jackets.
A captain of the Crystal Clear, a 110-foot boat that rescued them, said his craft was 25 miles away when it received a distress call.
When Capt. Dan Shaw arrived at the scene, the workers had been in the water for two hours and were thirsty and tired.
"We gave them soda and water, anything they wanted to drink," Shaw said. "They were just glad to be on board with us."
Shaw said workers told him the blast was so sudden that they did not have time to get into lifeboats. They did not mention what might have caused it.
"They just said there was an explosion, there was a fire," Shaw said. "It happened very quick."
Crew members were flown to a hospital and released by early Thursday evening.
Environmental groups and some lawmakers said the newest problem showed the dangers of offshore drilling, and urged the Obama administration to extend a temporary ban on deepwater drilling to shallow water.
"How many accidents are needed and how much environmental and economic damage must we suffer before we act to contain and control the source of the danger: offshore drilling?" said Rep. Frank Pallone, a New Jersey Democrat.
There are about 3,400 platforms operating in the Gulf, according to the American Petroleum Institute. Together they pump about a third of the America's domestic oil, forming the backbone of the country's petroleum industry.
___
Associated Press writers Harry R. Weber, Michael Kunzelman and Janet McConnaughey in New Orleans, Chris Kahn in New York, Eileen Sullivan, Matthew Daly, Gerry Bodlander and Dina Capiello in Washington, Garance Burke in Fresno, Calif., and researcher Monika Mathur in New York contributed to this report.