Alabama is latest state to approve execution by nitrogen gas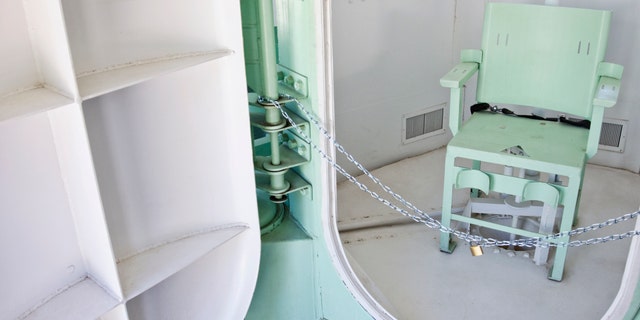 Alabama became the third state to allow the execution of prisoners by nitrogen gas Thursday after Republican Gov. Kay Ivey signed legislation permitting the practice as an alternative to lethal injection.
The new law would allow execution by nitrogen hypoxia if lethal injection drugs are unavailable or ruled unconstitutional. Breathing the inert gas causes oxygen depletion in the bloodstream.
According to AL.com, inmates on death row also could choose to be electrocuted, though none have done so since Alabama adopted lethal injection in 2002.
The bill overwhelmingly passed the Alabama House of Representatives on Tuesday after it was approved unanimously by the State Senate last month. Supporters argued the state needs another method of carrying out death sentences as drug companies become hesitant to supply chemicals for executions and lethal injection faces continued court challenges.
"It would simply put him to sleep. It's humane. It's quick, and it's painless," Republican Rep. Jim Hill of Moody said during debate.
Opponents of the bill questioned how lawmakers could assert it would be painless since the method hasn't been tried.
"We had Yellow Mama. Now, we are going to bring back the gas chamber," Rep. Thomas Jackson, a Democrat from Thomasville, said, referencing the nickname for the state's yellow-painted electric chair.
Last week, Oklahoma officials announced that they would use nitrogen to execute inmates once the state resumes using the death penalty. State Attorney General Mike Hunter said the administration of the gas likely would require the use of a mask placed over the inmate's head, but he said the mechanical details still have to be worked out.
Oklahoma put executions on hold in 2015 after a series of execution mishaps. In 2014, a botched lethal injection left an inmate writhing on the gurney. The following year, one inmate was executed with an unapproved drug, and a second inmate was just moments away from being led to the death chamber before prison officials realized the same wrong drug had been delivered for his execution.
Since then, several top officials connected to the bungled executions have resigned and the state's multicounty grand jury delivered a scathing report on Oklahoma's lethal injection process that accused a number of individuals involved in the process of sloppy and careless work.
The Oklahoma Legislature formally approved the use of nitrogen gas as an execution method in 2015. Mississippi became the second state to approve the method last year.
Four other states allow the use of a gas chamber as an alternative method of execution, including Arizona, California, Missouri and Wyoming, according to the Death Penalty Information Center.
The Associated Press contributed to this report.