Alabama Family Lives Amid Rubble From April Tornado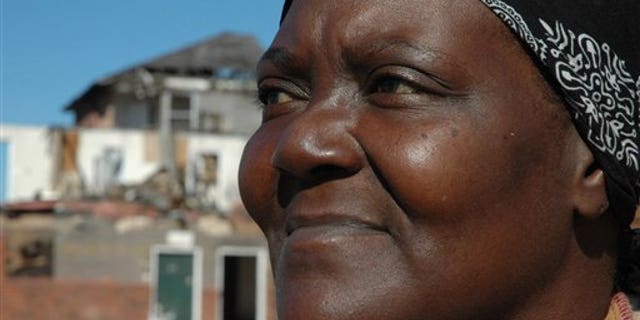 TUSCALOOSA, Ala. – Geraldine Horton steps out of her apartment into a broken world that looks much as it did the day after a killer tornado plowed through town last spring.
Buildings are sliced in two across the street from her home and next door; broken bricks litter her parking lot along with shoes, underwear, kitchen canisters and splintered lumber. A smoke detector beeps somewhere deep within the wreckage, its battery dying more than eight months after the twister.
Horton, her husband Leon and their two teenage sons are one of only two families living in Graceland Apartments, both of whom moved in around New Year's. All but one of the 20 or so buildings in the complex were destroyed by a twister on April 27, and the families are living in the sole structure that survived.
"Man, it's still ugly. It really is," Horton said as she scanned the wreckage. "It's got a sense of sadness to it. But it's all right."
The tornado outbreak killed about 250 people in Alabama, including 52 in Tuscaloosa. The twister missed the University of Alabama campus but damaged or destroyed more than 5,000 businesses and homes in the city, displacing hundreds. While many have returned as rebuilding progresses across much of the area, the Hortons' situation shows that life is far from normal in some neighborhoods where the cleanup has lagged.
The family signed a lease in December not realizing the City Council had voted to condemn the property two days before Christmas.
"I know people think I'm crazy for living down here, but it's not where you live, it's how you live," said Horton, 53. "As long as you live the way God wants you to live, or as close as you can to the way God wants you to live, things are going to turn out right."
It's unclear how long the Hortons, who get by on government disability payments, can remain at the complex that shares a name with Elvis Presley's home in Memphis, Tenn. The couple has lived there on and off throughout 33 years of marriage. They were staying elsewhere at the time of the storm but came back after realizing a single building had survived.
But the city is seizing the land through eminent domain. City leaders have talked of using the property for a new elementary school or a fire station, and workers stopped by last week with word that demolition will begin this week.
"I signed a year lease. I don't know what's going to happen," said Horton. Her family lacks cable TV but has everything else she needs -- water, power, sewer service, and a roof over her family's head.
Meredith Lynch, a spokeswoman for the city's incident command, said residents will be allowed to remain temporarily, but it's not clear what will happen as the work progresses. The complex is supposed to be demolished within four months, or by the first anniversary of the tornado, she said.
"We know people are there," said Lynch.
Tuscaloosa businessman Matt Leavell, who identified himself as owner of the property, said there are a lot of rumors going around about what will happen to it.
"I have yet to be contacted as the owner of the property that the area has been condemned," he said in a Facebook message. "To my knowledge we will just continue as normal until we hear differently."
While tornado debris is gone across much of Tuscaloosa and many lots have been swept clean of debris, progress has been slower in the area called Alberta City, where the apartments are located in a part of town populated mainly by retirees, students and low-income residents. There, rubble still lines University Boulevard in some places, and repaired homes stand beside vacant houses awaiting demolition.
Virtually abandoned and littered with storm debris, Graceland is deathly still aside from weeds and tornado debris that waves in a wintry breeze. It's so quiet at night Horton can hear traffic a couple blocks away.
Yet Horton's apartment is comfortable, and the vacant, deteriorating apartment shells nearby are filled with memories of old friends and families.
"When you look at it you can still feel some of the sadness, but it's not as overwhelming as it used to be right after the storm," she said. "After the storm you came in here and were wondering, `What happened to that person, what happened to that person?' You saw them again and felt much better knowing they made it out all right."
Advocates say the tornadoes made it tougher to find affordable housing in the hardest-hit areas of Alabama since thousands of homes were destroyed, and Horton said she and her family felt fortunate find a nice, reasonably priced place in Tuscaloosa. The family needed a new place to live in December, so they returned to the apartments she considers home.
Owners of the surviving building at Graceland Apartments had repaired what little damage there was, Horton said, and her family moved in over the New Year's weekend. The rent is cheap -- about $50 less than previously, she said.
While a pizza buffet, a tobacco shop and a convenience store are operating a few hundred yards away on a main drag through town, the only other people at Graceland are three residents who live beside the Hortons.
Horton and her husband walked through the complex on a sunny afternoon last week, stepping past piles of bricks and concrete blocks topped by moldy mattresses and a fractured wooden crib. She's thinking of writing a book about her experiences but, for now, is just happy to have a home.
Horton has adjusted to living amid the ruins. She has a hard time even imagining Graceland without the rubble.
"It's going to be strange when they clean up all the debris and then you can't see anything," she said.