Accused thief returns stolen birthday presents, leaves apology and cash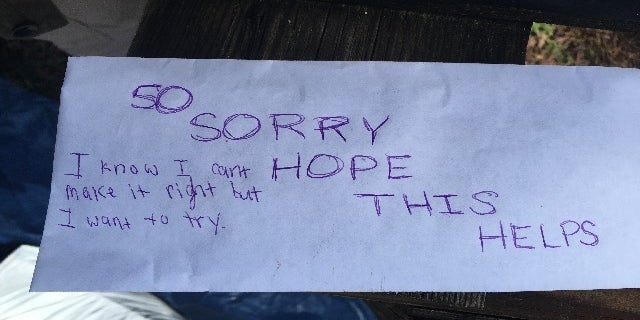 NEWYou can now listen to Fox News articles!
He really chose to mess with the wrong guy.
An accused thief was exposed on social media Monday after being caught on camera swiping birthday presents off the porch of a Navy intelligence analyst's home.
The man – who might have been feeling remorseful – came back sometime during the next day and returned some of the stolen items to the Paulding County, Georgia, home, Fox 5 reports.
Homeowner Eric Truitt said his daughter's birthday present was inside the package along with another present from her brother.
Truitt said the thief left an apology note and cash with the returned items, found in a garbage bag outside the home.
"So sorry hope this helps," the note said. "I know I can't make it right but I want to try."
The family handed the bag over to investigators so they could look for fingerprints.
"I think someone talked some sense into him," Truitt told Fox 5.
Truitt, a veteran intelligence analyst with the Navy, spent hours tracking the thief after he was picked up on cameras at the home. He posted a video of the incident on social media and alerted police and news agencies.
"It really gets your blood pumping. It makes you feel a little bit helpless. I was actually at work at the time, but my family was home," Truitt told WSB-TV. "Makes you very angry."
Paulding County police said two people in a black Mustang -- the car believed to be used by the thief – were arrested in an unrelated case and are being interviewed about the package theft.