A look at key players in the fatal shooting of black man by white officer in South Carolina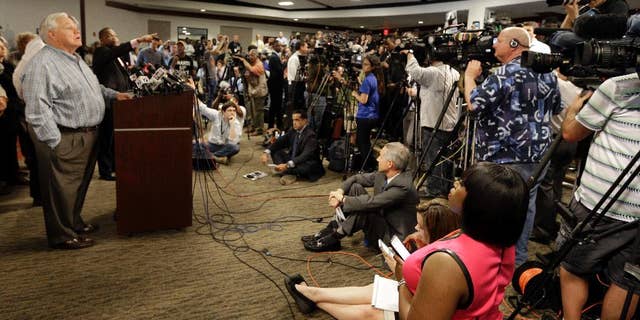 NORTH CHARLESTON, S.C. – A look at some of the main people involved in the fatal shooting of a black man by a white police officer in North Charleston.
___
THE OFFICER
Michael Thomas Slager, 33, was a police officer in North Charleston. He's charged with murder and has been fired. Video shows him firing eight times at a black man who runs away from him after a traffic stop.
Slager initially said he fired in self-defense after the man grabbed his Taser.
Slager is white. He's married, and his wife is eight months pregnant.
In 2013, a complaint was filed alleging that Slager used excessive force against another unarmed black man. The man, Mario Givens, says Slager showed up at his door and used a stun gun on him in the stomach. Givens was later released without charge.
Slager was allowed to stay on the force. The police department says it will now review that case again.
Slager was denied bond. If convicted, he could face 30 years to life in prison. A prominent Charleston defense attorney is representing him.
Slager served in the United States Coast Guard and had been with North Charleston police for five years.
___
THE VICTIM
Walter L. Scott, a 50-year-old black man, was fatally shot Saturday. He was initially pulled over because his brake light was out.
Scott had four children, was engaged and had been honorably discharged from the U.S. Coast Guard.
He had had been jailed three times for failure to pay child support, court records show. In late 2008, he was jailed for six months over $6,800 in back child support. In 2011, he spent a night in jail when he was $7,500 behind. And in 2012, he spent another night in jail when he owed $3,500.
Scott may have tried to run from the officer because he owed child support again and didn't want to go back to jail, his father and a family attorney said.
His also record shows traffic tickets but no violent offenses.
A funeral will be held Saturday.
___
THE WITNESS
Feidin Santana says he was walking to work Saturday morning when he saw Slager and Scott. Santana says he started recording the incident on his cellphone when he heard the sound of a stun gun.
"Mr. Scott was trying just to get away from the Taser," said Santana, a barber originally from the Dominican Republic.
Santana, who's been cooperating with authorities, said he was so shaken that he considered erasing the video and leaving town — he feared for his safety.
"My life has changed after this," Santana said. "People know where I live; people know where I work. ... At some point, I thought about staying anonymous."
Officials have said they don't think there were any other witnesses.
___
THE POLICE CHIEF
Eddie Driggers began his law-enforcement career in 1975 as a North Charleston officer, according to a biography on the department website. In 1986, he joined the Charleston County Police Department and eventually became assistant sheriff.
In 2012, he became North Charleston's police chief.
"Chief Driggers' philosophy is that the office does not belong to him, but rather to the people he serves," the website says.
In 2012, Driggers was ordained a deacon in the Episcopal Church. He is married.
At a news conference Wednesday, protesters called for Driggers to answer questions instead of the mayor. But officials said that because the investigation of the shooting has been turned over to the State Law Enforcement Division, Driggers could not answer specific questions. He did say that the video "sickened" him.
__
THE MAYOR
Keith Summey was elected in October 1994. He's been re-elected five times. He's widely credited with helping the city recover from economic devastation when the Charleston Naval Base closed in the mid-1990s. Now the city is home to Boeing's South Carolina operations.
Summey is a South Carolina native. He's married with two children and four grandchildren, according to a city biography.
Summey announced the charges against Slager on Tuesday. On Wednesday, Driggers and Summey spoke with Scott's parents at their home and called it "a good visit."
At the end of Wednesday's news conference, protesters called for Summey's resignation, chanting "The mayor's got to go."