911 system in trapped Ohio teen case may have crashed before call, official says
The 911 dispatching system may have malfunctioned in the moments before an Ohio teenager called as he was being crushed to death in a minivan, the Cincinnati Police Department's union president said Saturday.
Fraternal Order of Police President Daniel Hils told FOX 19 the computer-aided dispatch system may have gone down as Kyle Plush called 911 two times after being trapped inside the minivan at the parking lot of his school.
"This is not something that I think is terribly unusual. I mean electronic systems break down, they have to reboot, and they have to do different things," he said.
In the event of a system failure, Hils told FOX 19 that the dispatch center would then have to relay messages by hand in order to get calls out.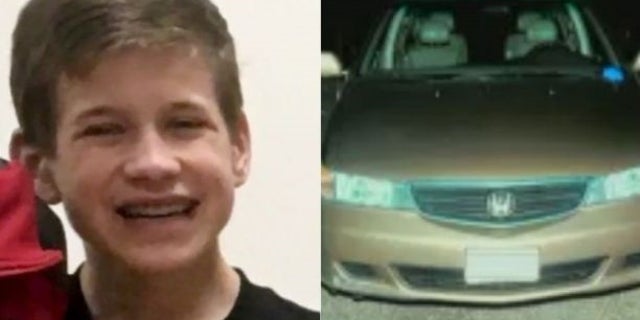 "They do it how they did it in the old days, write it down on an index card and the card is handed to someone somehow sending the person dispatching on that channel," he said.
Plush suffocated after he became trapped under the third-row seat that flipped and pinned him while he was trying to reach his tennis equipment. The teenager told 911 operators where he was located, but authorities were not able to find him. A deputy sent to the scene soon after called in to report that he couldn't find anyone trapped in a van, and questioned if the call had been a prank.
911 DISPATCHER WHO ANSWERED CALL FROM BOY CRUSHED BY MINIVAN SEAT COMPLAINED ABOUT JOB DAYS BEFORE INCIDENT
Police said Amber Smith, the 911 operator who answered Plush's second call, failed to relay information to the additional officers who were at the scene.
During the call, Plush explained to Smith the call was not a joke.
"I am trapped inside my gold Honda Odyssey van in the parking lot of the Seven Hills...Send officers immediately," Plush pleaded. "I'm almost dead."
Smith, who has been a 911 operator for four years, will return to work on Wednesday while an internal investigation is under way. She told supervisors her computer froze and she was unable to put information into the system.
She previously spoke about her job on her personal Facebook page a few times, including a post in May 2017 "venting" about how working overtime makes her and her co-workers "hate our job," the Cincinnati Enquirer reported.
A confidential police review obtained by FOX 19 also noted that Smith told superiors she couldn't hear the 16-year-old during the 911 call. She also received a 60 percent on her call review, which is considered unacceptable.
"Only the investigation will reveal if it was the people or the hardware or a combination of both. We just don't know yet," Hils told FOX 19.
OHIO TEEN CRUSHED TO DEATH BY MINIVAN SEAT WAS 'FUNNY, SMART AND POSITIVE,' FAMILY SAYS
Cincinnati's 911 system has been plagued with problems over the past few years, with five directors and a budget cut by $400,000 since 2016, according to the Enquirer. Records showed the center needed 17 dispatchers and 15 operators, the paper reported.
Cincinnati Mayor John Cranley and other elected officials are now calling for a review of the city's emergency communications center.
"While it is unclear if there is wrongdoing by the city in this tragedy, we have a profound responsibility to find out," Cranley said in a statement on Thursday. I applaud Police Chief Eliot Isaac for launching an investigation on the specific issues that happened Tuesday. However, separate from this incident, the problems of management, supervision and technology have been reported at the 911 center for years."
The Hamilton County coroner ruled Plush's death an accidental asphyxia due to chest compression. Family and friends will gather to remember the teen Sunday before his funeral is held Monday.
Fox News' Kathleen Joyce and Madeline Fish contributed to this report.