6,000 still evacuated as California wildfire surges to 35 square miles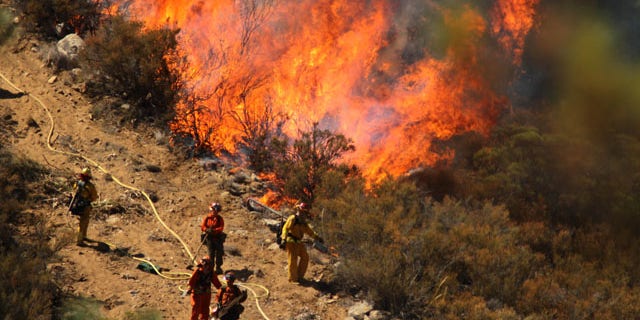 IDYLLWILD, Calif. – A wildfire in the Southern California mountains was threatening a popular tourist destination Thursday, forcing the evacuation of an estimated 6,000 residents and tourists.
The blaze about 100 miles east of Los Angeles had grown to more than 35 square miles in size and had destroyed at least six houses and mobile homes. Tensions heightened late Wednesday after winds shifted, causing the fire to change course and head in the direction of Idyllwild, an artist community and hiking destination in the San Jacinto Mountains.
Lewis Millett left behind his three-story home after hearing the evacuation order on the radio.
"It's never been this bad, and it's never been this close," Millett, 61, said as he sat on a cot in an evacuation center in Hemet, a nearby community. "I have high anxiety."
Millett and his wife gathered up his paintings, sculptures and prized family heirlooms, including a Medal of Honor given to his father in 1951 and several autographed pictures signed by U.S. presidents. An artist, he has lived in the area for three decades.
"It's like an island in this beautiful forest," Millett said. "It's a great place to live."
Fire officials said the blaze was just 15 percent contained and had been growing in a manner that was unlike what they typically experience. Tina Rose, a spokeswoman for the California Department of Forestry and Fire Protection, said the behavior was extreme.
"Usually it cools down at night and we get more humidity. That hasn't happened," she said. "It's been burning like it's daytime for 72 hours in a row."
Nearly 3,000 firefighters and more than a dozen aircraft were assigned to the fire, which has been churning through thick, dry brush and scattered trees in a high-elevation area above 5,000 feet. The area immediately surrounding Idyllwild is much more thickly forested and has not burned in decades.
Fire crews struggled to carve fire lines around Idyllwild to block the flames, which fire officials and residents estimated at times were 100 feet high. Roughly 4,100 houses, hotels, condos and cabins in Idyllwild and surrounding communities were threatened.
Idyllwild resident Karin Hedstrom, 84, had time to gather only her medication and important paperwork before she evacuated.
"I want to know my home is OK," said Hedstrom, who first visited the community on her honeymoon in 1958. "I don't want ashes when I come home."
The fire was about 12 miles from the site of the 2006 Esperanza wildfire, which killed five U.S. Forest Service firefighters and destroyed 34 homes.