500-mile memorial: Relay run honors children of fallen soldiers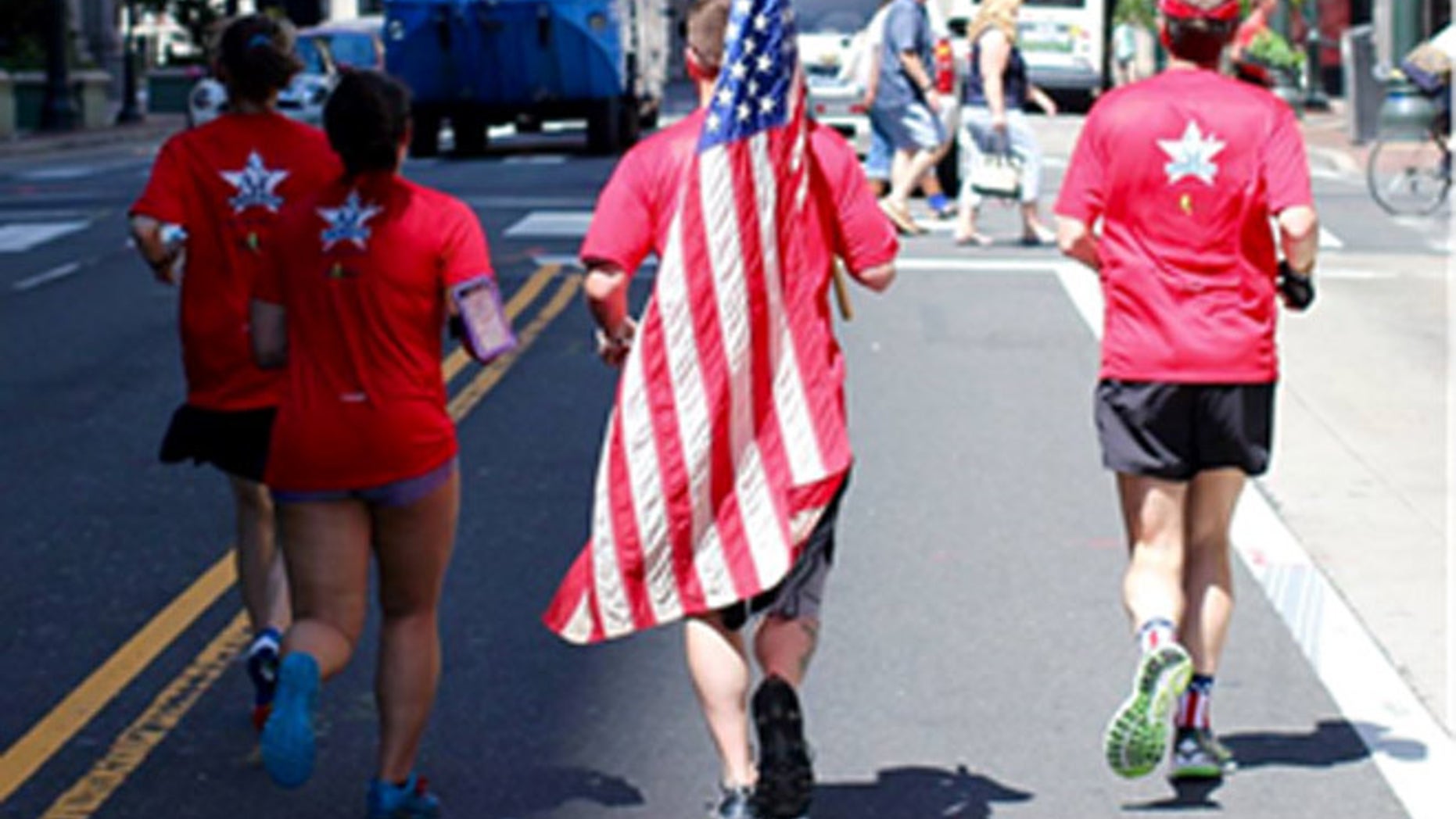 For many Americans, Memorial Day weekend was about backyard barbecues, but for participants of the third annual "500 for the Fallen" relay, there was a singular purpose – to honor the children of fallen service members along the 500-mile route from Concord, Mass., to Arlington National Cemetery.
In support of Children of Fallen Patriots Foundation, which pays for the surviving children of military service members to attend college, the runners carried an American flag through cities and towns along the East Coast without stopping.
Since 2002, the foundation has provided more than $10.8 million in total assistance, including college scholarships, supplemental grants and educational counseling to military children who have lost a parent in the line of duty.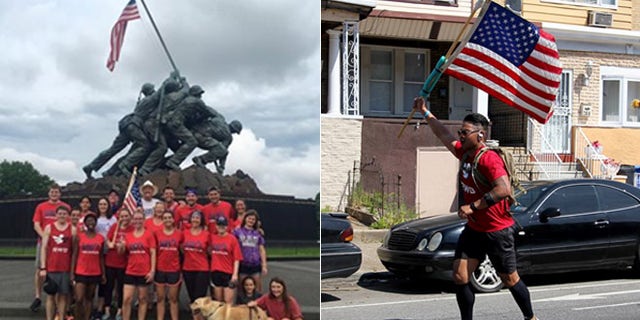 "There is no question that I would not have been able to attend college if it were not for this foundation. And the same goes for my sister," Katie O'Hare told FoxNews.com
O'Hare is the daughter of Navy Pilot Lt. Commander Raymond O'Hare, who was killed on a test flight in 2000, leaving behind his wife and three children. His wife Colleen provided support and encouragement over the course of the five-day relay and ran the final 2 miles to the Iwo Jima Memorial.
According to Children of Fallen Patriots Foundation, nearly 20,000 dependent children have been left behind by troops killed in the line of military duty over the past 35 years. While the government does provide some benefits, the need for additional assistance is needed as 60 percent of surviving spouses making less than $50,000 per year.
However, the foundation and the run serve a more important mission.
"The foundation not only provides much-needed assistance to pay for college, it is a reminder to the children that they have not been forgotten," she told FoxNews.com
That mission is what inspires and fuels the participants during the 65 stages of the race. This year's race took place in 80-plus degree temperatures, as well as torrential downpours in the last two days and nights.
At the conclusion of each stage, the flag is handed off from one runner to another at various war memorials and other historic sites. The runners all wore dog tags belonging to Sgt. Garett Mongrella, who was one of 11 Marines killed in the Battle of Khafji during the first Gulf War. Mongrella's son just graduated from the University of Iowa thanks to a full scholarship from the Fund.
"That he served in the first Gulf War makes this run all the more meaningful to me. We served together [in the same conflict] and there is a special bond that I feel," says Lucy DelGaudio, who served eight years in the Army and was deployed to the Persian Gulf for six months.
In its first two years, "500 for the Fallen" has raised about $50,000, and more than $33,000 was donated during this year's race, according to Lance Svendsen, the founder of the race's sponsor, RunAnyway Foundation.
Svendsen and best friends Chris Pannullo and Todd Phineas Kelley, who are the primary organizers of the event, describe it as "controlled chaos," and plan to keep the adventure going.
The handoffs are made at various war memorials and historic sites. Several of the handoffs occurred at American Legion posts, including one in New Jersey where members of American Legion Post 3 delivered a $100 check for the foundation.
The impact the race has on runners, supporters and veterans is most evident at the exchanges. Despite the fact many of the participants are first-time runners, they often embrace and shed tears.
"Everyone chooses to be involved for individual reasons, but everyone has a shared commitment to making sure the families know the community is there for them," says Svendsen.
Runners donated $50 to run each leg, which varied between 5 and 12 miles and travel along wooded trails, roadsides continuously until the flag reaches Arlington. "The flag, which flew on an American base in Afghanistan, paused momentarily in front of the Vietnam Memorial in Washington, D.C., on Memorial Day afternoon.
Many of the participants were active duty or veterans, but many veteran supporters were driven by a commitment to serve.
"It was my dream growing up to join the Marines," says Betsy Montanez, a veteran affairs coordinator at Bronx Community College.
A knee injury prevented her from seeing that dream to its end, but did not prevent her from serving active service members and veterans as a civilian. Montanez and many other runners are also members of Red, White, and Blue, a nonprofit organization comprised of both veterans and civilians whose mission is to enrich veterans' lives through social and physical activity.
"The solidarity of service which defines the "500 for the Fallen" is symbolized in the story of ultra-marathoner Bobby Asher, who was unable to run last year because of an injury. This year he ran all of the stages in New York, which covered 35 miles, out of a desire to be a part of a race and a team dedicated to a cause bigger than himself.