5-foot-long shark found at door of 'Sea Dog' pub on Nantucket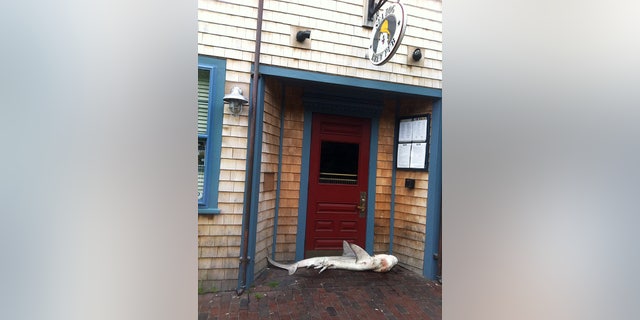 NEWYou can now listen to Fox News articles!
Make it a "Land Shark."
A cleaning crew found an unexpected mess after arriving at Sea Dog Brew Pub on Nantucket: a 5-foot-long shark blocking the door.
Pub manager Jimmy Agnew says he doesn't know why anyone would have dumped the sea creature there.
"That's some serious restaurant Mafia (expletive)," Agnew told The Nantucket Inquirer and Mirror. "So weird," he said.
Employees closed the restaurant down at around 3 a.m. Thursday and exited through the front door, he told the newspaper.
The shark was dumped sometime between then, and when Nantucket's public works department arrived to haul the dead shark away around 7 a.m. Thursday.
Nantucket police Lt. Jerry Adams told the Inquirer and Mirror that authorities took a report but it isn't clear if they will be taking any action to investigate the incident.
Agnew said the pub fielded calls and questions all day long after word got out about the land shark.
He said a comedian whose band performs at the pub also posted a series of jokes about it on Facebook.
One suggested the shark went to Sea Dog "to meet his chums."
Click for more from The Nantucket Inquirer and Mirror.
The Associated Press contributed to this report.