4 Vietnam War veterans receive Silver Star for 1972 rescue mission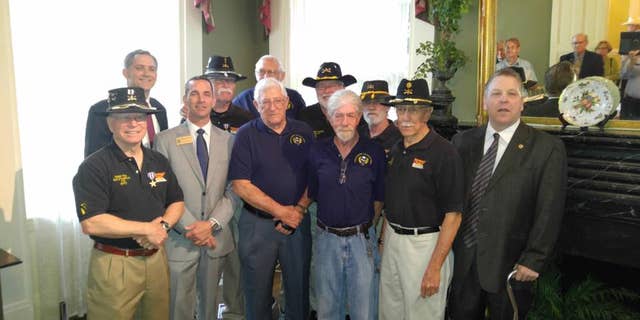 Four U.S. Army veterans who rescued seven people from a burning transport plane during the Vietnam War each received a Silver Star on Tuesday for their heroic actions.
Robert Monette, Robert Frank, Spc. John Deslouriers and Spc. Leonard "Bruce" Shearer -- the crew members of UH-1H "Huey" -- reunited in Little Rock, Ark., for the ceremony, Stars and Stripes reported.
Arkansas Rep. French Hill presented the medals to the veterans. Three of the crash survivors who were rescued in the mission also attended, according to Hill's Facebook post.
The Silver Star is the third highest military combat decoration that can be awarded.
Monette, the helicopter pilot during the 1972 rescue mission, told Stars and Stripes on Monday that the medals were "unexpected, and very, very humbling."
The "Huey" crew saw the C-130 Hercules plane crash when they were on a research mission in Saigon, Vietnam, 45 years ago.
"They never made a Mayday call. By all accounts, no one knew they had been shot down," Monette recalled to Stars and Stripes.
They thought there wouldn't be any survivors, but flew closer and spotted people moving among the burning wreckage, Frank said. They initiated a rescue mission despite being low on fuel.
Deslouriers, the gunner, fended off the North Vietnamese Communist forces as the rest of the team pulled five airmen from the wreckage. Frank called a second helicopter to rescue two more people. No one was killed that day.
The call to bestow the crew with Silver Stars came almost immediately. Frank first wrote a recommendation for Shearer and Deslouriers to receive Siver Stars before he returned to the United States in 1972, according to Stars and Stripes. Frank said he thought his request would get "lost in the shuffle."
The bid to award the crew with Silver Stars reignited in 2005 when retired Maj. Jack Shields, who commanded the "Huey" crew, requested for all four members to receive the medals.
Shields finally got in contact with Tom McNabb and David Carnahan at Hill's office about 14 months ago. They worked with the Department of Defense to finally award the honors to the men.
"We wanted to get an award for these guys, and it finally came to pass. I'm just glad to see it happen," Shields said.