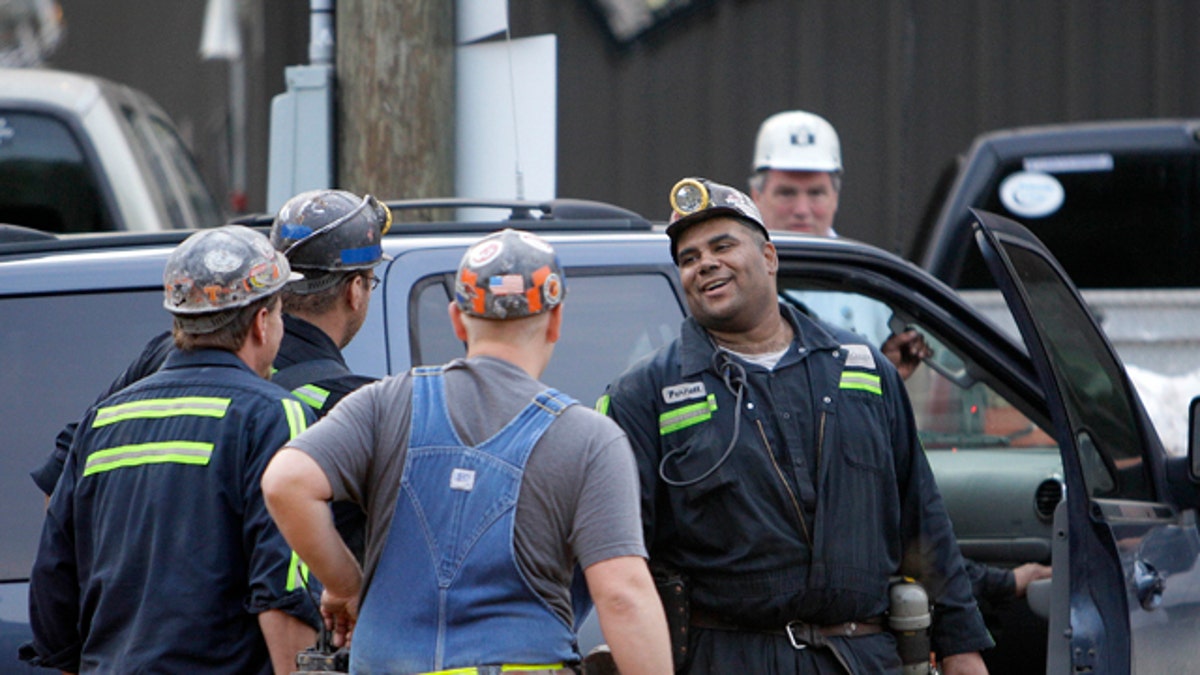 MIDDLESBORO, Ky. – Three men who spent more than half a day trapped underground in a flooded southeastern Kentucky coal mine waded out and were on their way home after just a quick hospital evaluation.
Relief was on the faces of Pernell Witherspoon's family, who gathered Monday night at Middlesboro Appalachian Regional Healthcare Hospital.
"He's doing real good," said Witherspoon's brother, Nike Witherspoon. "He was perfect, everyone was perfect."
Crews spent the day pumping water out of the mine, allowing the men to walk out. They had spent their time 600 feet underground in a dry location and had access to lights on their helmets, food and blankets.
The men were freed at 8:22 p.m. EDT, said Dick Brown, spokesman for the state Energy and Environment Cabinet.
Family members were happy to indulge Witherspoon once he, Doug Warren and Russell Asher were released from the hospital. One relative fetched a cigarette from a car for Witherspoon as he was leaving the hospital.
"He deserves one, after all this," said Rhonda Cooper of Portsmouth, Ohio, whose sister is engaged to Witherspoon.
She had driven about five hours from Ohio along with several other family members.
"I'm glad it's over," she said. "I'm glad he's safe."
Elaine Smith, community and patient advocate at the Middlesboro hospital, said the three men were evaluated and released.
The three maintenance workers were caught in the mine at 6:40 a.m., when officials said a collapse at the entrance sent water from a swollen drainage ditch gushing in.
The men were nearing the end of their shift when it happened, said Eddie Starks, an official with the U.S. Mine Safety and Health Administration. Starks said the men used their helmet-mounted headlamps one at a time to conserve power.
Up to 50 rescue workers, including a state-trained mine rescue team, worked to free them, officials said.
"All three miners are out. They're fine. Everybody is safe. No injuries," said C.K. Lane, chief operating officer with James River Coal, the Richmond, Va.-based company that owns the mine near Middlesboro. "We pumped the water down, and they were able to walk through the water and walk on outside."
U.S. Labor Secretary Hilda Solis said the "swift and persistent action" by the company and state, local and federal employees ended the day with a positive result. She said she was looking forward to talking to the mine workers Tuesday.
State and federal regulators issued a closure order for the entire mine after the incident Monday in order to determine how much damage the water caused the mine and the equipment, Brown said. It may take several weeks to assess the damage and for the company to make repairs, he said.
Jellico Mine No. 1, operated by Bell County Coal and owned by James River Coal, is located in far southeastern Kentucky near the Tennessee and Virginia borders. The area was inundated with heavy rain Sunday night, with up to 6 inches dropped in five hours, the National Weather Service said.
In downtown Middlesboro, water-covered roadways were closed, splitting the city in half.
As the day unfolded, families gathered in Middlesboro near the site and declined to talk to reporters.
One member of each man's family had been allowed to talk to the men via the underground phone, MSHA spokeswoman Amy Louviere said.
Bell County Coal started operations there Jan. 23, 2009, according to MSHA records.
The mine, one of four Bell County Coal has listed with MSHA, has been cited 32 times during inspections that started in April, according to records. The company has been cited a total of 82 times since 2009 for various reasons, from inadequate roof supports to accumulating dust to issues with the electrical system. The company has been assessed fines from $100 to as nearly $4,000, but is contesting nearly three-quarters of the citations.