20-year-old Olivia Culpo of Rhode Island wins Miss USA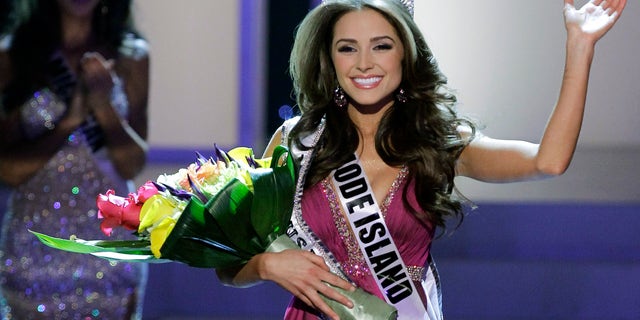 NEWYou can now listen to Fox News articles!
LAS VEGAS – A 20-year-old cellist from Rhode Island won the Miss USA crown and will represent the United States in this year's Miss Universe pageant after embracing transgender beauty queens.
Olivia Culpo topped a field of 51 beauty queens on Sunday to take the title at the Planet Hollywood Resort & Casino on the Las Vegas Strip. She strutted across the stage in a purple bikini and a purple evening gown with sparkly belt.
In the dreaded final question round, Culpo was faced with the most difficult question of the night: would it be fair for a person born a man to be named Miss Universe after becoming a woman? Culpo never stumbled as she embraced the Miss Universe Organization's recent decision to admit transgender contestants.
"I do think that would be fair," Culpo said. "But I could understand how people could be apprehensive to take that road."
Culpo said she was short and chubby as a girl, but blossomed after a growth spurt. She spent her summers at band camp, playing her cello.
Miss Iowa USA Rebecca Hodge was named Miss Congeniality, and Miss Oregon USA Alaina Bergsma was named the most photogenic. They both won $1,000, but didn't make the top 16.
The pageant at the Planet Hollywood casino on the Las Vegas Strip had three competitions: swimsuit, evening gowns and interview question. Midway through the contest, pop band Cobra Starship performed as the beauty queens modeled their string bikinis.
The judge's panel included Chef Cat Cora, TV personality Arsenio Hall, singer Joe Jonas and reality TV star Rob Kardashian. The show also featured performances from Akon. Andy Cohen and Giuliana Rancic stepped in to host. Miss USA 2011 Alyssa Campanella crowned Culpo her successor at the end of the night.
She'll represent the United States at the 61st Miss Universe pageant later this year. An American has not been named Miss Universe since Brook Lee won the title in 1997.
The Miss Universe Organization is co-owned by NBC and Donald Trump. The competition is not affiliated with the Miss America pageant.