UPS delivery driver safe after armed suspects commandeer vehicle; 1 suspect reportedly dead, another in custody, reports say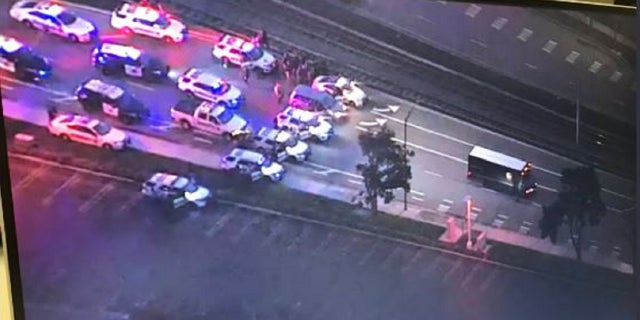 One suspect was reportedly dead and another was in custody Thursday after they stole a UPS delivery truck at gunpoint and held the driver hostage during their attempt to flee from police in San Jose, Calif., authorities said.
One male suspect, whom friends identified as Mark Morasky, was shot by police but his medical condition was unknown, the Bay Area's FOX 2 KTVU reported. San Francisco's KPIX-TV reported that a suspect was pronounced dead around 7:20 p.m. Pacific time, but it was unknown if the suspect had been shot by police or by his own hand.
A female suspect was in custody, but her medical condition was unclear as well, the report said.
The confrontation with police played out near the headquarters of major internet companies, such as eBay, Google and PayPal, the Mercury News of San Jose reported.
MAN TAKES 2 EMPLOYEES HOSTAGE AT NEW JERSEY UPS FACILITY, POLICE SAY
The delivery driver was released unharmed following a low-speed pursuit by San Jose police and Santa Clara County sheriff's officers, the newspaper reported. A body bag was visible in a parking lot, with police standing over it, but whether a death had occurred at the scene was unclear, according to the paper.
The ordeal began as a vehicle chase in San Jose, then the suspects abandoned their car and stole the UPS truck, according to the Mercury News. The suspects eventually stopped at an intersection with dozens of police cars at the scene, the report said.
CLICK HERE TO GET THE FOX NEWS APP
Friends told Fox 2 that Morasky was suicidal and "was only going to hurt himself."