2 pilots safe after Air Force plane crashes in Texas field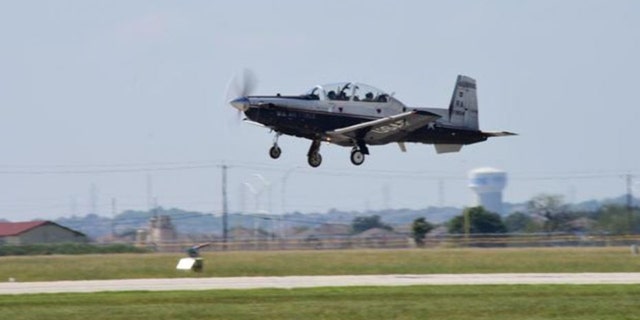 Two pilots are safe after ejecting from an Air Force training plane on Tuesday before it crashed into a field on the north side of San Antonio, a report said.
The pilots survived the bailout from the T-6 Texan II training aircraft and sustained minor injuries, The Houston Chronicle reported.
The commander of the 12th Flying Training Wing suspended the training flights at Joint Base San Antonio-Randolph, the report said.
The crash was roughly 30 miles from the base near Rolling Oaks Mall, Air Education and Training Command officials told Military.com.
"Obviously, this is a serious accident, so we have to follow the protocol established by the Air Force," Randy Martin, the wing's spokesman, told the Chronicle.
The cause of the crash was not immediately known, but an Air Force investigation team was on the ground.
The T-6A is used to train instructor pilots, according to the paper.
There were no civilian casualties, Military.com reported.