2 men storm Michigan police station to confront cops over traffic stop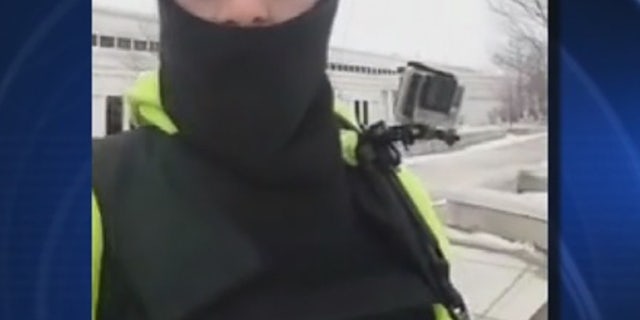 Two men wearing body armor and carrying firearms and cameras were arrested Sunday at a Michigan police headquarters in a confrontation livestreamed on the internet.
Dearborn police said that one of the men wore a ski mask and they initially refused to drop the weapons.
James Baker, 24, of Leonard, and Brandon Vreeland, 40, of Jackson, face charges including breaching the peace and failure to cooperate with police. Both men were free on bond.
Vreeland tells the Detroit Free Press state law allows them to openly carry legally owned weapons. He said they "audit police to see how well they honor the Constitution and people's rights."
The ordeal began when police investigated two suspicious men wearing tactical masks and vests in a car near a shopping center. The men fled the scene, but police found them a few miles away at a park, according to Fox 2 Detroit.
Police conducted a traffic stop to investigate and didn't find any weapons in the car. The men drove to the police headquarters to confront the police. Baker was carrying an AP-14 firearm and handgun, while Vreeland was carrying a camera and a tripod.
The men initially failed to cooperate, but police eventually took them into custody without incident. Police seized the loaded Ap-14, a loaded Glock 19 handgun and their vests and armor.
Police also seized an AK-47 style rifle and an AR-15 rifle.
"It was pretty clear based on the cameras that they were there to make a statement," Dearborn police Lt. Gary Mann said.
Open Carry Michigan condemned the men's actions.
"Ninety-five percent, at a bare minimum, has said, 'What were these people thinking?' and that really makes the rest of us look bad," attorney Terry Johnson said.
The Associated Press contributed to this report.
Click for more from Fox 2 Detroit.