150th anniversary of pioneering composer Amy Beach observed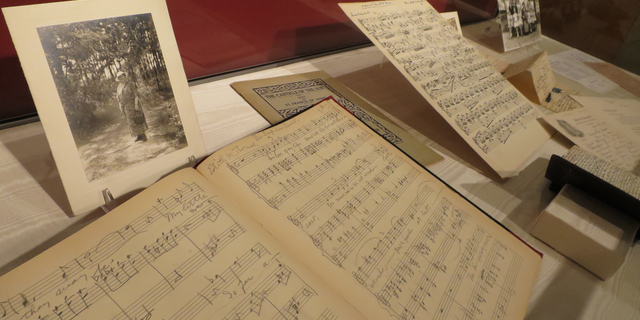 DURHAM, N.H. – As a wealthy Victorian lady, Amy Beach never cooked or cleaned. But she did do a bit of sewing — carefully stitching new musical passages she composed atop older versions.
"What man would've done that?" wonders Dale Valena, museum curator at the University of New Hampshire, which is celebrating the 150th birthday of the pioneering American composer with an academic conference, musical performances and an exhibit of Beach memorabilia.
Born Sept. 5, 1867, in Henniker, Beach startled her family with her musical talents from early toddlerhood. By age 2, she was improvising alto parts to lullabies as her mother rocked her to sleep. At 4, she composed her first piano pieces while spending the summer on her grandfather's farm, miles away from a piano. According to a biography by Adrienne Fried Block, Beach told her mother she had written them in her head, then proved it by playing them.
After she married a 43-year-old Boston surgeon at age 18, Beach changed her focus from performing to composing. Her Gaelic Symphony premiered Oct. 30, 1896, performed by the Boston Symphony, the first symphony composed and published by an American woman. She became known internationally as the "dean of American women composers."
"In a way that's insulting. Why isn't she just one of the great composers?" said University of Iowa music historian Marian Wilson Kimber, whose research focuses on female composers. "She was very, very well known in her time, but there's this thing where women achieve, and then they are forgotten."
Kimber is scheduled to present a paper at the Friday-Saturday conference about efforts by the National League of American Pen Women to promote female composers during the Great Depression. She said the league chose Beach to headline a concert at the White House for first lady Eleanor Roosevelt, but the event, late in Beach's career, attracted little attention.
"It was a national group at the White House, but it didn't get the kind of visibility they wanted, because it was seen as a bunch of ladies having tea, even though Amy Beach was a big deal," she said.
Kimber said media attention on female composers in general and Beach in particular comes and goes.
"There's all this press, like, 'Oh, we've discovered women composers!' Guess what? They've always been there, they've always been active," she said. "We just don't pay attention because we think great composers are men."
Besides the conference, UNH will host a free concert featuring Beach's music on Friday evening, and the university's music department will host similar performances throughout the year. The UNH museum also has set up an exhibit of photographs, manuscript scores and personal objects from its Amy Beach collection, including a small keyboard that allowed Beach to silently practice her piano skills while traveling. The exhibit will be on view until Dec. 1 and then travel to libraries around the state.
"I think of a lot of her accomplishments were much to the astonishment of musicians and composers throughout the United States and the world because it was thought to be rather beyond the capabilities of women," said special collections librarian Bill Ross.
He and Valena said that in diaries, letters and other documents, Beach comes across as a warm, generous person, particularly with the circle of young women she traveled with after her husband's death in 1910.
"Her first trip to Europe was after he died," Valena said, "and she went back to performing, which was really her first love."