Venomous snake discovered inside potato sack in passenger's luggage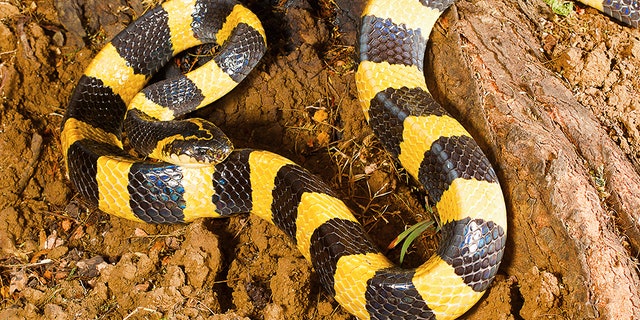 A security check at an airport in India caught a man trying to accidentally bring a venomous snake onto a plane in his carry-on.
SNAKES ON A PLANE: PASSENGER FLEW FROM GERMANY TO RUSSIA WITH 20 SNAKES IN HIS BAG
According to UPI, Central Industrial Security Force screeners at Cochin Airport saw the creature in a bag of potatoes that was inside the carry-on luggage when it was scanned through the security X-ray machine.
The snake, believed to be an Indian krait, is one of the four most venomous snakes in the region.
PHILIPPINES AIRPORT PASSENGERS PANIC OVER SNAKE SIGHTING IN DEPARTURES LOUNGE
The passenger claimed he purchased a bag of potatoes from a farmer and placed them in his luggage to bring along on his trip to Abu Dhabi. The man allegedly did not know the snake was hiding in the bag of potatoes.
FOLLOW US ON FACEBOOK FOR MORE FOX LIFESTYLE NEWS
The passenger was initially arrested for having the snake in his luggage, but was later released when police determined it was likely an accident.
This wasn't the only snake on a plane story to make headlines this week. On Monday a little boy was left "heartbroken" when airport officials in South Africa would not let him board a plane with his "soft toy python" because it allegedly looked too much like the real thing.