Little boy 'heartbroken' because airport allegedly wouldn't let him take stuffed snake on plane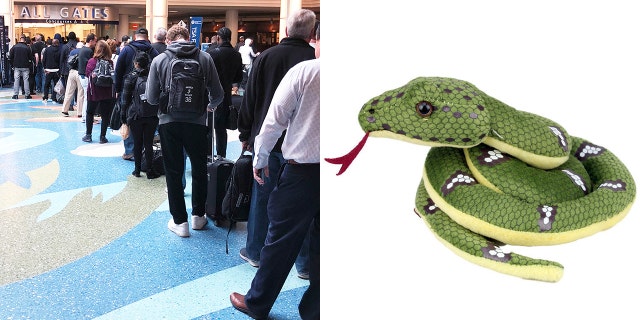 A five-year-old boy was left "heartbroken" after his stuffed animal was confiscated at the airport.
The toy, a plush snake recently given to him for his birthday by his grandmother, was taken away at OR Tambo International Airport in South Africa Friday.
The boy and his mom, Nicole Fritz, were getting ready to go through security with the "soft toy python" when the incident occurred.
FLYBE PILOT WHO DEVELOPED FEAR OF FLYING WAS UNFAIRLY DISMISSED BY AIRLINE, JUDGE DETERMINES
Fritz told News 24 her son is "mad about snakes," and people in line were laughing at the toy he was wearing around his neck. But when the pair reached security, the airport official allegedly told them the toy would not be allowed on the flight and would have to be thrown away.
"The justification from @Airports_ZA is that it is a replica but as you can tell only a half-wit would mistake it for the real thing. It looks only like what it is — a child's plush toy," Fritz wrote on Twitter.
When Fritz asked what regulations prevented this, airport officials reportedly couldn't find any at that time but told her that "replicas" were definitely not allowed.
"Admittedly, there are far greater injustices perpetrated every day in this country but the exercise of discretion in ways that are petty, mean-spirited and cruel is so symptomatic of what has always been wrong with this country," she wrote on Twitter.
FOLLOW US ON FACEBOOK FOR MORE FOX LIFESTYLE NEWS
The airport told Fritz she could check the toy, but it was too late to do so at that time, so she instead had to leave her son's snake behind and told it was going for a ride with the pilot.
A spokesperson for the airport was not immediately available for comment.