Philippines Airport passengers panic over snake sighting in departures lounge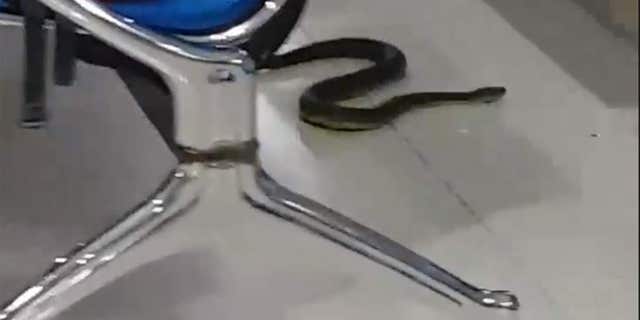 Some guests at an airport in the Philippines were shocked to find a snake slithering through the departure lounge.
SNAKE ON A PLANE: EMIRATES FLIGHT CANCELLED AFTER SERPENT SPOTTING
Passengers waiting at the Daniel Z Romualdez Airport were confronted by the reptile in the airport's main terminal.
The snake – a black rat snake – sparked panic in the travelers passing through the terminal, the Independent reports.
SNAKES ON A PLANE: PASSENGER FLEW FROM GERMANY TO RUSSIA WITH 20 SNAKES IN HIS BAG
Though the type of snake is not venomous, it was still alarming to see it winding under seats and across the floor.
"I couldn't believe there was a snake in the airport. It's not what anybody would expect," traveler Leon Anover told The Mirror. "A lot of people were frightened. It was quite exciting and but also funny."
Airport security used a long pole to trap the snake before putting it into a bag. The snake was reportedly released back into the wild.
FOLLOW US ON FACEBOOK FOR MORE FOX LIFESTYLE NEWS
''The snake was also not harmed and it's now safe. We don't know how it got past security," an airport official said in a comment to the Indepdent. ''There was a bit of commotion but it settled down and no planes were affected. There was no danger to any passengers."