Tourists 'scared out of their brains' after arrest for pornographic images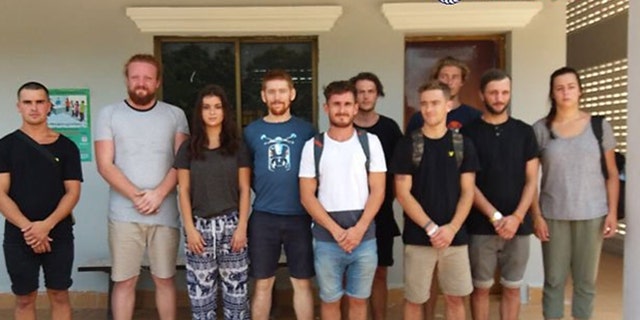 Ten tourists that attended a raucous pool party near Cambodia's sacred Angkor Wat – a religious temple complex – were arrested and accused of human trafficking and producing pornography.
The English-speaking tourists were arrested while reportedly attending a popular pool party event hosted by Let's Get Wet, a group known for throwing parties in villas in a secret location every Thursday according to their Facebook page.
The organization claims to offer "Cambodia's premier backpackers parties" that give travelers free drinks and several pools to party in, The Sun reported.
CARNIVAL CRUISE SHIP GUEST MISSING AFTER 'GOING OVERBOARD'
The police reportedly raided the party held in a rented villa in Siem Reap, in an area near the Angkor Wat complex, and began detaining people for "producing pornographic pictures" after discovering images of people demonstrating different sex positions on the floor of the villa, The Telegraph reported.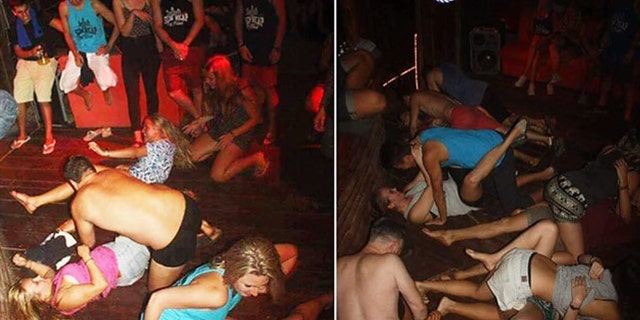 The villa was allegedly a stop on a pub crawl through the popular tourist town.
Of the group detained, five are British nationals. They have denied any wrongdoing and released a statement from prison claiming their innocence.
"We are innocent. We don't know why we've been arrested - we're getting different stories from different people.
"It was really confusing. Everyone was confused. They raided, rounded us up - there was about 80 to 100 people at this party, some of them were tourists. There were about 30 of them [police officers.]
"Our parents are doing what they can. It's really just trying to keep a good vibe until we know the outcome," the Telegraph reported.
FOLLOW US ON FACEBOOK FOR MORE FOX LIFESTYLE NEWS
"They've signed these papers not knowing what they are."
The mother of one of the detained tourists said they are all "scared out of their brains" and have been forced to sign documents written in a foreign language with no translator, The Sun reported.
"They just did what they were told in the hope they [Khmer authorities] would say 'oh, well we'll get you all to sign these papers and nothing will happen'.
"They've signed these papers not knowing what they are."
If convicted, the ten westerners could face up to a year in a Cambodian prison and be fined between $50 and $500, according to the Phnom Penh Post.
Cambodian officials and police have been cracking down on westerners, who they say are disrespectful to the country's sacred spaces and practices.