Top 10 yoga retreats worldwide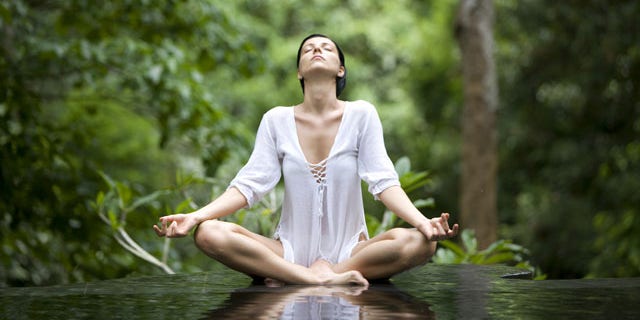 Yogis (people who practice yoga) come in all shapes and sizes. Contrary to stereotypes, not all practitioners eat vegetarian and eschew the luxuries of life. Some have no problem dropping thousands of dollars on a decadent suite, while others stick to a tighter budget. Our list of yoga retreats runs from an ashram in the Bahamas where guests have to perform chores to the ultimate luxury in ecotourism. So grab your mat and start planning your perfect yoga escape. Namaste!
Alicante, Spain
Yoga Breaks in Spain
The Costa Blanca region of Spain has been named by the World Health Organization as having one of the healthiest climates on Earth. In this winsome setting, guests of Yoga Breaks in Spain stay in a beautiful little hotel with a touch of luxury near the ocean. Twice daily yoga, suitable for beginners and intermediates, is designed to open your body, loosen your joints and ease tensions. Delicious Ayurvedic-inspired meals nourish and sustain you, while meditation and pranayama (breathing) workshops take you to a deep state of inner peace.
We love that this isn't your typical, strict, back-to-back yoga retreat for ascetics but more of a yogic holiday escape, so feel free to indulge in a croissant or cup of coffee as well! Be as relaxed or as active as you like during your vacation with optional activities such as coastal hikes, mountain biking, kayaking, Spanish cooking lessons, or with a little pampering such as a massage or an aromatherapy facial. Of course, after a juicy asana class you can also simply relax by the Mediterranean Sea with a good book.
Bozeman, Montana
Big Sky Yoga Retreats
Located at 7,500 feet in the Madison mountain range an hour north of Yellowstone, the Big EZ Lodge is entrenched in the heart of nature and is the perfect complement to those seeking a quality yoga getaway for raw beginners and seasoned pros. The lodge was built with native timber and natural river rock throughout, which brings the outdoor elements into the thirteen well-appointed guest rooms and common areas.
Inspiration from the wonderful setting is the big draw, where Ashtanga, restorative and Vinyasa Flow yoga is combined with the great outdoors through nature hikes and outdoor activities. Views are awesome and starlit nights under the Big Sky are the norm, but don't be afraid to indulge in the fine mountain-themed cuisine and offerings on the wine list. There's a game room and workout room, but the large hot tub, complete with waterfall, is our favorite way to end each day at this mountain getaway.
Clermont La Grausse, France
Domaine de la Grausse
Study with the highly experienced resident yoga teacher Dagmar (who is influenced by Jyengar, Viniyoga and Sivananda) at Domaine de la Grausse high in the French Pyrenées. The estate features an eighteenth-century château with extensive grounds, two large yoga studios and accommodation in two newly-renovated traditional stone barns, fully-equipped for self-catering.
With yoga classes suitable for all levels morning and evening, there is ample time in the middle of the day to visit the waterfalls and cave paintings of the Ariège valley, take a barge on the underground Labouiche River and explore the medieval strongholds of the Cathars.
Paradise Island, Nassau, Bahamas
Sivananda Ashram Yoga Retreat
If you really want to get away from it all and recharge your chakras, and are serious about your yoga, then what better place to do so than on a bona fide paradise island in the Bahamas? Nassau's Sivananda Ashram Yoga Retreat follows a specific pattern. You'll rise at 6 a.m., meditate through dawn, chant until tea time and do two hours of Hatha yoga before breaking for your 10 a.m. vegetarian meal. The afternoon follows a similar pattern with a session of Karma yoga, where you'll help with ashram duties (known to non-yogis as chores). Nonetheless, this is all offset by the retreat's island paradise, complete with crystal blue waters, white sands and swaying palm trees.
Sao Carlos, São Paulo, Brazil
Jatoba Terra Prana Lar Yoga
Situated in the Brazilian countryside, Jatoba Terra Prana Lar Yoga retreats feature different types of yoga (Kundalini yoga, Yin yoga, Hatha yoga, partner yoga, Karma yoga and Mandala yoga), as well as meditation, mantras, silent walks, sacred dances, fire rituals and Zen Shiatsu. The retreat also boasts a sweat lodge, fresh water pool, meditation deck on the lake and the requisite vegetarian meals complete with homemade cheese, bread and yogurt.
Founder and former dancer Lila established the retreat on her family farm in 2000 after traveling the world and studying yoga. She also offers a children's program and a fresh organic garden designed to help you reconnect with Mother Earth. Be sure to take a trip to the nearby sacred waterfall!
Salt Spring Island, British Columbia, Canada
Paradise Found Yoga
Specializing in Kundalini yoga, Paradise Found Yoga offers both scheduled and private retreats with two daily yoga classes as well as meditation, art therapy and spa sessions that can include aromatherapy, hot stone Shiatsu massages, reflexology or Reiki. Take advantage of the hiking excursions on the shorelines of Cusheon Lake on Salt Spring Island. Relax in the gardens, enjoy the vegetarian meals or sink into the outdoor hot tub. Privacy is guaranteed in this picturesque setting.
Bangalore, Karnataka, India
Shreyas Yoga Retreat
If you have a yen for an upscale yoga experience, then point your chakras towards Shreyas Yoga Retreat in Bangalore, India. This member of the exclusive Relais & Chateaux group is devoted to promoting the authentic spiritual tradition of yoga in an environment that's normally associated with luxe hotels, Shreyas is spread over 25 acres of landscaped gardens and utilizes natural resources with initiatives such as rain water harvesting, solar heating, ayurvedic and medicinal herb plantations, organic farming and organic waste disposal on site.
Enjoy Ashtanga and Hatha yoga, chanting classes, silent retreats, meditation, massages, ayurvedic treatments such as abhyanga and shirodhara, and savor the amazing meals made from organically grown ingredients freshly handpicked from the retreat's twenty acres of fields. The only member of Relais & Chateaux to feature a totally vegetarian menu, the retreat recently introduced a Culinary Experiences Package. With just fourteen rooms accommodating up to 25 people, personalized service is key.
Ballytoughey, Clare Island, County Mayo, Ireland
Clare Island Yoga Retreat Centre
Make your way to the Emerald Isle for some serious yoga on 240 acres of land off the West Coast of Ireland. Here you can not only take in the breathtaking views of County Mayo, but indulge in yoga and meditation, sustainable living complete with organic meals and hillside hiking. Stay in a refurbished traditional island cottage complete with solar panels for heating water and wood-burning stoves for space heating. Conscious of people's eco-footprint, Clare Island provides a unique and unspoiled location for a myriad of yoga retreats year-round (mostly Hatha as well as meditation and pranyama) and gourmet vegetarian meals made from ingredients grown at the centre.
Tulum, Quintana Roo, Mexico
Maya Tulum
Just 90 minutes from Cancún, this seaside wellness retreat and spa hosts more than 50 yoga events each year. You'll be spoiled for choice here when it comes to your yogic desires. Sign up for one of the five or seven night Mind, Body, Spirit programs (MBS), complete with vegetarian meals (with the option of ordering fish), massages, day trips and a to-die-for spa offering everything from Mayan clay massages to a traditional sweat lodge run by a real shaman. A real draw with celebrities, you might just find yourself doing the downward facing dog with a rock star or politician. At this top Mexican resort, yoga isn't just a practice, it's a way of life and you can enjoy it in one of 46 simple stone-and-thatch cabanas.
Golden Bay, South Island, New Zealand
Anahata Yoga Retreat
The only integral residential yoga retreat in New Zealand, Anahata Yoga Retreat is located on top of a mountain 640 meters above sea level in Golden Bay and offers glorious views of the ocean, Farewell Spit and green valleys. Retreats, personal sessions and daily activities are offered year-round, with the focus on Satyananda yoga, which draws on a number of traditional systems of yoga, including Hatha, Raja, Karma, Jnana, Mantra and Bhakti yoga.
A range of lodging options are available from shared rooms to a private straw bale round house with stunning views of Golden Bay. Tent sites and camping are also available. All meals provided are organic and vegetarian sourced from local growers or picked fresh from the retreat's garden.

MORE ON GAYOT.com
More Top Yoga Retreats
Top 10 Detox Spas Around the World
Top 10 Health Retreats Around the World