Steampunk revellers flock to the annual ball made just for them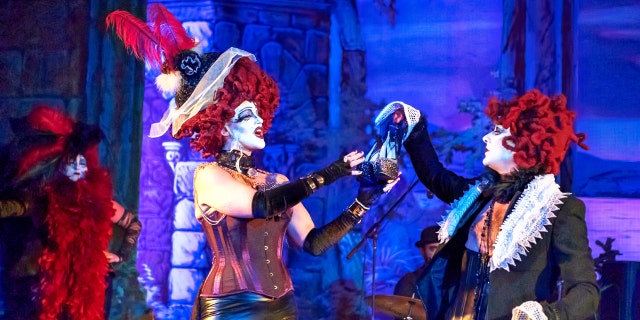 All aboard the train to the past! The Steampunk Movement is on a roll.
The 17th annual Edwardian Ball, a celebration of all things vintage, whimsical and eclectic, was held in San Francisco last week.
Now that it has folded up its tent by the Bay, the event, which organizers hail as a "time-traveling boutique amalgamation of Cirque du Soleil-meets-Mardi Gras and an internationally recognized festival of the arts" is moving on to other venues.
Next stop: Los Angeles. And then, for the first time, it's on to New Orleans.
Steampunk — science fiction dealing with 19th-century societies dominated by historical or imagined steam-powered technology —is a genre with devoted followers who come out in force for the Edwardian Ball, which imbues historical elements with a modern, sassy twist.
ILLEGAL ADVENTURES? 6 PLACES OUR PARENTS COULDN'T GO
Women favor waist-cinching corsets, fishnet stockings and powdered wigs with antlers and birds.
Men — they like to be called dandies — carry walking sticks and wear vintage vests, cravats and spats. They top it all off with a decorated top hat. And they don't wear spectacles. Dandies prefer aviator goggles.
Most of the costumes are intricate and handmade, their creativity rivaled only by the artistry of their makeup.
"Everywhere you look there is something — art, great stage shows, pop-up performances, decor, lighting, oddities," event founder Justin Katz told Foxnews.com at the San Francisco event.
"You can tell that someone put their love and attention into it, and took the time to get it right."
Katz and few friends conceived the idea in 1999 to celebrate the works of American writer and illustrator Edward Gorey. But what began as soiree with a few hundred people has become a multi-day, multi-city event. It attracts thousands of participants and vendors, almost all of whom dress up and assume a persona, like an explorer or circus ringmaster or a fantastical character straight out of an Edwardian-era Jules Verne science fiction novel.
"Some people start working on next year's ideas as soon as they step in the door," Katz said. "That's the beauty of being inspired by those around you."
One of the inspired was first-time attendee Mimi Towle of Mill Valley, Calif., editor of Marin Magazine. "As soon as I walked into the ballroom, I felt like I had stepped into a party time had forgotten," she said. "The bands, performers, relics all belonged to San Francisco a hundred years ago."
The venue featured displays of oddities and curiosities, surreal artwork and live performances of burlesque, stilt walkers and aerial dancers. In one room, a lady on stilts stood 20-feet high and wore a long Victorian dress that provided a cozy space for guests to enjoy cocktails and lively conversations with two dwarfs. Meantime, in the main ballroom, the crowd moved to the beats of East Coast swing and electronic tango.
FOR THE LATEST TRAVEL FEATURES FOLLOW FOX LIFESTYLE ON FACEBOOK
Those looking to enhance their look could visit the Vendor Bazaar, where costumes, jewelry, hats and other adornments were for sale.
Most of the sale items were unique and handmade — and priced accordingly. Autumn Addame, owner of Dark Garden, an upscale corset boutique in San Francisco, was selling corsets for $320 and up. Leather festival belts started at around $180.00.
But both buyers and sellers say they're worth it.
"It allows people an amazing creative outlet," said Addame, who's been attending the Edwardian Ball from the start. "It's a chance to inhabit a word that doesn't exist in any other place or time, filled with lighthearted silliness and wonder."
The Edwardian Ball will be held in Los Angeles on Saturday, Feb. 11. Then it's on to New Orleans, which will host the ball on Saturday, March 25.
The event operates with the blessing of The Edward Gorey Charitable Trust.