Massachusetts skydiving plane flips over during landing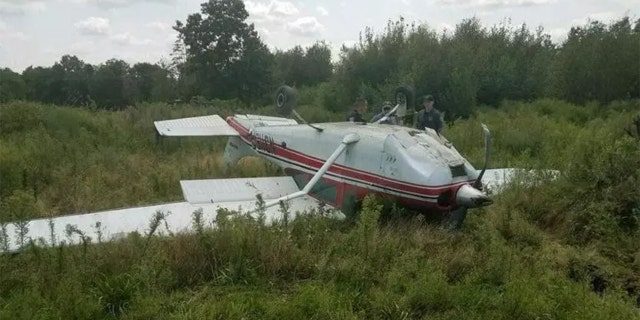 One Massachusetts pilot flying a skydiving plane walked away with minor injuries after his aircraft flipped on its roof while landing, just days after a fatal crash occurred near the same airport.
On August 27, Jacob Haselden attempted to land a Cessna 182 Skylane plane for Go SkyDive Boston when he overshot a runway at Cranland Airport, WHDH reports. Veering off and hitting a dirt road, the aircraft flipped over and the plane crashed, according to the Boston Globe.
"We flew up. I had difficulties with the engine. I managed to get everyone out and came back in for a landing, but couldn't make it," 20-year-old Haselden told WHDH. "The flipping [of the plane] was me running out of runway. I was coming in too fast due to difficulties with my engine, the flaps, and various plane issues."
CAPITAL AIRLINES PASSENGERS TERRIFIED OVER MIDAIR DROP: 'I DON'T WANT TO DIE'
Alone in the aircraft at the time of the crash in Hanson, emergency crews responded to the scene and Haselden was hospitalized for minor injuries.
Police told the Globe that the cause of the crash is currently under investigation by the National Transportation Safety Board.
Just days ago, a small plane similarly crashed near Cranland Airport in an accident that killed the pilot and critically injured the lone passenger.
On August 24, brothers Scott and Patrick Landis' Aeronca 7AC Champion plane crashed into a pond near Cranland Airport. The Landis' were on a mission to spread their recently deceased father's ashes from the high skies. Scott, an Army pilot, passed away the following day. Patrick was paralyzed from the waist down due to injuries sustained in the crash, the Globe reports.
FOLLOW US ON FACEBOOK FOR MORE FOX LIFESTYLE NEWS
"The gentleman that passed away was very well known and very well respected and loved in the community and it's hit an awful lot of people very, very hard," said Hanson Town Administrator Mike McCue told CBS Boston of the tragedy . "I believe that they run a very safe operation here, it's just, again, one of those unfortunate coincidences."