Incredible Journey: Skiing Solo Toward the South Pole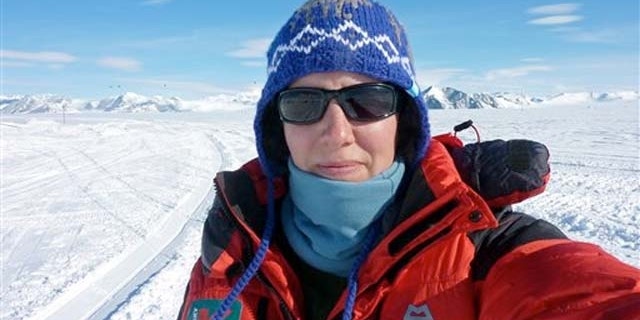 As she skis across Antarctica, Felicity Aston is taking on dangers including crevasses, storms, injuries and frostbite. Her biggest challenge, though, has been adapting to solitude in the seemingly endless expanses of white.
For more than three weeks, she has been skiing toward the South Pole pulling two sledges packed with supplies. Aston is attempting to become the first woman to cross Antarctica alone, and has covered about one-third of the journey of more than 1,000 miles.
The British adventurer expects to reach the South Pole this week, then pick up more supplies and head out again for the other side of the frozen continent. She says the emotional toll has been much greater than she expected.
"When that plane disappeared and left me on the wrong side of Antarctica all by myself with two little sledges, it really hit me that I'm completely responsible for myself," she told The Associated Press in an interview by satellite phone. "It's just you. You have to sort out your problems, and that makes you feel very vulnerable."
When alone in Antarctica, little problems can easily become big problems. One ski binding is slightly out of alignment and has been making her ankle ache. The three cigarette lighters she brought to start her camp stove suddenly stopped producing a flame in the cold, leaving her with only matches for a time, though she finally managed to get the lighters working again, intermittently.
She's been fighting a cough. And her breath freezes and forms icicles on her mask as she skis in temperatures of minus minus 30 Celsius and below.
After each day on the ice, she pitches her tent, cooks a freeze-dried meal on her stove and posts messages on Twitter. "Ice coating my fur hood and icicles hanging off my mask and goggles made me look like a real polar explorer today," she posted on Saturday. Sometimes, she raves about the beauty of the landscape. Other times, she says she feels tired, bitterly cold or even a bit overwhelmed.
"Yesterday was the first day I didn't burst into tears at any point. Must mean I'm getting used to this finally?" she said in a post on Twitter last week.
The 34-year-old used to work as a meteorologist in Antarctica and is a veteran adventurer who has led team expeditions in the Antarctic, the Arctic and Greenland. She said she decided to attempt her first solo expedition to test her personal limits and also because she was curious about being on her own.
Aston set out Nov. 25 from the Ross Ice Shelf, climbing a glacier dotted with crevasses in the Transantarctic Mountains before emerging onto the continent's vast central plateau.
She initially hoped to reach the South Pole by Dec. 13, in time for the centennial celebration of Norwegian Roald Amundsen's achievement in leading the first team to reach the pole. But initial flight delays and a storm slowed her progress.
Some days, Aston has skied through drifting snow. Others, she has soldiered through sastrugi, the waves of ice sculpted by fierce winds. This time of year, the sun never sets in Antarctica. It makes a big circle in the sky.
"You've got a halo around the sun, but then directly beneath the sun on the snow on the horizon is like a big flare of light," Aston said in one of the audio updates she regularly posts online. In addition to two satellite phones, she is carrying solar panels to charge her batteries and a GPS to track her position.
While skiing, she listens to an MP3 player with songs by Aretha Franklin and others. She said posting on Twitter helps her feel a little less alone. In one message, she wrote: "I felt tired today but I could hear my Mum's voice encouraging me, 'Just keep moving. Keep moving forward.'"
Aston said in an interview earlier this month that when she unpacks her tent after a hard day, "that's when the demon voices come out, and you hear little voices in your head going, 'What are you doing?' and you know, 'You could be at home nice and warm right now.'" "But you do have to try and push those to one side. Once I'm out there and skiing, then I know exactly why I'm here," she said. "Today, it felt like I was walking along the top of clouds."
Aston is not crossing the continent in a straight line. Once she reaches the South Pole, she will make a sharp turn and head off toward Hercules Inlet, where she hopes to finish her journey in late January. Hers is one of 26 expeditions in Antarctica this year, involving more than 150 people, said Peter McDowell, a manager at the company Antarctic Logistics and Expeditions, which provide logistical support to the skiers. Some are attempting even longer journeys than Aston's.
Norwegian Aleksander Gamme is trying to ski more than 1,300 miles from Hercules Inlet to the South Pole and back. The Australian team James Castrission and Justin Jones are attempting a similar feat. The skiers carry satellite phones, and those on solo expeditions also carry emergency beacons to pinpoint their positions. The company has ski-equipped planes at the ready to assist or rescue any team that runs into trouble.
"People get injured all the time," McDowell said. "Thus far this season, there have been five or six that have been pulled from the field." Aston said she is mindful of the fine line between in control and out of control. "I've done too many polar journeys to know that you can be scuppered by a blister, a bad fall, fuel leaking into your food, weather," she said last month before starting the expedition.
"Every trip teaches you something: how tough you are, what your personal limits are, how to wrap up a blister better, how not to get sick. Particularly on the psychological side, each journey I've had has taught me something about how to feel better about a situation, how to react, how to behave."
When Aston led a group of women from countries including Jamaica, India, Singapore and Cyprus to the South Pole in 2009, one team member suffered frostbite and others coped with injuries. That expedition became the focus of her book "Call of the White: Taking the World to the South Pole."
On her current journey, she has described lying in her sleeping bag as the only time she doesn't feel cold. "From my sleeping bag I can hear the whisper of snow being blown along the ground by the lightest of breezes," she wrote on Twitter.
She misses hot showers and bread with melting butter. But when she is out skiing, she gets into a rhythm and "it's a form of meditation." The white landscape is devoid of trees, rocks or any sign of life. At times, she said, the panorama is so monotonous that the mind can play tricks.
"A couple of times, I could have sworn I saw birds. But I know there is no way there are any birds up here. It's just the brain kind of filling in the gaps for me," she said. "As soon as you look, there's nothing there."
Aston didn't expect to see a soul before reaching the research station at the South Pole. But last week, she posted a surprise message: "I had visitors last night — real ones not hallucinations! — a convoy of vehicles coming out of Pole came to say HI." They stayed for a while chatting, then drove off in the trucks. Alone again, she said one thought is constantly in the back of her mind: "I still have a very long way to go."