Navigating the High Cost of Ski Trips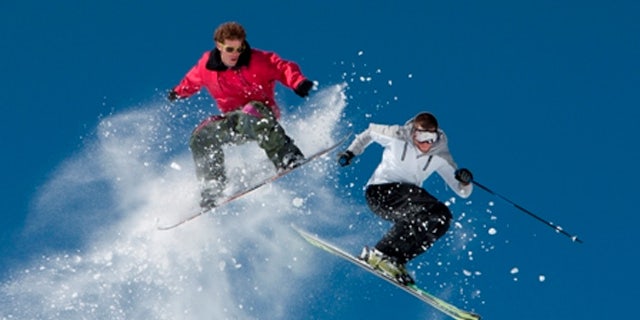 Snowflakes are starting to fall on mountain tops across the nation - and only if money fell from trees, as well, would it seem like anyone and everyone could book a skiing or snowboarding trip.
Between the cost of snow pants, helmets, rentals, lift tickets and lodging - skiing is inherently an expensive sport. But don't let the price tag keep you away from carving down the mountain.
While you may think a ski vacation would have to cost thousands, it can be much more reasonable than you'd expect - if you're smart about how, when and where you book it.
Fox News Traveler spoke with family travel expert Eileen Ogintz of TakingtheKids.com about how to get a deal on a ski or snowboard vacation. We have great tips on where you should scrimp and where to splurge when you're planning a winter getaway.
1. New Year Bargains: The first month of the year has been designated as the Learn to Ski and Snowboard Month. Resorts from Sugar Bowl in California to Liberty Mountain in Pennsylvania are offering packages with options such as free rentals or lessons. Click here for more information about specific resorts across the nation.
2. Off-Peak to the Peaks: While it's tempting to plan a three-day ski vacation around Martin Luther King or President's weekend, try to avoid those holidays as well as the major spring break weeks in March. You'll save significantly on lodging and possibly lift tickets - as well as have a more enjoyable experience with smaller crowds on the mountain.
3. Big vs. Small: For those who haven't skied or snowboarded much before, a smaller resort might seem less overwhelming and will likely be cheaper as well. If someone in your group is more advanced or would like more nightlife in town, a larger resort such as Park City Mountain Resort or Vail Ski Resort would accommodate your group better. Make a list of what all you're looking to do and experience on the vacation and then see which resorts best match your list.
4. Stay Really Local: This won't be cheap, but it will make you feel like king or queen of the mountain: booking a ski-in-ski-out condo or hotel is a luxury most won't regret. Especially when traveling with a large group, it gives people the flexibility to hit the slopes earlier in the morning to enjoy the fresh powder or to finish up the day sooner - without the hassle of trying to coordinate who is driving back and forth from the resort. If you have beginners or even intermediates in your group - confirm with the hotel or rental agency that the path from the ski-in-ski-out property to the lift will be easy enough for all in your group.
5. Getting in Quick: Since ski resorts are often in higher elevations away from major cities, it can sometimes take a couple of hours to drive to them from larger airports. Many locations like Jackson Hole or Vail have airports, but you will pay more to fly into those destinations. Consider a resort town that is near a major airport such as Park City, Utah - which is only a 30-minute drive from Delta's hub, Salt Lake City. Less time getting to your destination could possibly mean more time on the mountain. Also, some resorts with quick access like this offer free ski passes for the day you fly in when you register online and present your boarding pass.
6. Skip a Day: If you're going on a ski trip for more than a couple of days, your legs might thank you for this. Ski towns now offer so much else besides taking a run down the mountain. Consider snowmobiling, tubing, dog sledding, snow shoeing or outlet shopping. Ask your hotel or resort for more information about all of the attractions near the mountain.
7. Lessons are Key: Just because you've potty trained or taught your child how to read - don't even think about skipping ski or snowboard lessons. Ogintz says parents should consider the lessons a valuable investment - not only in their child's skills, but also in their relationship. The kids will most likely learn much faster and be much happier too.
For more information about Ogintz's family ski trip recommendations.