Getting around DC during inauguration weekend
Dozens of Democratic lawmakers are planning to skip the inauguration of President-elect Donald Trump on Jan. 20. But the nation's capital is still expecting hundreds of thousands of visitors this weekend.
And for many, the inauguration experience won't be cheap.
Just getting to the event is proving costly as Amtrak train costs have been soaring. A one-way, Friday morning Acela train trip from New York could cost more than $400-- but there are still regional fares for as low as $144 if you're willing to leave in the pre-dawn hours.
Train travelers can also expect a big headache upon arrival. Union Station's main entrance has been closed down for security purposes since Wednesday. Part of the station was also shuttered. According to the Washington Post, taxi cabs won't  pick up or drop off passengers at the station's main entrance until Jan. 24.
But what happens once you've made to D.C.? Here are some things you need to know about getting around the city during inauguration weekend.
METRO OR BUS
First, the good news. The city's Metro is offering a "Commemorative Inaugural" SmarTrip card at a reduced price of $10. The bad news? Five Metro stations will be closed on Friday, including Archives, Smithsonian, Federal Triangle, Pentagon and Mount Vernon Square. Other closures could also occur.
The underground system is still probably the best way of getting around that doesn't include walking or biking. Metro will open at 4 a.m. on Friday and close at midnight. Trains will even provide rush-hour service from the start of the ceremony until 9 p.m.(although that means peak fares will apply for longer than usual).
DRIVING
Considering that if you drive a car, you'll be facing multiple road closures and you have to park it eventuall, driving is not recommended unless you've got your own motorcade. If you need to drive, set aside plenty of extra time.
Visitors should also plan alternate routes before heading out. There will be a series of road closures and parking constraints around the Mall, several blocks around Washington National Cathedral, the Walter E. Washington Convention Center, Union Station, the Lincoln Memorial and Capitol Hill.
Some street closings will begin 3 a.m. Thursday.
WALKING
If you don't mind a little exercise, visitors should just consider using their own two feet. The Metro has a handy guide for walkers highlighting the best walking routes from various stations to the Mall entries.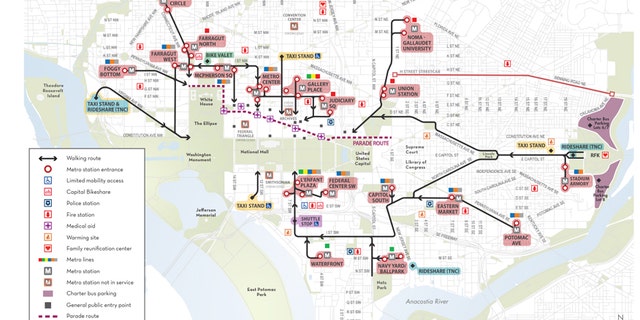 Whether you're a Democrat or a Republican, history is set to take place on Friday. Walk on over and see it up close-- or as close as you can get in an inauguration day crowd.