Airports bringing in therapy dogs to calm anxious plane passengers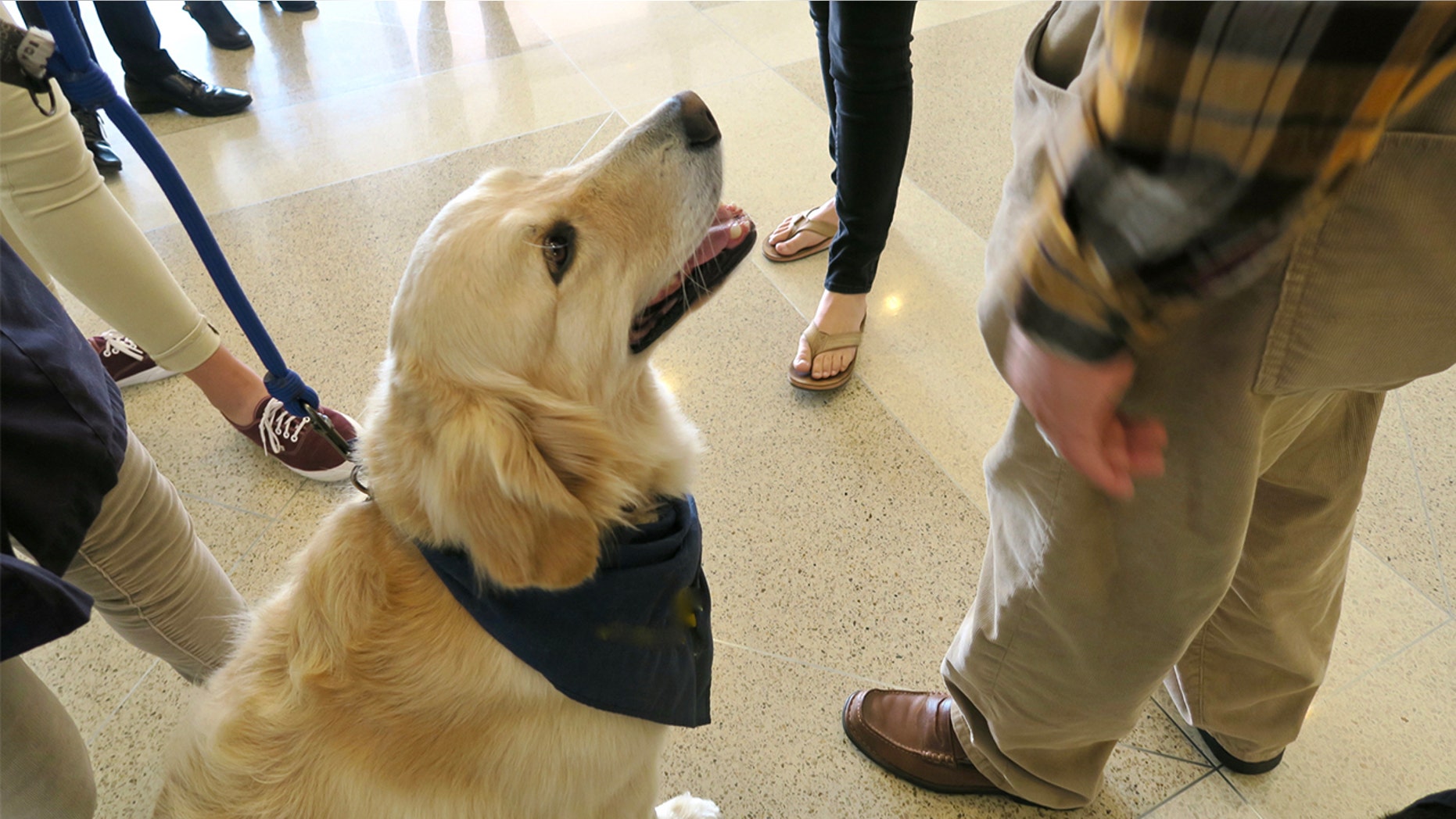 From finding gates to checking bags to trudging through security, flight preparations get many travelers wound up before they even step on the plane. And now, man's best friend is easing a whole lot of airport anxiety.
More and more American airports are bringing in therapy dogs to improve the passenger experience, according to a report from Travel Pulse. And many say that our four-legged friends are critical reducing stress and starting the journey off right.
These highly popular pet programs can now be found at over 30 airports across the country, according to San Diego Airport, whose own "Ready, Pet, Go" program has dogs socializing with roughly 200 passengers during two-hour shifts.
HARVEY STRANDS ABOUT 20,000 CRUISE SHIP PASSENGERS AT SEA
Typically found in a kerchief or vest labeled "Pet Me", the pups pad around airport terminals with trained handlers, spreading love to travelers from all walks of life.
Like animal visits to hospitals, nursing homes, offices or prisons, pet therapy has serious power to decrease tensions and boost morale. Human-animal interaction studies have long supported the notion that dogs and other pets have enormous health benefits for people, states Harvard Health Publications.
Another pet program partnering with the Erie County S.P.C.A., Paws for Love, frequents Buffalo's Niagara International Airport, and is one of the oldest pet therapy programs: founded in 2005, it now has over 300 volunteers.
"When you're here at the airport, they're not always traveling for a good reason and the dogs seem to relax them and make them feel good," Debbie Braun of Paws for Love told WKBW in July.
THE WAY WE BOARD PLANES COULD ACTUALLY BE SPREADING DISEASES
Vancouver International Airport and Rochester International Airport are among the latest airports to follow the trend, bringing in therapy dogs earlier this month. Two RIA travelers in particular were delighted to meet the pup.
"I had a procedure on my arm yesterday, and we had a stressful flight coming out on Monday," said Julie Cocozziello on the new "Caring Tails" program to the Post Bulletin. "This was a great thing by the airport, to relieve those tensions," she said. Cocozziello added that it was the first time her daughter Amanda, who has autism spectrum disorder, got to meet a therapy dog, too.
FOLLOW US ON FACEBOOK FOR MORE FOX LIFESTYLE NEWS
Travelers shouldn't be surprised if they see a barnyard critter in cahoots with the canines, too. Bacon Bits, of the Albany International Airport, and Lilou, of the San Francisco International Airport, are miniature pigs who work to spread smiles as rightful members of the AIA's Canine Ambassador team and SFIA's Wag Brigade.