8 incredible grand tours you can actually afford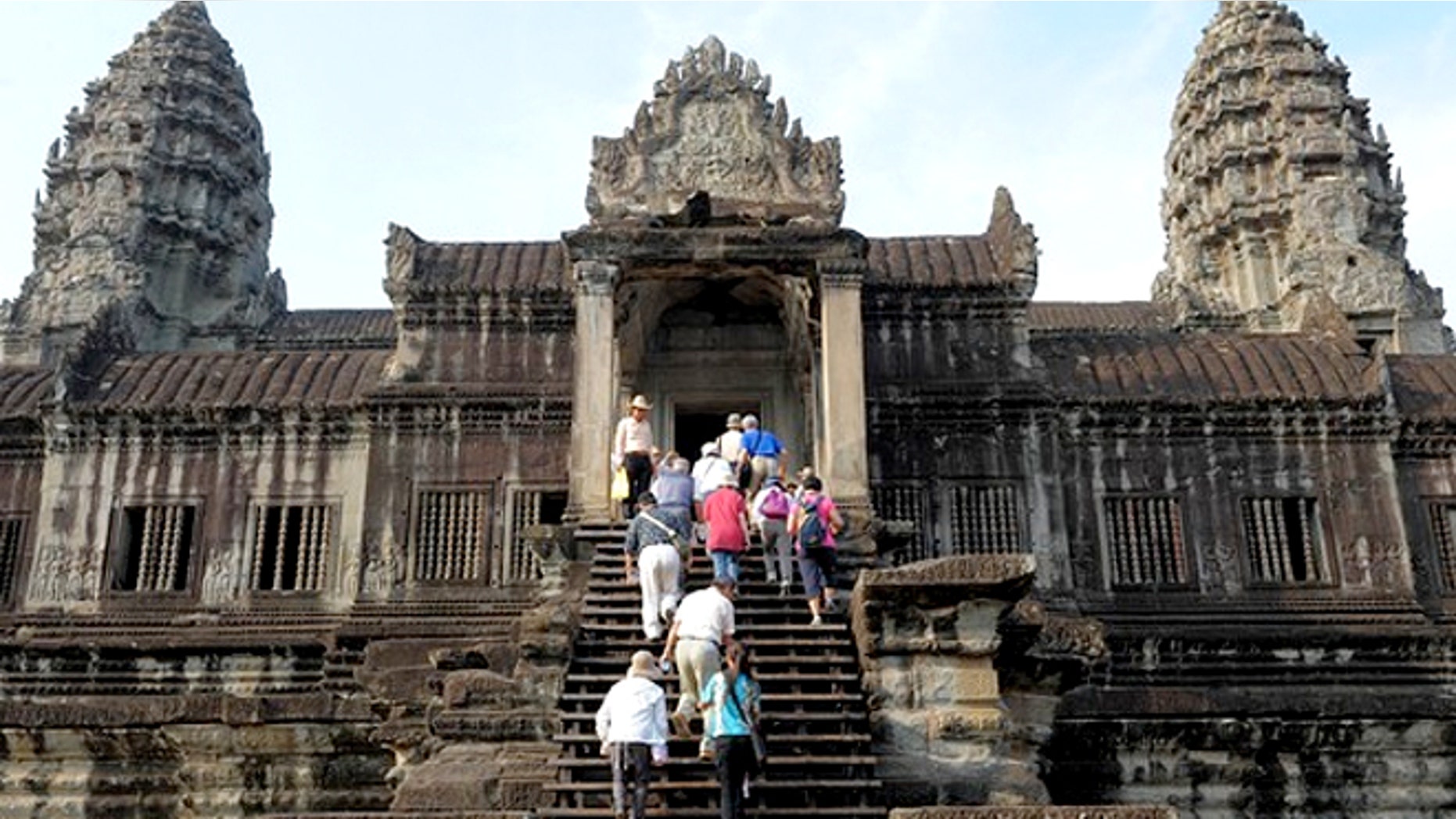 Sometimes a one-week vacation just isn't enough. From a safari journey around Africa to an extensive cross-country tour of the U.S., we've rounded up eight grand tours that give you the largest amount of adventure for the smallest amount of money per day.
Sometimes a one-week vacation just isn't enough, especially when you wake up the last morning of your trip and don't want to leave yet--it's too soon, and you've just begun to discover what makes your destination so special.
uckily, there are longer grand tours that provide you with enough time to fully explore a new place, whether it's a month-long journey through Southeast Asia or an in-depth two-week Peruvian adventure.
We've scoured the world of extended travel deals for packages that give you the most bang for your buck, listed here in order from the least amount of money you'll spend per day to most. At first it might seem like you are spending a little more than usual on some of these trips, but the perks included--meals, intra-country transportation, airport transfers, professionally guided small-group tours with a personal touch--and the unique travel experiences you'll get more than make up for any initial sticker-shock.
India: basics on a budget
Highlights: Visit ancient forts and colorful modern cities throughout Northern India.
Looking to do some traveling abroad while on a budget? This three-week tour of Northern India and Rajasthan is full of unique experiences (an overnight camel safari in the desert, anyone?) and gives you just enough free time to explore the cities on your own. You'll also get guided tours of New Delhi, Bikaner, Jaisalmer, Jodhpur, Pushkar, Udaipur, and Jaipur, plus the chance to experience sunrise at the Savitri temple in Pushkar and wrap things up with a scenic boat trip down the River Ganges during a candle flower ceremony.
The breakdown: This three-week tour of Northern India and Rajasthan will cost you about $65 per day including 19 nights' accommodations, all ground transportation within the country, and several guided tours. G Adventures, from $1,299 per person for a 20-day trip. Average group size: 10-16 people.
Central America for the trail-blazing history buff
Highlights: Tour ancient ruins and jungles in Mexico, Belize, Guatemala, Honduras, Nicaragua, and Costa Rica.
Dreaming of visiting the ancient Mayan ruins of Tulum, Palenque, Chichén IItzá, Tikal, and Copán? This extensive small-group tour starts in Mexico City with a vast cultural tour of Mexico--explore the colonial buildings of Puebla, Oaxaca, and San Cristobal de las Casas before heading north to the Yucatán cities of Palenque, Mérida, and Playa del Carmen. Next, you'll cross the border to Belize and soak up the Central American sun in Caye Caulker, before heading south to Flores, Guatemala--shop for the perfect souvenir at the local markets of Chichicastenango and take time to roam the colorful city of Antigua. Ponder the past at the Mayan ruins in Copán and relax on the beaches of Roatán Island during your time in Honduras. From here, the tour heads south through Granada and Ometepe Island in Nicaragua before finishing up with trips to Costa Rica's tropical cloud forests, Arenal Volcano National Park, and San José, the country's capital city.
The breakdown: You'll end up spending $77 per day including all ground transportation, guided tours, and 45 nights' accommodations in hotels, one night in a local homestay, and one night on an overnight bus. Intrepid Travel's Central America Explorer, from $3,570 for a 46-day trip. Average group size: 16 people.
The ultimate tour of Southeast Asia
Highlights: Visit temples, beaches, and historical spots throughout Thailand, Laos, Cambodia, and Vietnam.
On this 29-day Southeast Asia adventure, you'll get to visit ancient temples like Chiang Mai, Wat Po, and Wat Rong Khun, sail down the Mekong River, spend the night at a homestay in a local Laotian village, and watch a traditional Vietnamese water puppets show. And that's just the first half of your trip--the rest has you cruising around Halong Bay, visiting the Royal Tombs in Hue, exploring historic Hoi An, touring the Cu Chi tunnels near Ho Chi Minh City, and cruising the Mekong Delta before you head into Cambodia for a sobering historical tour of the Killing Fields and guided tours of Angkor Wat's spectacular temple complex.
The breakdown: You'll spend $103 a day including all guided tours, entrance fees, ground transportation, regional flights and boat rides between countries, accommodations, and most meals. G Adventures, from $2,999 per person for a 29-day trip. Average group size: 10-15 people.
Best of the U.S.
Highlights: An epic cross-country adventure from San Francisco to New York City and back, stopping at national parks and big cities around the country.
Starting and ending in San Francisco, this 32-city tour of the United States' best attractions includes visits to Yosemite, the Grand Canyon, Carlsbad Caverns, Niagara Falls, Badlands National Park, Devil's Tower, Yellowstone, and Grand Teton National Park. The first half of the tour takes you through the heartland--gamble in Las Vegas, experience southwest culture in Santa Fe, and visit Elvis at Graceland--while the rest of it works through the big cities of the Northeast before sending you back through the northern states--ride to the top of the Sears Tower in Chicago, experience the Wild Wild West in South Dakota, and pay a visit to Old Faithful on your way back to the Golden State.
The breakdown: This 44-day trip breaks down to $114 per day including all of your ground transportation in an air-conditioned van, 43 nights' accommodations, and guided city tours of San Francisco, Las Vegas, New Orleans, Washington D.C., and New York City. This package also covers most meals as well as entrance fees to all included National Parks, the Maid of the Mist boat tour in Niagara Falls, a trip to Arlington National Cemetery, and a beer tasting in Milwaukee. G Adventures, from $4,999 per person for a 44-day trip. Average tour size: 10-13 people.
An African safari adventure from Kenya to Cape Town
Highlights: Meet the locals and spot the Big Five in Kenya, Tanzania, Malawi, Mozambique, Zimbabwe, Botswana, Namibia, and South Africa.
If you're an adventurous animal lover with a month and a half to spare, this tour is right up your alley. Keep your eyes out for the Big Five as you zig-zag your way through eight African countries and stop to see the animals they're known for on a number of game drives and walks through the African bush. You'll also get to visit spice plantations in Zanzibar, feel the spray of Victoria Falls, and relax on the beaches of Lake Malawi. Get to know the locals by staying in several African villages along the way, giving you the chance to see what everyday life is like in the jungles and deserts of this intriguing continent.
The breakdown: You'll end up spending $125 per day for this 45-day African adventure including 44 nights' accommodations, all ground transportation, guided tours, and most meals. Intrepid Travel, from $5,660 per person for a 45-day trip. Average tour size: 22 people.
Grand tour of Ireland
Highlights: Visit Dublin, Killarney, Belfast, Derry, Blarney, Galway, Kerry, Cliffs of Moher, Dingle Peninsula, and experience a traditional medieval dinner in an Irish castle.
Erin go bragh! This grand tour of Ireland gives you eleven days to explore both the Republic of Ireland and Northern Ireland. You'll visit legendary places like the Giant's Causeway and get guided tours of twenty major sites and attractions including Trinity College's Book of Kells, the Guinness Brewery Storehouse, city tours of Belfast and Galway, a trip to the Titanic Belfast Experience, scenic tours of the Cliffs of Moher, Ring of Kerry, and Dingle Peninsula, plus a traditional medieval dinner in an Irish castle. Just don't forget to bring your camera!
The breakdown: Round-trip multicity airfares between New York City, Dublin, and Shannon start from $697 in early October (Aer Lingus). The land-only portion of this trip ends up being about $1,702 per person, or $131 per person per day. SmarTours, from $2,399 per person for an 11-day trip including international airfare from New York City. Average tour size: 35-40 people. Book this package by May 15th before prices increase by $400.
New Zealand: affordable island-hopping for nature lovers and adrenaline junkies
Highlights: Tour New Zealand's North and South Islands for less.
Get to know this intriguing kiwi nation with a three-week trip through both islands. The tour starts and ends in Auckland, and includes some truly "only in New Zealand" experiences like Maori cultural encounters, sea kayaking in the Doubtful Sound, surfing lessons in Raglan, and a trip to Franz Josef National Park. Other adrenaline-pumping activities include a mountain biking excursion and the chance to take on the Tongariro Alpine Crossing, one of the most popular one-day treks in the country. Hiking, biking and opportunities to skydive and bungee jump are also available if you're feeling extra gutsy.
The breakdown: You'll spend $138 a day including all intra-country transportation, 20 nights' worth of accommodations, guided tours, and most meals. G Adventures, from $2,899 per person for a 21-day trip. Average tour size: 12 people.
Peru: for those willing to splurge for a more unique touring experience
Highlights: Choose your own adventures, visit local favorites, and become totally immersed in Peruvian culture.
Flexibility is your friend on this 16-day tour of Peru. You'll get to choose between several activities--surfing in the Pacific Ocean or biking the scenic streets of Lima, a walking tour or a Peruvian cooking class, an invigorating hike or a visit to a traditional weaving village among other options. You'll visit hidden local favorites like La Lucha, an upscale deli in the city of Lima, and tour the Amazon by boat before spending four nights in a jungle lodge. Stop by under-the-radar spots like Villa El Salvador, which won the Nobel Peace Prize in 1986, and spend time watching the sea-lions and penguins play from a boat in Islas Ballestas, often referred to as the "Poor Man's Galapagos." The best part: the tour includes exciting once-in-a-lifetime activities like nighttime jungle treks in the Amazon and sandboarding on the dunes in Paracas, as well as plenty of time at iconic sites like Machu Picchu.
The breakdown: While the $4,750 price-tag might sting, keep in mind that it does cover three internal flights, all airport transfers, 15 nights' accommodations, several meals, the services of an English-speaking tour guide, and all expenses for group activities. PerspecTrips, from $4,750 per person for a 16-day trip. Average tour size: 8-12 people.
Special note: With the exception of the SmarTours Grand Tour of Ireland, none of the packages listed include international airfare. All prices are based on double occupancy--please contact the individual travel companies for more information on single supplements and to see if you can be paired up with a roommate.