U.S. Could Lose the SciTech Edge to China, Experts Fear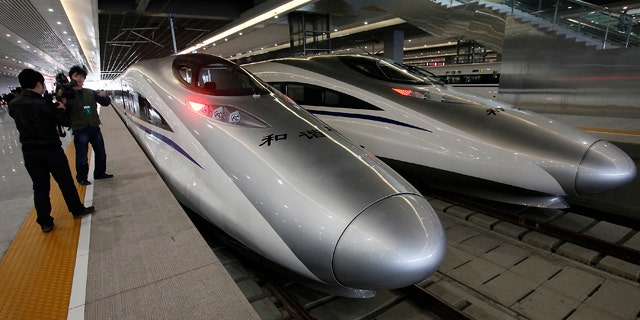 NEWYou can now listen to Fox News articles!
China has swept headlines with its recent space agenda and engineering efforts, including the world's fastest supercomputer and bullet train, the world's largest hydroelectric dam, and plans for a new space station and satellites that may visit Mars.
It's a fresh indication of the growing science and technology prowess of the world's most populated country, and experts fear China could soon eclipse the U.S. in the race for tech supremacy.
The National Academy of Engineering released a recent report illustrating the dire state of domestic science and technology, which called our inability to keep up with China "a coming storm"; the report is so bleak that it was subtitled "Rapidly Approaching Category 5." Charles M. Vest, president of the NAE, told FoxNews.com that the U.S. is still the dominant leader in science and technology -- but he fears a downslide is coming.
"The federal and public commitment to U.S. leadership in science and engineering has become lethargic at best," Vest told FoxNews.com. "Because of that, by essentially any measure of consequence, we are slowing down as China -- and in some cases Europe -- are surging ahead."
The ultimate consequence, Vest fears, will be paid by the next generation.
"We are on top of the science and engineering mountain, but we are losing our balance and starting to slide down," he said. "We are doing it to ourselves, and one day may wake up and find that we don't have the intellectual firepower and investment that will produce the well-paying jobs that our children will need," he said.
But Vest is less concerned with the recent spate of achievements from China than with the need for increased investment in education and basic R&D.
I don't really care if China has the fastest train in the world -- but I do care that we have nothing remotely like fast, efficient, state of the art rail travel anywhere in the U.S.," he told FoxNews.com. "And we all will be very sorry if we cease to define the cutting edge of technology and technology-based products and services, because that is our only shot at sustaining the production of good jobs."
The need for change to the education system is a sentiment that has been repeated numerous times in recent years.
"The single biggest lever for economic innovation in our society is education," University of Pennsylvania president Amy Gutmann said during a recent Wall Street Journal roundtable discussion. "We have to compete today against the Chinese and Indians who are graduating tens of thousands more very talented science, math and engineering graduates from their colleges."
Bill Gates, the former head of Microsoft, has shared similar concerns in past years.
"When I compare our high schools to what I see when I'm traveling abroad, I'm terrified for our workforce of tomorrow," he told the National Governors Association.
A recent DARPA report noted a "significant national decline" in the number of U.S. college graduates with science, technology, engineering, and mathematics degrees, arguing that it was effectively "harming our national security."
The fastest-growing college majors in America as of 2007 were parks, recreation, leisure, and fitness studies according to the U.S. Department of Education.
And major corporations have taken notice, argued Sean Randolph, president of the Bay Area Council Economic Institute and an expert on Asian innovation and engineering. He believes that with the extra focus on education in the Chinese work force, it's natural that companies start to do more local research and development there.
"You already have major companies manufacturing in China," Randolph told FoxNews.com. "It's natural that these companies start to do more local research and development."
Randolph cited Mark Pinto, the first chief technology officer of a major American tech firm to move his company to China. Applied Materials formerly based in Silicon Valley, is a world leading supplier of equipment used to make semiconductors, solar panels, and flat-panel displays. The company now boasts its largest ever research laboratory -- in Xi-an, China.
Often it's government assistance that gives China a distinct advantage, Randolph told FoxNews.com.
"They're authoritarian, which has allowed them to develop and maintain that focus in setting national objectives -- such as renewable energy and clean tech," he told FoxNews.com.
But there are heavy social costs to such pushes, Randolph notes.
"When you don't have those open democratic processes, there's the possibility that you make big mistakes," he told FoxNews.com. "You look at the physical environment there and it's a disaster. They've destroyed it to such a degree that most of China's major cities are miserable to live in."
Other experts agree that the recent raft of "firsts" aren't as important as they may seem. Sean Randolph, president of the Bay Area Council Economic Institute and an expert on Asian innovation and engineering, noted that the country sells a lot of clean tech -- but doesn't develop it.
"If you look at clean tech, China is by far the biggest producer and exporter of solar panels," Randolph told FoxNews.com. "But the technology itself isn't the most sophisticated." Adam Segal, a political scientist with the Council on Foreign Relations and author of the upcoming book "Advantage: How American Innovation Can Overcome the Asia Challenge," agrees that the country isn't as innovative as all those firsts may indicate.
"There's a lot of investment. People are coming up with new policies and lots of ambitious plans -- but the actual output? It's not as much as you'd expect," Segal told FoxNews.com. "The software of innovation just isn't really there. The social and political infrastructure for creative development isn't robust enough."
The technology for that new high-speed bullet train, for instance? It came from Europe, Randolph pointed out.
"What you're seeing in China -- and in India -- is not a lot of game-changing technology or a lot of high-end research," Randolph told FoxNews.com. "The stuff coming out of Stanford, Berkley and MIT, that's the research that is redefining renewable energy around the world." And corporate innovation is coming from "companies like Facebook and Google," he added.
"If we do not educate young men and women to participate -- and do not produce the basic scientific and technological knowledge to enable innovation -- we're stuck," Vest told FoxNews.com. "If China continues to focus its investments in such strategically important directions, and if their society celebrates it, we could indeed lose our lead and our consequent standard of living to them," Vest told FoxNews.com.