Made in the USA: Intel to build world's smallest chips in Arizona desert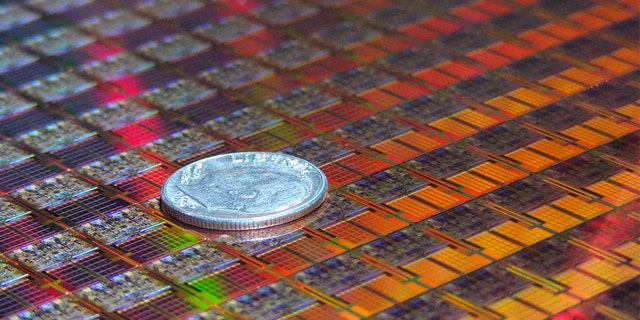 Intel is building the world's most advanced, high volume chip fabrication plant in the Arizona desert -- even as most of our electronics are produced overseas.
At a whopping cost of about $5 billion, "Fab 42" is scheduled to be completed in 2013 and will be set up to produce chips with parts only 14 nanometers wide, the Financial Times reported -- close to the thickness of cellular walls. A human hair is about 100,000 nanometers.
For Intel, smaller parts means less heat and increased energy efficiency. In other words, they're perfect for mobile phones.
"Fourteen nanometers and beyond is where we feel our technology is going to break through into mobile phones and every kind of computing technology," Intel's head of manufacturing Brian Krzanich told the Financial Times. "We feel our manufacturing engine is driving the Intel car at speed and the design guys are determining where we go. We think Fab 42 will lead us into the future."
The plant has been a boon for the local economy producing thousands of construction and manufacturing jobs.
U.S. Treasury Secretary Timothy Geithner praised Intel for their domestic investment after a tour of the facility last November.
"What's going on here is very important," Geithner said after a tour of Intel's facility last November. "The future of our economy depends on companies like Intel continuing to make innovative products in America for sale around the globe."
But for all the goodwill that Intel is creating, the company's long term commitment to American manufacturing isn't a sentimental decision -- it's business.
Relocating would be extremely expensive, said Dan Hutcheson, a semiconductor analyst at VLSI Research. Moreover, Intel isn't necessarily in a position to benefit from China's traditional competitive advantages, he told the Financial Times. "The issue is not labor costs, because the fabs are so automated. It's how do you get the engineering talent."
GlobalFoundries, the manufacturing spinoff of AMD and the third leading chipmaker, is on a similar wavelength -- that company is building one of the largest fabrication plants in the world in the U.S. as well, in upstate New York.
But even as both of these facilities begin offering a wealth of new jobs, long term issues remain, said Jason Bagley, Intel's manager of government affairs. "We're having an increasingly difficult time finding Ph.D. candidates or graduates to work at Intel from the United States," Bagley said during an economics luncheon last year.
"Look at the engineering schools across the country, and you have well over three-fourths of the students who are foreign nationals. We end up sending them home where they compete against us."
Read more about Intel's new fabrication plant at the Financial Times