Google unveils new Pixel phones, smart speaker as tech competition heats up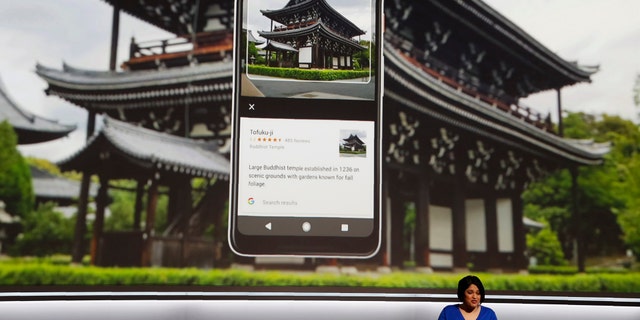 Google unveiled a bevy of new devices, including two new Pixel smartphones and new smart speakers, as the battle between Apple, Amazon and Google for consumer dollars continues to rage.
Google's CEO Sundar Pichai kicked off the event at San Francisco's SFJAZZ Center, talking about how the tech titan continues to transition from a "mobile-first company" to one that is putting artificial intelligence first.
The new Pixel 2 and Pixel 2 XL were shown off by Google's Mario Queiroz. The new devices are made by HTC and LG, respectively and have features such as OLED screen, aluminum body and water resistant.
Perhaps making a subtle dig at Apple, Queiroz said Google doesn't separate specs by phone size.
AMAZON UNVEILS NEW PRODUCTS, INCLUDING NEW SPEAKER, FIRE TV
Both devices will come in three colors - "kinda blue," "just black" and "clear white" - and offer the ability to squeeze the devices on the side (known as Active Edge) to make Google Assistant pop up. The phones will also come with the Android Oreo operating system and are water resistant.
Similar to the new iPhone models, the new Pixel 2 phones will have no headphone jacks. Unlike the new iPhones, they will not have dual cameras.
The new devices will cost $649 and $849, respectively and are available for pre-order, starting Wednesday.
The Pixelbook is Google's answer to Apple's MacBook series and lives at the higher-end of its popular Chromebook line of computers.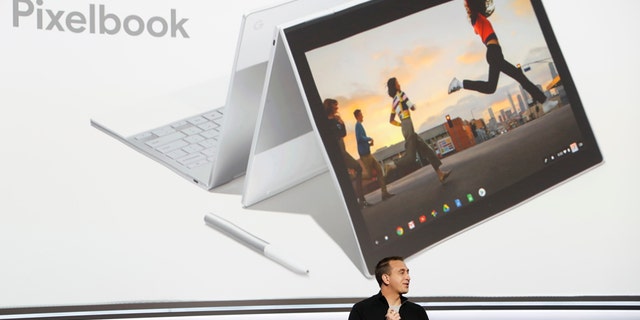 The 2-in-1 computer comes with a 12.3-inch touchscreen, Pixelbook Pen for drawing and has Google Assistant built in. It is priced at $999, putting it at the same cost-level as Apple's MacBook Air, which starts at $999. Pre-orders start today and it will be available on Oct. 23.
The Mountain View, Calif.-based tech giant also showed off new smart speakers, an area of intense interest for the tech giants.
Google Home Max and Mini were unveiled, just days after Amazon showed off several new entrants to its line of Echo speakers, including a redesigned, $99 version of the popular Amazon Echo.
The Home Mini, which had already been leaked on several retailers' websites, will cost $49 and has a puck-shape, similar to Amazon's Echo Dot. The Home Mini will come three colors (chalk, coral and charcoal) and is available to pre-order today, going on sale Oct. 19.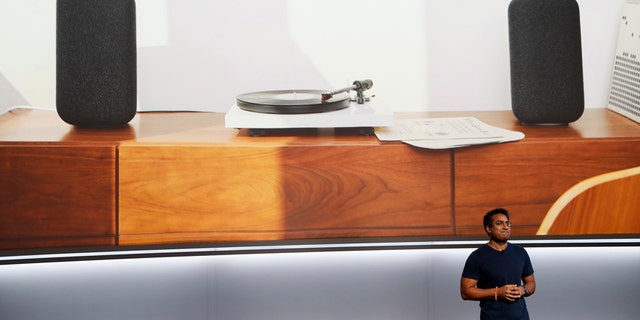 The Max, on the other hand, is going after the higher-end of the spectrum. It will cost $399 (including 12 months free of YouTube Red) and it comes with features such as dual high-excursion woofers, Smart Sound (the ability to adapt automatically to your space using machine learning), more than 40 million songs and Google Assistant built in. It will be available in December.
The move comes after both Apple and Amazon recently announced new speaker products, a move some experts believe is being made to win not just the home, but the voice assistant battle as well.
APPLE UNVEILS NEW IPHONE 8, IPHONE X
"While Amazon spent the last few weeks expanding its reach with a variety of devices, announcing a smaller version of the Google Home is a logical next-step," Michael Levine, Photon's VP of Marketing, said in comments obtained by Fox News. "The time is now for Google its move towards upending Amazon's dominance in the home-voice assistant market."
Apple's HomePod, which it announced in September, will cost $349 and is slated to go on sale in December. In May, Amazon unveiled the Echo Show at $229, making it the most costly device in its Echo lineup.
Google also unveiled new versions of its Daydream VR headset. The headset, which was announced nearly a year ago, is getting a refresh, adding features such as new colors and new lenses and fabrics. The unit headsets will cost $99, compared to $79 for last year's model. Pixelbuds, Google's own wireless headphones with built-in Google Translate, were also announced. They cost $159 and are available in November, with pre-orders starting Wednesday.
A new product, known as Google Clips was also unveiled. Google Clips is a camera that clips to your shirt and automatically takes motion-centric photos, costing $249.
Follow Chris Ciaccia on Twitter @Chris_Ciaccia