Apple's iPad Pro arrives, vies with Microsoft's Surface Book to kill traditional PCs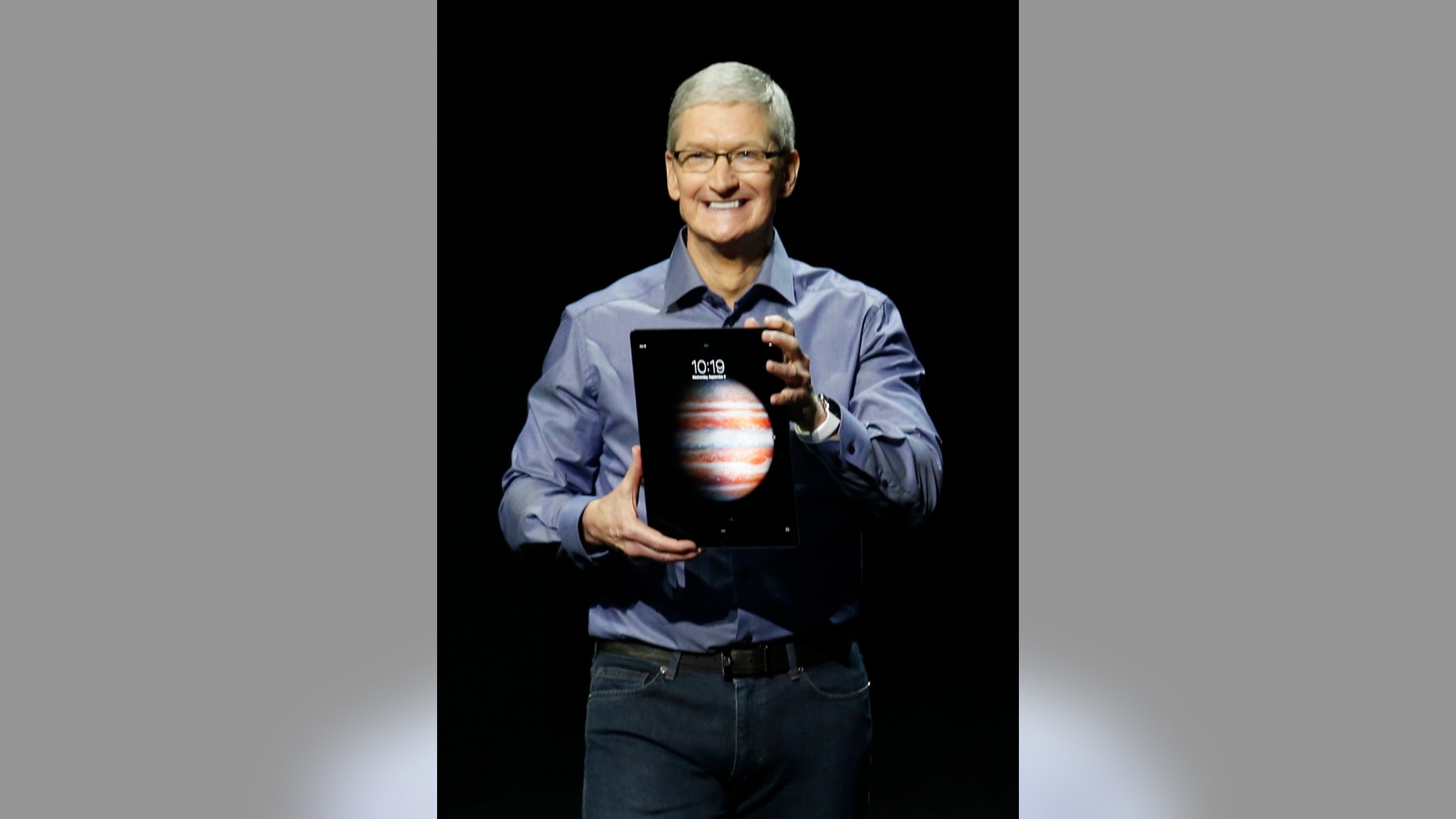 Apple's biggest iPad yet is on sale Wednesday, setting the stage for a battle with Microsoft to replace your laptop.
Apple chief executive Tim Cook threw down the gauntlet this week by taking a shot at the PC. "I think if you're looking at a PC, why would you buy a PC anymore? No really, why would you buy one?" – he asked in an interview with The Telegraph when speaking about the new 12.9-inch iPad that arrives in U.S. stores this week.
Cook is trying to advance Apple's attack on traditional computing: its iPhones and iPads running the iOS operating system have arguably done more to shift computing from the desktop than any other mobile devices. The new iPad Pro takes this to the next level, boasting not only a laptop-sized display but a new A9X chip "rivaling most portable PCs" in performance, according to Apple.
Related: Apple's Cook says Android users bolting to iPhone - Really?
The iPad Pro will also come with an optional Smart Keyboard that doubles as a cover, potentially obviating the need for a laptop for some users. "I'm traveling with the iPad Pro and other than the iPhone it's the only product I've got," Cook told The Independent. That, by the way, is hardly a resounding endorsement of Apple's 12-inch Retina MacBook, which is also very portable at only 2 pounds.
Whither MacBook? Starting at $799 for the Wi-Fi only model (32GB) and $1,079 for the Wi-Fi and cellular model (128GB), the iPad Pro is also the priciest iPad yet, indicating that Apple may be ultimately targeting it – over the next several years as the device improves – as a replacement for part of its MacBook line. The Apple Pencil – the company's first stylus – adds $99 to the price of the device and the Smart Keyboard costs an extra $169.

The problem is, the iPad Pro runs iOS not the MacBook's OS X operating system.  While iOS, as a mobile operating system, has advantages over the older, desktop-centric OS X, it also lacks features that traditional MacBook users need, for example, support for a pointing device.  We'll have to see how Apple deals with this as the iPad Pro matures.

Microsoft's tack: Right now, Microsoft has a product generating almost as much buzz as an Apple product: the 13.5-inch Surface Book. And, in a way, it answers Cook's question about the necessity of a PC because it's not anything like a traditional PC. Though the Surface Book is as fast as a high-performance laptop, it is, at its core, a tablet. The other part is a remarkable keyboard base that is probably the best to date because it allows the tablet to be used as a full-fledged laptop (that can be used on your lap).
Related: Should Apple's iPad Pro be your next tablet?
Until the Surface Book, Microsoft – with its Surface Pro product line – and other PC vendors offered less-than-satisfactory hybrid products that fell short of either being a decent laptop or a practical tablet – or both. That said, Microsoft's biggest obstacle to market acceptance is price. The Surface Book starts at $1,499 (though that price includes both the keyboard and pen).

Who wins? Of course, we won't know the answer to that question until, most likely, a year from now when quarterly earnings and market research tell us if people are in fact buying a lot of Surface Books and iPad Pros.  But competition between Apple and Microsoft to replace your laptop will undoubtedly heat up during that time as both companies refine their products and, in the case of Microsoft, probably make the Surface Book more affordable to the average consumer with new models.