Why the Jets moving Darrelle Revis to safety would be a terrible experiment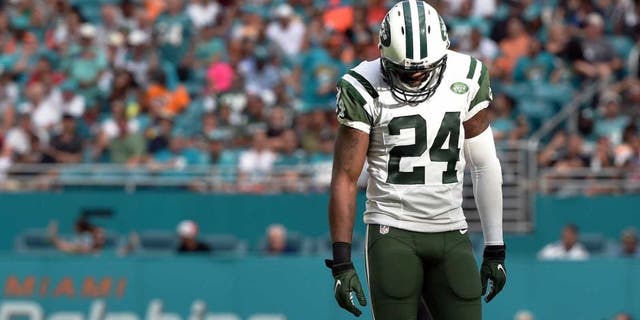 There comes a time in a player's career where he may not be what he once was. We saw Peyton Manning regress dramatically in his final season, and now the same issue is staring the New York Jets in the face -- only, their player in question isn't a quarterback. He's a cornerback, one who's the second-highest paid in the NFL.
Darrelle Revis saw himself take a gigantic step backwards in 2016 after playing solid football in 2015. We're not talking a stumble, either. This was a leap in the wrong direction, so much so that he wasn't even the best corner on his team … or the second-best, for that matter. His decline was sudden and sharp and evident in Week 1 when A.J. Green torched him regularly.
Then in Week 2, Marquise Goodwin of the Bills ran right by him for an 84-yard score, making Revis look like a backup instead of a former All-Pro.
His struggles continued against just about every receiver he faced, and it became difficult to watch. Once a true shutdown corner who earned the nickname Revis Island turned into an easy target for guys like Case Keenum and Kenny Britt.
So where exactly does that leave the Jets for next season? In an incredibly difficult spot where they have a huge decision to make regarding one of the best players in the franchise's history. Realistically, the Jets have three options: keep him at cornerback, move him to safety or cut him.
The first isn't exactly feasible after seeing him struggle mightily in coverage last season. The second is risky, considering he's never played safety. And the third would force the Jets to pay him $6 million to play elsewhere. If we're to dig into the Jets' recent comments, it sounds like a move to free safety is the likeliest option for New York.
It's also the wrong one.
New DBs coach Dennard Wilson said this week that he thinks the transition would be one Revis could handle.
"Darrelle is a guy that has a lot of football intelligence," Wilson told NJ.com. "I wouldn't think it wouldn't be a problem for him to pick it up."
Todd Bowles had a conversation with Revis about the possible switch, and said the two would talk about it more down the line. but as of now, Bowles said "it's impossible to know" if Revis can actually play safety.
If that's the case, why on earth would the Jets move him to a position he's never played before? Let's consider the pros and cons of Revis playing safety.
For one, it would prevent him from being exposed athletically by faster receivers on the outside. Revis simply doesn't have the speed he once had, and his quickness has deteriorated dramatically. Additionally, it would allow him to use his football intelligence more often, diagnosing plays on the backend and using his eyes, not necessarily his athleticism, to find the ball.
Now come the downsides, and there are plenty of them.
Revis isn't exactly a willing tackler. He's no Richard Sherman or Aqib Talib. He never had to be, mainly because he made his money covering receivers, and doing a terrific job of it. The main job of a safety is to be the last line of defense, not only preventing plays over the top, but stopping ball carriers rumbling down the field. Do you really want a 31-year-old first-year safety who doesn't excel at bringing receivers down being your last hope on defense? Me either.
The biggest issue with moving Revis to safety is his contract. His cap hit of $15.3 million next season is the second-highest among cornerbacks. For a safety, that would be the highest, and by a wide margin. Jairus Byrd is currently No. 1 in that regard at $11.7 million, $3.6 million less than Revis.
If you're going to pay a safety $15 million, he should be an Earl Thomas or an Eric Berry-type player. Heck, Revis' cap hit would be more than double Harrison Smith's, who's arguably a top-three safety in the league.
It'd be one thing if Revis had the speed, length and range of Devin McCourty, who switched from cornerback to safety early in his career, but he doesn't. He doesn't have the size or physicality to match up with tight ends, and he's likely not fast enough to go from the middle of the field to the sideline to cover a 9 route.
The Jets are in a difficult spot regarding Revis, but moving him to safety should be a last resort -- especially at $15.3 million. If he agrees to take a pay cut -- which, knowing Revis' past history with money, probably won't happen -- fine, give it a shot. But should the league's highest-paid safety be a guy who has never played the position? That's a question the Jets will have to answer.