Which city hosts the best Super Bowls? A ranking from first to worst.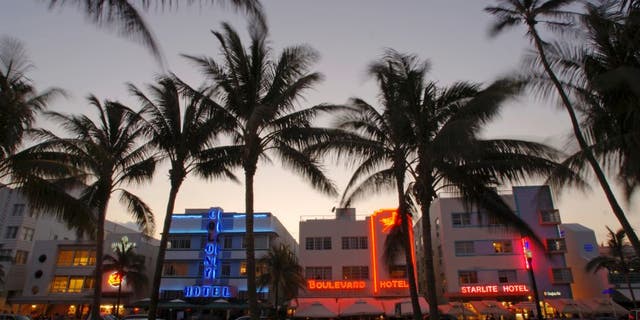 With the NFL set to announce the hosts of Super Bowls LIII (2019), LIV (2020) and LV (2021) Tuesday afternoon at the league's spring meetings in in Charlotte, we take a look back at the 15 cities that have hosted every Super Bowl to determine which bring us the greatest games.
We used a not-at-all intricate process, dividing the 50 Super Bowls into one of five categories and assigning numbers to each: 1) Awesome, 2) Great/Significant, 3) Okay, 4) Blah, 5) Like that year the Broncos snapped the ball over Peyton Manning's head on the opening play. Four of the five are self-explanatory. The other (great/significant) contains games that are just off the "awesome" level but also includes games that weren't necessarily nail-biters but are remembered for either historic significance, plays or records. Joe Namath and Super Bowl III, the Dolphins' undefeated Super Bowl VII, the 1985 Bears playing a captivating blowout and the 1987 Redskins' 35-point second quarter in Super Bowl XXII (along with Doug Williams being the game's first black quarterback) are among those listed in the second-tier for such reasons.
These aren't exactly apples-to-apples comparison. Three cities have hosted more than 50% of Super Bowls (Los Angeles, Miami and New Orleans - each of which are vying for one of the three games up for grabs, along with Atlanta and Tampa) while five have been hosts just once. How can you compare New Orleans (10 games) to Dallas (one game)? We've divided the cities into four ranked groups and then, at the end, tried to use all the factors to make the definitive list of the 15 Super Bowl cities, from best to worst.
The big three
1. Miami (Games: 10; Average score; 2.7; Median score: 2)
Best game: Super Bowl XXIII (1988 season) - San Francisco 20, Cincinnati 16 - The Joe Montana comeback game. Down a field goal with 3:10 left, the Niners went 92 yards and scored the game winner on a Montana-to-John Taylor touchdown. Jerry Rice won MVP with a Super Bowl record 215 receiving yards.
Worst game: Super Bowl XXIX (1994) - San Francisco 49, San Diego 26 - Year 11 of the NFC's 13-game Super Bowl winning streak featured a dominant San Francisco team and one quarterbacked by Stan Humphries. To be honest, it was sort of surprising to see that this score was so close - I had been thinking like 49-13. (Much like Super Bowl XXVI, the game was a complete blowout that turned somewhat respectable after some garbage-time TDs from the loser.) Also, Kathie Lee Gifford sang the national anthem.
2. New Orleans (Games: 10; Average score: 3.1; Median score: 3.5)
Best game: Super Bowl XXXVI (2001) - New England 20, St. Louis 17 - Hope you videotaped this one, because it was a classic. The Rams were two-touchdown favorites over a surprise New England team that saw its veteran starter get hurt early in the year, only to be replaced by a backup that would lead it to a shock Super Bowl. (The Rams had experienced the same thing two years earlier.) Tom Brady took the Pats 53 yards in nine plays with 90 seconds left to set up the game-winning Adam Vinatieri field goal.
Worst game: Super Bowl XXIV (1989) - San Francisco 55, Denver 10 - Another 49ers blowout, this one even less interesting than the last. At least this one has lived on in the history books with the Niners' 55 points continuing as the most scored in SB history.
3. Los Angeles (Games: 7; Average score: 3.71; Median score: 4)
Best game: Super Bowl XVII (1982) - Washington 27, Miami 17 - 70 chip. Simple, basic football. The offensive line (and tight end) blocks, the rusher follows their lead. Joe Gibbs called John Riggins number on 4th-and-1 with 10 minutes left and the Redskins trailing 17-13. The Diesel took the handoff, shed Don McNeal like he was a pee-wee tackling dummy, and rumbled 43 yards into history. Riggins would set the all-time Super Bowl rushing record that night. Later, during his call to Gibbs, Ronald Reagan joked that he should change his name to Reaggins.
Worst game: Super Bowl XXVII (1992) - Dallas 52, Buffalo 17 - If not for the fact that this was the first of the three Super Bowls won by the Jimmy Johnson Cowboys dynasty (no, you get no credit for Super Bowl XXX, Barry Switzer) and the fact that Don Beebe chased down Leon Lett, it would be an entirely forgettable Super Bowl.
The next three
1. Phoenix (Games: 3; Average score: 1.67; Median score: 1)
Best game: Super Bowl XLII (2007) - New York Giants 17, New England Patriots 14 - It was going to be a Patriots game either way. In February 2015, Glendale hosted the classic Super Bowl XLIX (the Malcolm Butler goal-line interception of Russell Wilson), a game that could have easily been the best in Phoenix's three-game Super Bowl history. But Super Bowl XLIX also has an iconic play (David Tyree's helmet catch) and the added drama of the Giants snapping New England's chance at a perfect season.
Worst game: Super Bowl XXX (1995) - Dallas Cowboys 27, Pittsburgh Steelers 17 - This was a perfectly fine game, just not on par with the two mentioned above. Pittsburgh had the ball on its own 32 with 4:15 left, down three points. But a mistimed Neil O'Donnell pass was picked on second down by eventual MVP Larry Brown, who returned it all the way to the Steelers six-yard line. An Emmitt Smith touchdown later, Dallas had its dynasty.
2. Tampa* (Games: 4; Average score: 3; Median score: 3)
Best game: Super Bowl XLIII (2008) - Pittsburgh Steelers 27, Arizona Cardinals 23 - I hope it's not recency bias that puts this game atop another Tampa classic - the Scott Norwood game - but that one really has no staying power beyond that missed field goal. Super Bowl XLIII has the James Harrison interception, Larry Fitzgerald touchdown and Santonio Holmes touchdown in its highlight reel. It was also the best fourth quarter in Super Bowl history, with 23 points, two lead changes and three scores in the final three minutes.
Worst game: Super Bowl XXXV (2000) - Baltimore Ravens 34, New York Giants 7 - It takes a really crappy game to displace Super Bowl XVIII (Raiders 38, Redskins 9) from this spot, but Super Bowl XXXV, with its mediocre quarterback matchup, complete lack of drama, appearance of a team that didn't score a touchdown for five straight weeks during the season and a Ray Lewis MVP award can do wonders.
3. San Diego (Games: 3; Average score: 3.33; Median score: 3)
Best game: Super Bowl XXII (1987) - Washington Redskins 42 - Denver Broncos 10 - Why is a 32-point blowout No. 1? One of the other two games was a stinker, the other was a nice win by the Broncos to snap John Elway's three-game losing streak in the Super Bowl. But this one featured Doug Williams, the game's biggest one-hit wonder in history (Timmy Smith) and a 35-point second quarter that was, given the circumstances, the best in NFL history.
Worst game: Super Bowl XXXVII (2002) - Tampa Bay Buccaneers 48, Oakland Raiders 21 - Other games have been worse, but few have been so inconsequential. Oakland fell straight into mediocrity (and that's being kind) while Tampa dropped to 7-9 and 5-11 in the next two seasons. Neither team has won a playoff game since. (And they've only played in two, combined - both by Tampa.)
Two-time hosts
1. Atlanta* (Average score: 2)
Best game: Super Bowl XXXIV (1999) - St. Louis 23, Tennessee 16 - After two decades of the Super Bowl mostly being a bore, this game kicked off the thrillers of the 20th century. More than anyone, it's Kevin Dyson (and the half-yard he needed to send the Super Bowl to its only overtime) who's remembered from this one.
Worst game: Super Bowl XXVIII (1993) - Dallas 30, Buffalo 13 - The rematch nobody wanted to see (and the last of the Bills' run of four-straight appearances) actually was led by Buffalo at halftime until the Cowboys scored 24 unanswered to win comfortably.
2. Houston (Average score: 2.5)
Best game: Super Bowl XXXVIII (2003) - New England 32, Carolina 29 - Everyone remembers one of two things from this game: Adam Vinatieri's game-winning kick (again) and Janet Jackson. What's mostly forgotten is that the main reason New England had such an easy time getting the ball into Vinatieri's range with 68 seconds left was because Carolina kicker John Kasay's kickoff went out of bounds after the game-tying extra point.
Worst game: Super Bowl VIII (1973) Miami Dolphins 24, Minnesota Vikings 7 - What Buffalo was to the '90s, the Vikings were to the '70s.
3. Detroit (Average score: 3)
Best game: Super Bowl XL (2005) - Pittsburgh 21, Seattle 10 - Thank goodness Seattle finally won a Super Bowl eight years later or we'd still haven't heard the end of the officiating controversies that apparently led them to lose a game by double-digits. (Maybe the low block was a bad call, but it just added a mere 15 yards to an already disastrous play. The other "controversial" ones? Come on.) Also, did you know Jerome Bettis grew up in Detroit? (That fact, and its almost minutely regurgitation, nearly knocked this to No. 2.)
Worst game: Super Bowl XVI (1981) San Francisco 26, Cincinnati 21 - This one was a competition on the final scoreboard only, as some late Cincinnati scores made this game, which had been a two-possession one since the second quarter, seem far closer.
4. San Francisco (Average score: 4)
Best game: Super Bowl XIX (1984) - San Francisco 38, Miami 16 - See below.
Worst game: Super Bowl 50 (2015) - Denver 24, Carolina 10 - Neither game was any good, but Super Bowl 50 gets last-place honors because of the fact that the game's numbers were written in Arabic instead of Roman for the first time ever. It's a blight on the history books.
The one-timer club
1. Indianapolis (Score: 1)
Game: Super Bowl XLVI (2011) - New York Giants 21, New England 17 - A defensive fourth quarter led to a go-ahead drive by the Giants, who accidentally scored a touchdown with 57 seconds left instead of running the clock down for what also would have been a game-winning field goal. This gave Tom Brady some hope of a comeback, but his 49-yard Hail Mary on the game's final play hit the turf.
2. Jacksonville (Score: 2)
Game: Super Bowl XXXIX (2004) - New England 24, Philadelphia 21 - The worst Patriots Super Bowl of the Belichick era (in terms of overall excitement, not Pats play) was still a pretty good one. In a move that will forever define Andy Reid and Donovan McNabb, the Eagles, down two possessions late in the fourth quarter, huddled for an entire drive before cutting the lead to three. That time wasted didn't give Philly enough at the end, when McNabb had the ball on his own four with under 50 seconds left.
2. Dallas (Score: 3)
Game: Super Bowl XLV - Green Bay 31, Pittsburgh 25 - This was both a game that wasn't as close as it looked (Green Bay never trailed) but was also kinda close in its own right (Pittsburgh had numerous chances to take a lead).
4. Minneapolis (Score: 4)
Game: Super Bowl XXVI (1991) - Washington 37, Buffalo 24 - The 14-2 Redskins led 37-10 before Buffalo tried to make it interesting with two meaningless fourth-quarter touchdowns.
5. New York (Score: 5)
Game: Super Bowl XLVIII (2013) - Seattle 43, Denver 8 -
Enough said.
Ranking the 15 Super Bowl hosts (potential LII-LV hosts in bold)
1. New Orleans
2. Arizona
3. Atlanta
4. Miami
5. Indianapolis
6. Houston
7. Tampa
8. Detroit
9. Indianapolis
10. Jacksonville
11. New Orleans
12. Dallas
13. Minneapolis
14. San Francisco
15. New York