Warriors' Mike Brown laughingly says he was pulled over Tuesday to make room for Spurs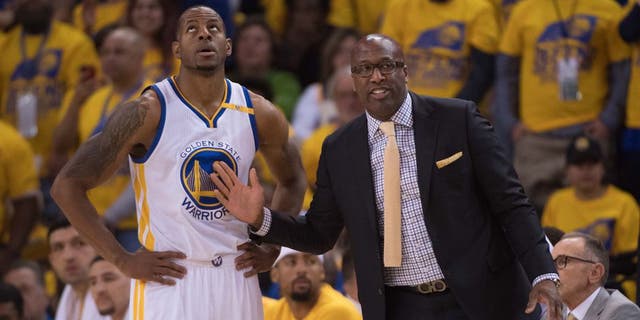 Things have gotten a bit heated between the Golden State Warriors and San Antonio Spurs after Kawhi Leonards injury in Game 1 of the Western Conference Finals, but it appears both teams coaches still can share a laugh.
The Warriors' acting head coach, Mike Brown, told reporters that he was pulled over by police at Oracle Arena before Game 2 on Tuesday, but not because he broke any laws. Rather, he was holding up the Spurs team bus, a moment that Brown relayed with great humor.
Brown was driving his SUV to the game and realized the Spurs team bus was behind his vehicle. The cops escorting the Spurs told Brown to drive through a few red lights to make sure the team arrived at the arena on time.
But before Brown made the final turn into the arena, he said a cop yelled at him to stop his vehicle. Brown then told reporters he said he pointed to his shirt and told the officer Warriors acting coach, drawing a lot of laughs from the media.
Brown said he couldnt believe he was being told to stop in front of Oracle, so he continued to inch forward. He eventually let the bus go and then he gets a phone call. Its Gregg Popovich.
Mike, I didnt know that was you, Brown said Popovich told him on the phone. He goes, 'Im sitting here, I see this black Range Rover, I see all these cops surrounding him, I see the car trying to inch forward, and Im like, Hes about to get arrested."
Brown couldnt believe it.
I said, Pop, this is my own building.' He goes, I know, when I saw it was you I died laughing.'
Pop gave his side of the story, laughingly saying, He was so funny.
Somebodys gotta teach him if the California Highway Patrol tells you to move over, you move over.
Brown and Popovich have been friends for some time. Popovich hired Brown as an assistant coach with the Spurs in 2000 and he helped the franchise win a title in 2003.