UFC Live 6: Dominick Cruz Not Looking Past Demetrious "Mighty Mouse" Johnson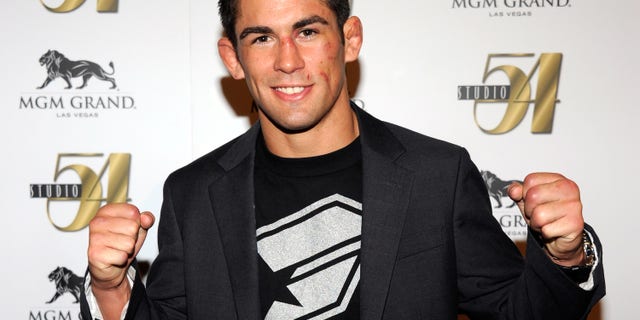 For Dominick Cruz, respect hasn't been something handed to him, it's something he's earned as a fighter.
The Ultimate Fighting Championship's bantamweight (135 lb.) champion has taken every obstacle and every criticism in life and the cage and handled it head on.
"Let them criticize all they want. I've been criticized from the beginning of my career. Let them do it," said Cruz. "It just hypes me up."
On Saturday, Cruz takes on Demetrious "Mighty Mouse" Johnson (10-1) in a title defense on cable TV, the first free title fight on TV for the UFC since 2007.
"He's got a good defense. He's tough to hit. He's tough to submit," said Cruz of Johnson. "The key is getting him to do what I want to do."
For Cruz, 26, he hasn't always been able to have things the way he wanted them. He and his brother were raised by a single mother in Tucson, Arizona, after his parents split when he was 5 years old.
His father was not around, so Cruz as an adolescent dedicated himself to sports like soccer and wrestling as a way to fill the void.
Cruz rebelled during his teenage years, forcing his mother to ask him to leave home. After working various jobs, many menial, he discovered combat sports, including mixed martial arts.
To Cruz, his upbringing isn't something to complain about; instead, it defines the kind of person he is and something that can inspire others.
"It wasn't a rough childhood, it just wasn't a rich childhood… I came up from humble beginnings," said Cruz. "I'm proud of where I come from, I'm proud at how I was raised and I'm glad I was brought up the way I was.
"The point I am trying to get across is if I could do it, anybody can do it." said Cruz. "It's more of an encouragement factor."
After cementing his reputation in World Extreme Cagefighting, or WEC, Cruz avenged his only career loss in July against the extremely popular Urijah Faber in his UFC debut.
Cruz is 18-1 in his career.
Unfortunately for Cruz, fans and the MMA media still like to talk about a possible fight to complete a trilogy, even after he defeated Faber by unanimous decision and prepares for a formidable opponent in Johnson this weekend.
"I'm tired about thinking about Urijah Faber. I thought about him for four years plus the fight," said Cruz. "I fought him already. I beat him already. I don't need to think about him right now. I need to think about 'Mighty Mouse.' That's all I need to think about, period."
As for what inspires Cruz's love of fighting, he credits his Latino heritage.
"I'm proud of [my Mexican background]," said Cruz. "I guess it's why I love to getting punched in the face for a living."
"The Dominator" will have a huge opportunity to win over new fans and represent his weight division this weekend in Washington, D.C.
"I just try to go out and put on a show, the best show possibly I can, [and] show what the 135 lb. division is about, " said Cruz.
"That's fast paced, non-stop action," he added. "That's what I'm bringing to the cage Saturday night."
Victor García is an associate producer for Fox News Channel and a regular contributor to FoxNewsLatino.com.
Follow us on twitter.com/foxnewslatino
Like us at facebook.com/foxnewslatino