UFC: GSP & Nick Diaz Set for Showdown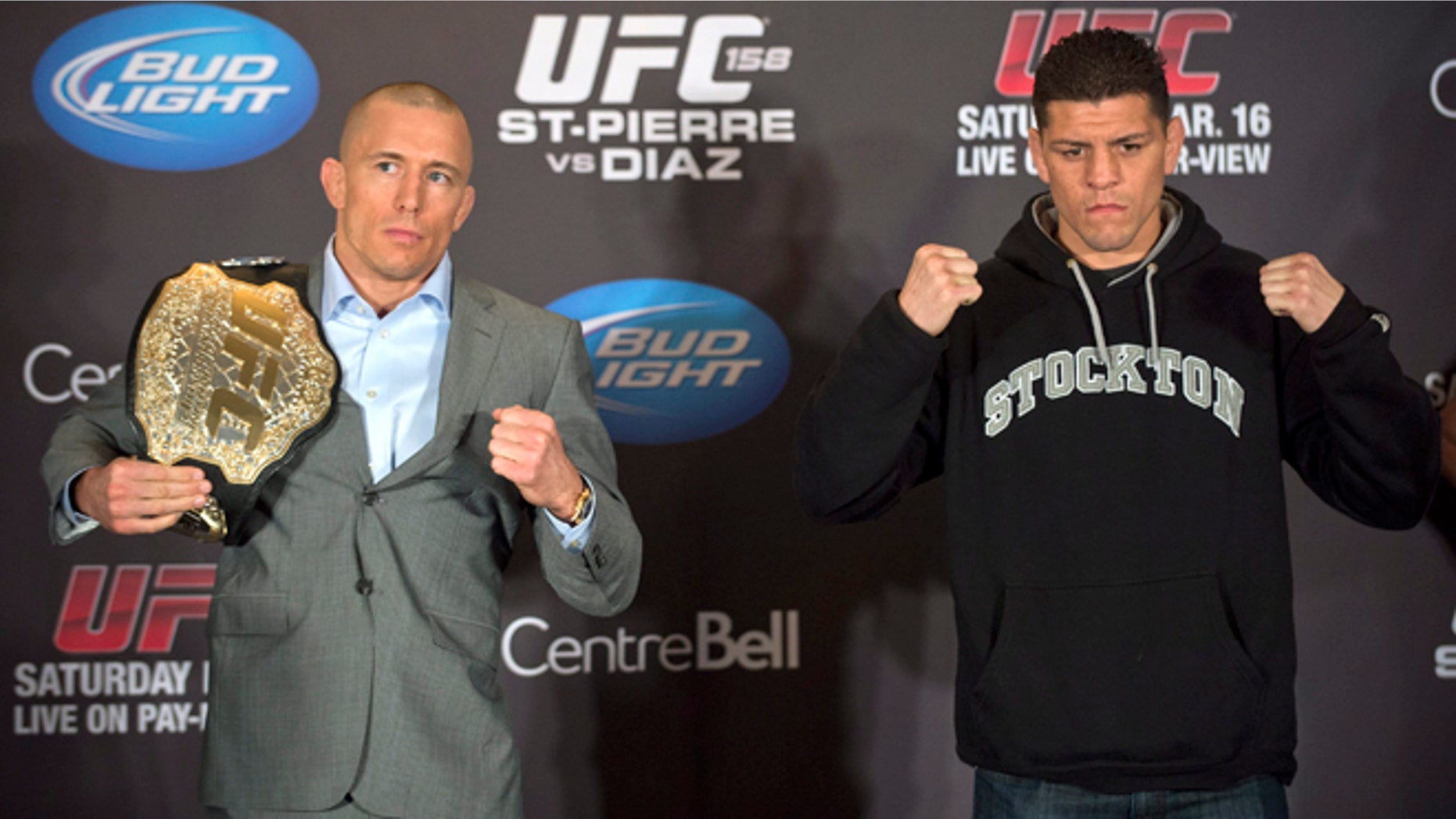 UFC 158 is upon us and what could be more enjoyable than the swift return of Georges St-Pierre after his last comeback fight, facing off against verbal sparring partner and one-man hype machine Nick Diaz. If the fights don't live up the hype then that's Diaz's curse-a-thon's fault. So without further adieu, here is UFC 158 and it's elite band of motley scrappers.
Georges St-Pierre - Nick Diaz
There is nothing quite as entertaining as Nick Diaz [26-8] when he's angry. Diaz is probably not the best match-up for Georges St-Pierre this Saturday night at UFC 158, especially given that he hasn't won a fight since October 2011, but the crowd who bay to be entertained, almost certainly will be gratified. While it's also perfect for George S-Pierre [23-2], who still probably could do with a lighter touch after his long layoff from the sport. Diaz might very well be that tonic.
But for the fans it's nothing short of ideal. A media call that went viral, in which Diaz all but had a verbal meltdown at the expense of his Canadian opponent has done nothing but stoke interest in a fight that most had seen as a foregone conclusion. The reason for this is mainly because Diaz has been inactive for so long, having served a one year suspension by the Nevada State Athletic Commission for testing positive for marijuana. The fact that he tested positive for it after being beaten by Carlos Condit means he's also probably undeserving of the shot.
But when looking at Diaz it's also important to note that despite the eight blemishes on his record, (five in the UFC), 21 of his 25 vanquished opponents have been dispatched within the distance. Diaz has leg power that should be of concern to anyone who faces him. Choose to stand and trade with the Cesar Gracie product and you'll probably find yourself on your back drowning in a sea of regret.
But the likelihood of GSP falling into such a trap is minimal. The fact that his last five fights have gone the distance, show that the welterweight likes to play the long-game rather than engage in a fire he's unlikely to win. For Diaz to win, he needs to pressure and hope to catch St-Pierre early, perhaps even digest a few blows to give himself the best possible chance of inside exchanges with arguably the best welterweight of all time. Expect moments of excitement, but also for St-Pierre to emerge triumphant again.
Carlos Condit - Johny Hendricks
Hendricks [14-1] really wants to fight for the title.In fact given that his resume is resplendent with top contenders it's a surprise that he's not in the headline attraction. But instead Hendricks has to settle for a scrap with the man who St-Pierre delivered a thorough beat down on in his last outing - Carlos Condit. That's not to say that Condit [28-6] is bad in any way, far from that. It's just that St-Pierre is that good.
Regardless, a victory over Condit will surely give Hendricks the shot at the winner of the headline event. After all if, Diaz is considered deserving, then it's surely a matter of time. Hendricks won't knock-out Condit, but if he can control distance and find a way to the mat, he more than likely has the edge over Condit. A two-time collegiate national champion (Hendricks) against a guy who has submitted 13 of his opponents (Condit), might result in a veritable chess match on the floor in an even contest where Hendricks perhaps has the slight edge.
Nate Marquardt - Jake Ellenberger
Rory McDonald pulled out so Marquardt stepped in to face Ellenberger after Hendricks was moved up to the co-feature to face Condit. Complicated? Well on one simple fact is that Marquardt, a former champion in Strikeforce has consistently flattered to deceive and lost fights he should have won, despite being heralded as the next-big-thing in some circles. While he has a granite chin that only Anderson Silva has been able to bust open and topple, Ellenberger also likes to test his chin a whole lot. His strike defense is below average as is his takedown defense. What this means is that a renowned counter puncher like Ellenberger might turn this it a slow fight, but ultimately wear down Marquardt either to the mat or through sheer volume of punches, taking a decision that might be far from glittering on the eyes for fight fans.