UFC's Gilbert Melendez Out To Prove He's The Best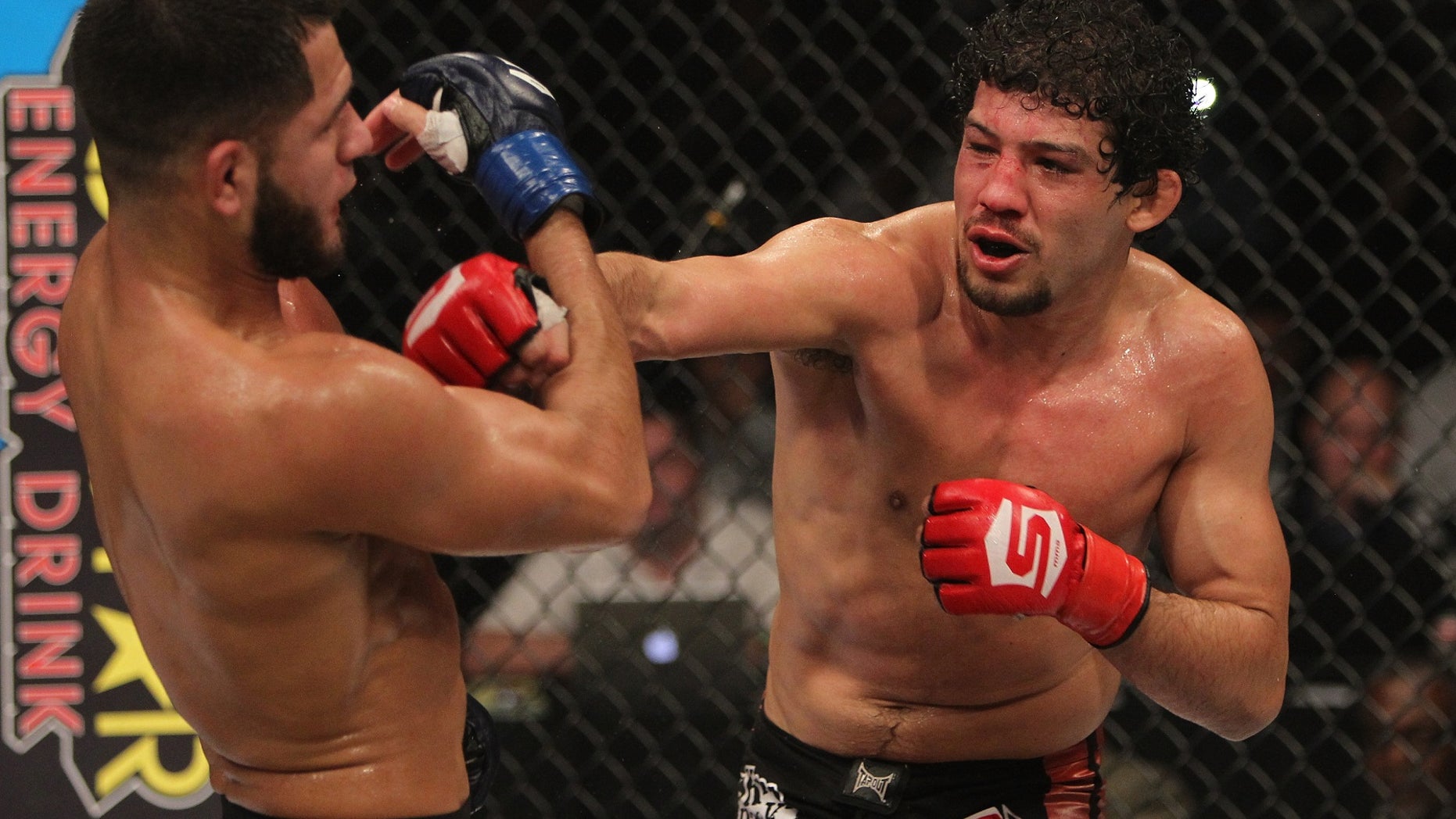 Gilbert Melendez always thought he was the best. A lightweight that would tower and reign over his rivals. But for years he lacked one thing to get him to the top. It did not relate to skills, chin, heart or any other typical mystical ingredients that relate to the unquantifiable makeup of a fighter. Instead what he truly lacked was the actual chance to prove all of those things as well as himself — until now.
The reason is that on April 20, from the HP Pavilion in San Jose on UFC on Fox 7, Melendez will face a fighter many experts consider to be the best lightweight in the world, Benson Henderson. While there's no doubting Melendez's will to win, after years of fighting outside of the sport's so-called "major leagues," he's just glad he got his chance in the UFC. Even if it took longer than most.
"There were plenty of times when others fought and I thought I should have had the shot," explains Melendez. "I'm not saying I would have walked through those guys but I thought I deserved the shot. I was watching these fights closely at 155 pounds and felt like I could have been the champ already."
Melendez pauses. "But then it's not like I feel my time has passed."
While Melendez, or "El Nino" as he's more affectionately known, waited for his shot, frustration set in. Strikeforce, the organization under whose banner he battled and reigned, got bought out by Zuffa, the company that owns the UFC. More and more fighters moved over, cherry-picked by UFC head honcho Dana White. All except Melendez. He had to wait. While MMA insiders had him in ranked in the top three 155 pound fighters in the world, the other two; Frankie Edgar and Henderson resided in the UFC, with "El Nino" firmly in Strikeforce. But with the dissolution of Strikeforce in January, Melendez finally has his chance.
"You could say I had that little chip on my shoulder. Now I've put all the pressure on myself though talking crap to all of you [journalists]," laughs Melendez. "There are no excuses. It's happening. But it's a fun thing for me."
"You hear that you're heading over to the UFC and then it doesn't happen. This time, when it was going down I literally tried not to listen to anything. When I got the phone call that it was the last Strikeforce show, I found out like everyone else. I was already out of it through injury so it was a relief knowing that my next fight was going to be in the UFC regardless."
Melendez has always been a fighter. In college, where he was a standout wrestler, he thought he could beat everybody. "I might have lost a wrestling match, but always felt like I could beat up the guy. When I first started doing MMA it wasn't the biggest thing, but it was the biggest fight outlet for wrestlers and it was something else to do, to fight and get paid. A lot of times you hit a brick wall in wrestling. There's only one national champ, one Olympic champ. MMA filled the void of wrestling."
I try not to have too much dialogue with my opponent. I want to dislike him to have  the best bad intentions. I have a lot of respect for my opponents, I mean he's the UFC world champion.
April's fight against Henderson will confirm whether Melendez is indeed the best lightweight. The chip on the shoulder fuels the desire in the heart. Like all fighters, the knowledge that you're facing the best is the only way to prove supremacy conclusively. Comparing records is for analysts and casual fans.
"A lot of journalists and media guys have given me the recognition," says Melendez. "But the common fan thought that I was in the minor leagues because I wasn't in the UFC. Guy number two who went 0-3 in the past year might be thought of as better than me because he fought in the UFC and I was in Strikeforce. So being able to brand myself in the Octagon is going to be huge... It makes me certified in the common fans' eyes."
One issue that may be of concern to many is Melendez's lack of activity. His last fight came last May in a split decision against Josh Thomson and had to pull out of two subsequent fights through injury, including the last ever Strikeforce card in January. Henderson, voted by many as the Fighter of the Year, was incredibly active in 2012 with three title fights all successful defenses, including two against Frankie Edgar and Melendez's own teammate, Nate Diaz. Melendez is quick to shrug off suggestions though that he is in anyway addled with ring rust.
"Motivation-wise, in my last couple of fights I was not as into it," explains Melendez in a moment of great candor. "I didn't have much to gain from them. But this fight with Benson there's is so much to gain. I've been waiting for this my whole life... it's what I've been waiting for, to be number one in the world. For some people title fights come quicker and now it's my title shot."
While Melendez may have been inactive, he was certainly not wasting any time. The Diaz fight served as the best possible scouting opportunity to cast an eye over Henderson, even if he was not certain he would be facing the UFC champion next.
"Early in the first round Benson hit Nate in the eye really, really well and he never quite got his vision back. It was a legitimate good shot. It was hard to gauge the fight because we didn't get to see the real Nate. But it was obvious how fast he [Henderson] is with his kicks, movement, body lock. It was good to see him live, to see how  massive he is and how quick he is."
"Basically what goes through my head when I'm watching is 'what would I do in that situation?' If I see him [Henderson] use the cage or the body I go 'OK, do this.' The guy is running around in a circle, OK I'll do it like this."
While Melendez's respect for Henderson's skills grew after watching from such close quarters, he's quick to point out there is little love lost when it comes to relating outside of the ring. For most fighters the challenge of balancing respect and animosity is a tightrope act.
"I try not to have too much dialogue with my opponent. I want to dislike him to have the best bad intentions. I have a lot of respect for my opponents, I mean, he's the UFC world champion. He's done great things and I'm going to go to battle with a guy who is just as honorable. But I want to be the best in battle and I want to beat the guy up, there is no hiding that. So little things like smiling and shaking hands, no. I want to beat this guy up bad!"
As for what Melendez might do if his hand is raised in April and he's crowned as the best lightweight in the world, he has no doubts about his future plans — take a break. With a wedding scheduled to his long-time fiancée Keri in July and a two-and-half-year-old daughter to keep an eye on, the only thing on his mind is a beach and time to reflect. The fact that he might finally seize the chance that has so far eluded him excites him.
"I always have the intention of going on vacation but never do. Hopefully this time I'm actually going to go to Hawaii after my fight. Chill out."