Steelers' Gilbert on Dupree fight: 'We like to see that nastiness'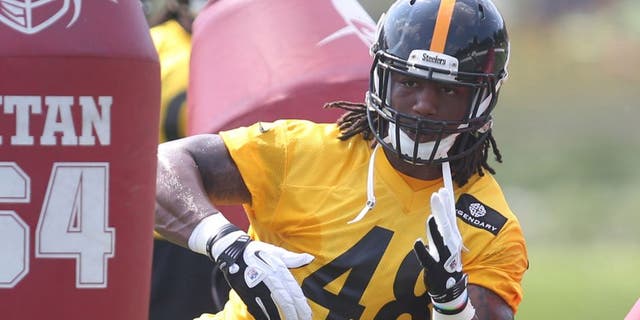 NEWYou can now listen to Fox News articles!
Steelers rookie linebacker Bud Dupree may have lost his cool multiple times in practice Wednesday, but one of the teammates he tried to fight isn't holding any grudges.
Right tackle Marcus Gilbert told PennLive.com that he liked the fire he saw from the team's No. 22 overall pick, even if things got a little too heated. Dupree was ejected from practice Wednesday after defensive teammates Cam Heyward and James Harrison even had trouble restraining him.
"We may have let it get too far, but obviously he's our brother and we like to see that nastiness from him," Gilbert said. "It's nothing personal, it's just the game of football. Fights happen and there's no winners or losers in that fight."
Gilbert, who has lined up against Dupree throughout camp, says he has seen improvement from the rookie and that his competitiveness will only make him a better player.
h/t: PennLive.com